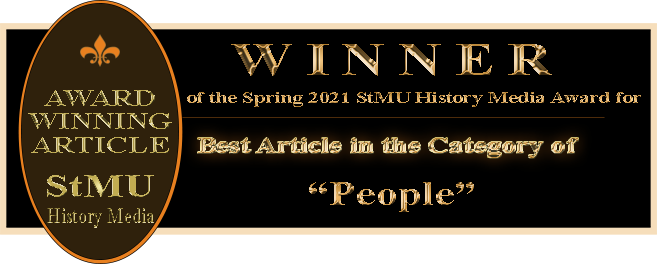 "This season is all I have left to give. My heart can take the pounding. My mind can handle the grind, but my body knows it's time to say goodbye. And that's OK. I'm ready to let you go." These were the words that NBA legend Kobe Bryant said in a poem he wrote called "Dear Basketball" before his last season as an NBA player back in 2015. The 37-year-old Kobe shocked the basketball world by announcing his retirement in late November 2015 by stating that "This season is all I have left to give." Preseason started in Hawaii; Kobe shot his first shot of his twentieth year in his career, and it hit directly on the side of the backboard, and fans started to wonder if this would be another year of suffering and injuries. Kobe didn't have anything to prove since he was an 18-time NBA All-Star and a 5-time Champion with the Los Angeles Lakers, but he wanted to make sure that his last season would be one to be remembered forever. His Mamba Mentality would be taught throughout the world one last time.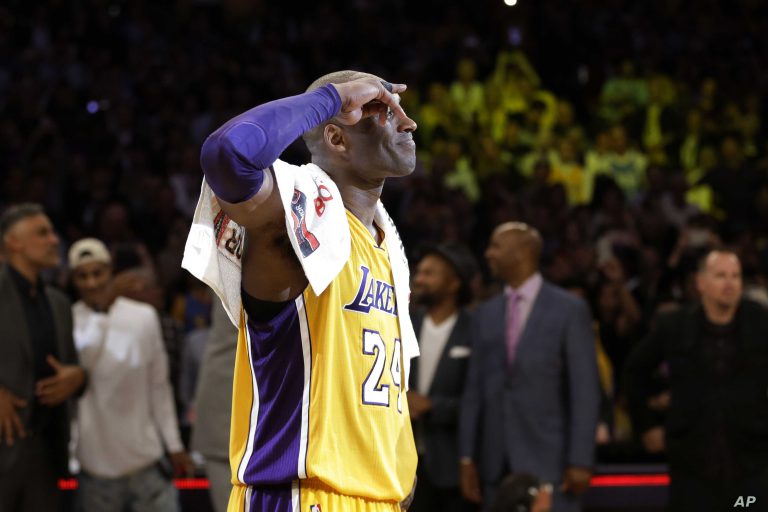 Unfortunately, the Lakers started on the wrong foot in the 2015-2016 season by losing most of their games, and Kobe Bryant ended up being restricted to a couple of minutes per game, since his body could barely keep up with the intensity of each game. Kobe Bryant could be seen on the bench during timeouts, halftimes, or at the end of games with his body full of ice packs and multiple physical therapists helping him to recover from the pain and fatigue. Kobe was being criticized for his performance, since as an All-Star he was expected to put his team on his back and win the games mostly by himself, like he used to years back. Aside from personal criticism, Kobe managed to receive his last All-Star Selection, but his team was still in the mud. The Los Angeles Lakers had broken one record that season, and not one to be proud of; they had the worst record in franchise history since it had been founded in 1947. With one more game left in the season, Kobe Bryant and the Los Angeles Lakers entered the Staples Center with 16 wins and 65 losses.
A few nights before Bryant's last game, he was interviewed on March 22, 2016 by Shaquille O'Neal, his former teammate, with whom he had won various championships in earlier years. In this interview, many topics were covered, including Kobe's last game, the team record, and the legacy he left behind, like his Mamba Mentality. Before the interview finished, Shaq challenged Kobe to score points in his last game…Little did he knew, he was going to have one of the best performances of his career.
"The Black Mamba" was only averaging 17 points, 4 rebounds, and 3 assists per game, while during his whole career he was averaging 25 points, 5 rebounds and 5 assists per game. Kobe Bryant entered that arena with one thing in his mind, demonstrating what everybody was starting to forget, that he was one of the best scorers the NBA had ever seen, and which better game to demonstrate it in than in his last game as an NBA player. Half time… Utah Jazz were up, It was a tough first half with Kobe only scoring 22 points and only scoring 35% of the shots he took. The halftime score was 57-42, Lakers were down by 15 and basketball fans started to wonder if Kobe Bryant would surprise them one last time. The second half started, and Kobe finished the quarter with 8 points, adding a total of 30 points in his final game, which already was an impressive performance considering all the injuries, his age, and how close the game was. Kobe's last quarter as a professional player started, and he had one mission: Win the game and score the most points possible. It was his last opportunity to demonstrate his Mamba Mentality and bring one last memory to his fans around the world.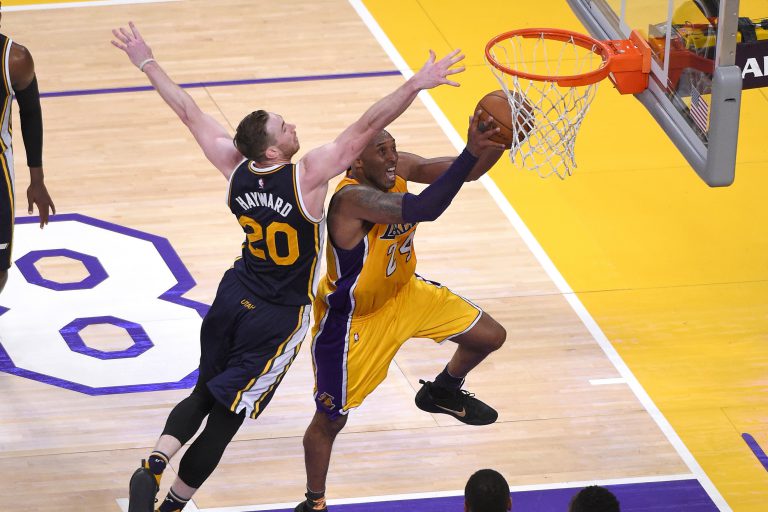 The "Lord of the Rings," as many called him, entered the court for his last quarter. You could feel the tension in the air, fans on their feet and all waiting for Kobe to unleash the inner beast he had inside. Kobe started to hit his first shots and fans felt they started to watch Young Kobe, the scoring machine. Hitting every shot, he took and quickly got to a 40-point performance. His teammates started to notice that indeed, "The Black Mamba" had resurrected, and every time they had possession, the ball went to him, knocking down shot by shot, quickly getting the score closer and closer. At this point, every single fan in the arena was on their feet, hands on their heads trying to understand how Kobe was managing to play like this, since for everybody it felt surreal.
The Spotlight was on the man himself, the reason why the stadium was sold-out, the reason why millions of fans around the world gathered to watch him play one last time. With 2 minutes left, Kobe had 57 points after scoring the Lakers 17-straight points, but the Lakers were still losing by two points. Time inside the Staples Center was passing by in slow motion, second by second. The Lakers asked for a timeout with one minute left in the game, and everybody knew what the plan was… PASS THE BALL TO KOBE BRYANT. One minute left in the game…and one minute left in Kobe's career, a highly decorated career. And it came down to this one last minute. And as everyone thought, the ball was inbounded to Kobe, as he jogged through the court in slow motion. He stopped at the three-point line and went for the last three pointer of his career… The ball flew in that perfect spiral and BANG! Three points for the Lakers and it came down to a three-possession game. The Utah Jazz scored 2 points on the other end and the Lakers were still losing by two points. Once again, ball to Kobe, and nobody knew what to expect. Was he going to go for a jump shot? Was he going to penetrate the paint? Or would he get fouled?
The Lakers started to pass the ball around looking for that perfect shot in the hands of their leader, and with a few seconds left on the possession, Kobe received a screen by his teammate Julius Randle on the right side of the court. Kobe passed through the double-team and pulled up for a 20-foot fadeaway jumper like the good ole times, and that ball moved through the air and it was a jackpot. The whole Staples Center could hear that ball pass perfectly through the net and the ones watching from home could hear it in their heads. Kobe Bryant had turned the game around and put the Lakers up by one point. With 14 seconds left in the game, Kobe was fouled and won the game by scoring the last 2 points of his career, ending the game with 60 points, making him the oldest player in basketball history to ever score 60 points in a professional game. Thousands inside the Staples Center remained on their feet screaming, crying, and enjoying one of the most surreal moments in sports history.
"20 years of people telling me to pass the ball, but on my last game everybody kept telling me not to pass it," said Kobe on his final interview using the Lakers Jersey. He ended his post-game speech by saying "Mamba Out" as he took off that Legendary #24 Los Angeles Lakers jersey for one last time. The sport media and newspapers all over the world  tried to describe the next day what Kobe's last game was like, but truly not even the fans or the players inside the stadium could understand how Kobe Bryant could pull off that astonishing last game. Celebrities and fellow NBA players congratulated Kobe Bryant for his farewell tour as an NBA player and for his amazing performance on the last game of his career. All the social media platforms like Instagram, Facebook, and Twitter were filled with posts and videos of Kobe thanking him for 20 years of a Hall of Fame career bringing joy and success to the city of Los Angeles and for being an inspiration to many kids and young basketball players around the world.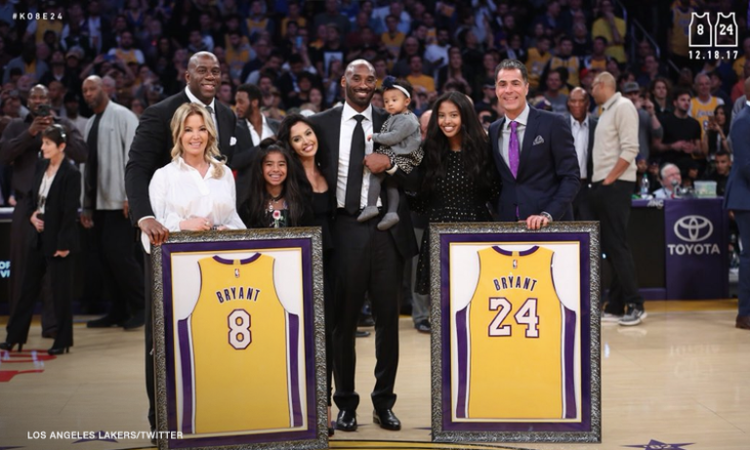 A few months after his retirement, Kobe was interviewed and he explained that he wanted to give one last memory to his fans, and he wanted to demonstrate the Mamba Mentality in his final game. His Mamba Mentality is to be passionate, obsessive, relentless, resilient and fearless. Kobe certainly showed all those qualities during his last game and throughout his career. Kobe Bryant left his fans with another big memory, aside from all the memorable moments he had had during his 20-year career as a Laker, which included multiple championships and MVP awards. Shortly after retiring, the #8 and #24 Jerseys were retired by the Lakers to honor Kobe, arguably the best player to ever use the Purple and Gold uniform.
Unfortunately, Kobe Bryant had to leave this world with so much more to give, aside from Basketball, since in January 2020, Kobe Bryant and his daughter passed away in a helicopter crash. He left dozens of memorable moments, which will be remembered forever. Without a doubt, his 60-point game performance will be remembered as one of the most important moments of his career.