It's a Saturday night in March. You flip through the channels and go to check all of your favorite sports channels: ESPN, ESPN2,  CBS Sports, Big Ten Network, Fox Sports, SEC Network, the list goes on and on. As you scroll through each, you begin to realize something: Out of all of the sports channels you just browsed through, you only saw one broadcast involving women's sports. The world of sports media is endless, and has a great impact on our society. People wearing jerseys of their favorite players. Decorations in homes of favorite teams, Endless conversations between friends and strangers alike about different trending sports topics.  Radio, Television, Print, and Online Media are all various forms of sports media. Women's coverage in sports media is still one of the biggest issues in the industry to date.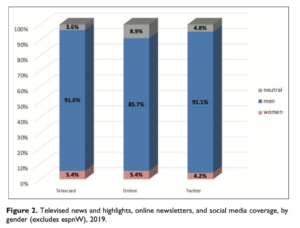 Although this has been a challenge for many years, it has only recently begun to be studied, and the numbers what we all see when we are scrolling the channels or reading the paper.  A study analyzed the past 30 years of sports articles in the New York Times, the sample showed that an overwhelming 86.7 percent of all articles focused on men's sports, while just 5.2 percent were  on women's.  Additionally, when articles about women were published, they were more likely to be shorter and have a smaller word count than articles about men. While a 64.8 percent majority of articles included at least one quote from a named source, it was shown that women were quoted significantly less frequently than men in the sports section.  When they were mentioned, though, it was especially likely to be mentioned as the wives, girlfriends, or mothers of male athletes.  Not only that, another study looked into the quality of media production equipment being used for men's and women's sports. Much of the research pointed out the overall quality of production to be significantly better for men's sports, especially in the case of camera quality as well as the total amount of cameras used and angles to view the game.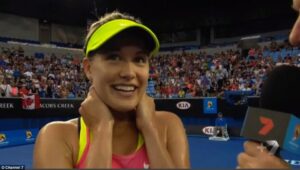 You begin to change the channel once again find yourself on ABC. You just missed a tennis match in which Eugenie Bouchard just won her match at the Australian Open in an exciting match. Bouchard walked up for the interview, and the first thing the Australian reporter asked was asked to "give a twirl". She was not the only one asked to show off her outfit during interviews at this tournament, however, as Serena Williams was also asked the same question after her second round win. Williams was later interviewed and asked about it, to which she replied, "A commentator asked me to twirl. I wouldn't ask Rafa or Roger to twirl. Whether it's sexist or not, I don't know. I can't answer that." This language and type of questioning is unfortunately common among women's sports in the media, and this is only one of many stories.
As Serena Williams hit the nail on the coffin with this important issue, the language, and overall questions as well as comments made by reporters and anchors alike is something to be questioned, especially when comparing comments and questions asked to that of male athletes. Cambridge University researched use of language in sports when talking about men and women from a vast range of media sources. Women are disproportionately referred to regarding appearance, clothes, and personal lives, rather then athletic performance. The most commons words associated for women in sport are words like aged, older, pregnant, married, and unmarried. Men, in comparison, are described as fast, strong, big, to name a few. The verbs used also greatly differ. With women they use compete, participate, strive, whereas with men they used beat, win, dominate, and battle.
Similarly, women who have behaved as their certain male counterparts in their sports have been scrutinized for acting as such. When Angel Reese from Louisiana State University was in the lead against Caitlin Clark from the University of Iowa in the women's NCAA tournament during March Madness, Reese pointed at her ring finger and waved her hand in front of her face, as a way of taunting Caitlin's infamous celebration.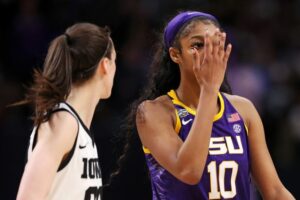 Angel Reese received much backlash after, as many said that it showed a lack of respect, despite Clark saying she had no problem with it and that she and Reese are cool with each other. Reese spoke at the press conference after the game, saying, "All year I was critiqued about who I was. … I don't fit the narrative. I don't fit in a box that y'all want me to be in. I'm too hood. I'm too ghetto. Y'all told me that all year. But when other people do it, y'all say nothing," Reese said. "So this was for the girls that look like me, that's going to speak up on what they believe in. It's unapologetically you. That's what I did it for tonight. It was bigger than me tonight. It was bigger than me."  Many NBA players taunt the other teams players volleying insults back and forth, and for them it is celebrated as them being gritty and having a passion for the game. This is a common occurrence, and it is controversies like this in women's sports that are often the only events to earn headlines and media recognition.
And what about the people who actually cover these sports? According to the 2021 Sports Media Racial and Gender Report Card: Associated Press Sports Editors (APSE), the sports media demographic is still predominantly white and male. The latest study included 104 newspapers and websites. Since the previous 2018 study which had been performed over 3 years ago, the numbers were shocking.  79% of sports editors were white and 83% were men. 72% of assistant sports editors were white and 75% were men. 77% of columnists were white and 82% men. 77% of reporters were white and 85% men. 77% of copy editors/designers were white and 75% were men. And finally, 72% of web specialists were white while 78% were men.  While some areas have improved since the last survey, the view remains that sports media is still significantly underrepresented by women, especially black women. Racial and gender diversity must continue to be promoted within the industry to break stereotypes and avoid misconceptions about women and people of color. All of this cannot be achieved if this field continues to be dominated by white and male narratives.
Although it is still not where we should be, women's coverage in the media has begun to get better in recent years. With the USA's national women's team making headlines and bringing to light the issue, it has since been a hot topic that has slowly begun to get addressed by media companies and fans alike. It should not take a woman being transgender, a woman being married or related to a male athlete, or a tragedy involving a female athlete  for them to make headlines. Women in the industry, both workers and athletes alike, shouldn't be only being web searched  based on how attractive they are or what they wear. Basketball is still basketball no matter who is playing, Soccer is still soccer. The Olympics are still the Olympics, no matter whether men or women are playing. Men's and Women's sports will have some differences in how they might be played, that much is certain, but each is equally deserving of being broadcasted and displayed in the media. The differences in the sports between men and women should be embraced and appreciated. Reporters should be asking the same questions to both men and women, focus on their performances, how it felt to sink that game winning shot. Whatever they decide to ask, it is important that the media remain consistent across both men's and women's sports. For those who are sports fans, we need to do a better job  advocating for women's sports and as a society, we need to do a better job of advocating for equal distribution of media for both men's and women's sports. Our daughters need female role models to look up to as well. There are so many stories of female athletes and others associated with women's sports waiting to be told and inspire the lives of all, and it is up to us to make sure they are heard, seen, and properly appreciated.  Sports are both universal and timeless, that is what makes them so beautiful. It is up to us as a society to make sure that all sports thrive and flourish so that they can continue to stand the test of time and influence generations to come, girls and boys alike.