When the Georgian Era comes to mind, the idea of it being rife with sex and vice probably never crosses anyone's mind, but this was actually the case. Dan Cruickshank, an architectural historian, devotes almost the entirety of his book London's Sinful Secret: The Bawdy History and Very Public Passions of London's Georgian Age, arguing that this was in fact the case. In his Introduction, he asserts "that – quite literally – much of Georgian London was built on the wages of sin." The sex trade was the most influential and prominent of vices during this time, influencing everything from architecture and art to the idea of a woman's control of herself and her finances.
The Georgian Era was a time of rapid change in English society: politically, socially, and economically. Though, if one is to peel back these layers of change, something dark is revealed and a compelling argument for the importance of the sex trade is brought to the surface. It is estimated that one in five women were linked in some way or another to the sex trade, and one in six of the general population was either a consumer or supplier of it. Not only were the number of people participating in it so high, but the profits brought in because of it were so towering, that the amount could only be rivaled with the combination of the three major profit making ventures of the time. Furthermore, the financial independence that the sex industry allowed for participants was unparalleled by any other profession held by a man or a woman. Cruickshank estimates that an above average sex worker could earn two times the salary of a highly skilled profession, eight times that of the average skilled worker, and almost seventeen times more than that of a common laborer. But, those jobs were available only to men. During this time, the most available job for women was that of a housemaid, which made almost five times less than even the common laborer of the time. Once it was discovered that what they were making in a year could be made in days or weeks, we can see why large numbers of girls and women were moving from their current positions to positions within the sex industry.
Though Lavinia Fenton lived slightly later in the eighteenth century than Sally Salisbury, The Life of Lavinia Beswick, alias Fenton, alias Polly Peachum, mentions Sally several time in its telling of Lavinia's own story, comparing and contrasting the two. Unlike Sally, Lavinia went on to live a long, prosperous life, after beginnings that could have led her down the same path as Sally's. Lavinia, born in 1708 to an unwed mother, had humble beginnings in the lowest social class of London. Her mother married a keeper of a coffee house, one of the many businesses in London that served as hubs for working women to find clients. The Life of Lavinia Beswick mentions not only that Lavinia was more likely than not given to men for company, but that it was her own mother that forced her into those circumstances. After Lavinia's mother made moves to sell the deflowering of her daughter around the age of sixteen or seventeen, Lavinia defied her mother and chose her own suitor. Once he ran out of funds to keep her and he was arrested as a debtor, she decided that she would get a job herself to earn enough money to get her suitor, and lover, out of jail.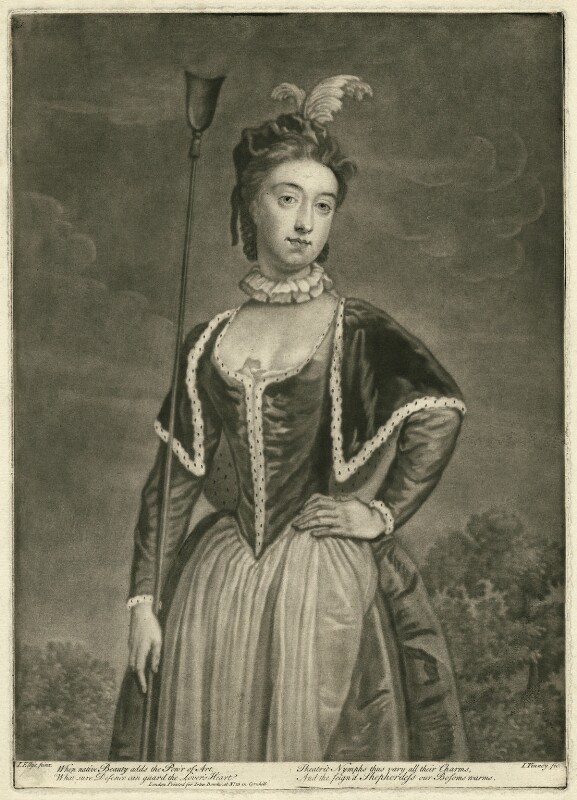 Lavinia began to dabble in theater, and after appearing in The Beaux' Stratagem, she was introduced to John Rich, a theater manager. When The Beggar's Opera was to be performed at Rich's theatre, Lavinia received her big break, landing the role of Polly Peachum when it was discovered how wonderful her voice was. The play garnered much success, and brought Lavinia to the attention of Charles Powlett, 3rd Duke of Bolton, a man twenty-three years her senior. The Life of Lavinia Beswick suggests that Lavinia sold herself to the Duke originally, but as time progressed, their relationship evolved to the point of a love affair, which ultimately led to her giving up the theater to live with him and bear him three sons. After the death of his wife in 1751, Powlett married Lavinia, minting her place as Duchess of Bolton.
Though Sally Salisbury had a very different ending, she, like Lavinia, had very humble beginnings. Sally was born in 1692, in the countryside, to a bricklayer and his wife. At the age of four, attempting to outrun debt, the family moved to London, settling in the Parish of St. Giles, one of the many slums within the city. Once she turned nine, she began her first job as an apprentice at a milliners' and mantua-makers', fabric supplying and dress making, shop. This shop, as the other shops like it of the time, were notorious for being "associated with vice," and is most likely where Sally first came into contact with several of the working women of the area. Unfortunately, at the age of sixteen, she was blamed for a piece of lace going missing, and after being whipped for the crime, she quit. Soon after, she became a kept mistress, a woman that was taken care of by a wealthy gentleman, and was such until it crumbled a few years later and she was abandoned. Not letting this stop her, she began to make a name for herself, not only as attractive, but as "witty and vivacious." During this time she met the bawd, woman in charge of a brothel, Elizabeth Wisebourne, and she was transformed from the common working girl to a polished and refined courtesan.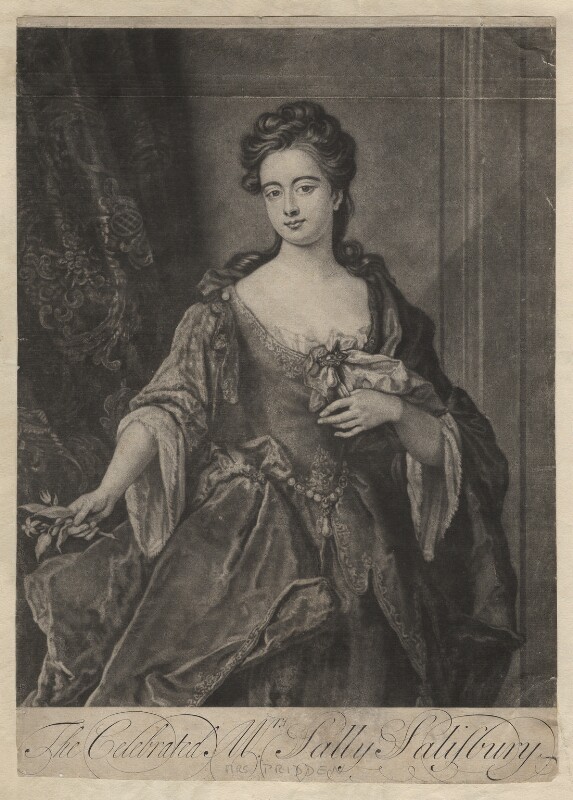 This move was great for Sally because not only did it take her from the streets, but it gave her the protection of church and state, due to Wisebourne's connections. Sally quickly gained the attention of many important figures, such as the Duke of Richmond and the future George II, and was even said to be seen as a woman that was completely in control of her own life, something that most women of the time could not say. She was so well liked among the men, that she was said to be able to get away with comments and jabs that most women would have been hung for. But, in 1713, after being at Wisebourne's for about four years, Sally enticed a riot while drunk and was promptly thrown out by Wisebourne.
This, unfortunately for her, was the beginning of the end. After some success with a rival bawd, Elizabeth Needham, her self-control and grasp of reality began to quickly diminish, most likely due to her inability to control her drinking and drug use, and the contraction of syphilis. In 1722, just before Christmas, the combination of these came to a head. Arriving just after midnight to a tavern to meet a friend, client, and lover, John Finch, son of the Duchess of Winchelsea, the two retired to a room. A little after 2 A.M., after wine and bread had been delivered to the room, an argument broke out between Sally and John. She had become furious that he had given her sister an opera ticket instead of her, and plunged the knife into his chest, and then turned it on her sister, who had been near by. This incident further suggests a greatly deteriorated mental state, by any number of things, as Sally had cared for her sister lovingly since she had been blinded by smallpox. Immediately after realizing what she had done, Sally seemed promptly to sober up, and called for a surgeon. John is said to have forgiven her on the spot and even kissed her before being carted away. Though she was quickly arrested and charged with "violent assault and intent to commit murder," very few viewed her as nefarious, as a general consensus was that it was a crime of passion, opposed to being committed for gain of any sort.
With that said, the prosecution treated it as the latter when her trial came, and attempted to paint a picture of Sally as being a criminal that lacked remorse and whose only concern was herself, using her history and reputation as backing. As it became clear that her friends in high places were not going to save her this time, the defense argued that her crime was not premeditated and she had acted out of fear that John had wanted to take her sister to the opera to "debauch" her, but the prosecution countered that someone of Sally's character could not possibly be concerned of her sister's reputation. Fortunately for Sally, as the trial wore on, the fact that she had immediately called for a surgeon and that John had forgiven her on the spot, made it more and more difficult to paint her as a remorseless villain, and the jury decide to acquit her of intent to commit murder and instead found her guilty of assault and infliction of a wound. This came as a big win for Sally, because it meant that instead of being hung, she was just to pay a fine and serve a year in jail.
Not only was her life spared, but she became more famous than ever before, with two separate biographies of her life being published shortly after the conclusion of the trial. Unfortunately, this was the last of her luck. Just three months before she was set to be released, Sally died, most likely due to the complications that stemmed from her syphilis, possibly in combination with "Gaol Fever," a condition that was brought about by the conditions of filth within the prisons. While Sally had lived an extravagant life at times, she most closely paralleled other working girls' plights during this time and became somewhat of a cautionary tale to those within, or entering, the trade. This idea is further illustrated in that she is said to have inspired William Hogarth's The Harlot's Progress, a series of paintings and engravings. The Harlot's Progress not only serves as a commentary on the life cycle of the common harlot, but also as a criticism of those who exploited the women, from the bawds that ran the houses to the politicians that abused their power, and finally to the church that had turned a blind eye.