What's to be said about one of the greatest electric guitar players of all time? He was a great talent? He's that really good white blues player? He really sounded like Jimi Hendrix? Or that he had a lot to say, and that when words failed, he let his music speak? Yes, he's one of those guitarists, the ones that realize that the human experience is sometimes too heavy and complicated to explain through clever lyrics, so when the feeling hits, you just have to go with it. Playing mostly Texas blues and personal interpretations of classics, such as Jimi Hendrix's Voodoo Child, or re-releasing Texas Flood originally by Larry Davis and making it his own, Stevie Ray Vaughan has made a name for himself in the mainstream music scene and has even broken barriers in a traditionally African-American-ruled genre that is Blues music.
Blues originated among African-Americans in the south during the late 19th and early 20th century. Traditionally, blues was sung by one person playing a guitar or banjo, singing about lost love, poverty, bad luck, or being lonely, and this genre was loved and played by many of Stevie's idols. Stevie would emulate the classic sound of Buddy Guy's version of Mary Had a Little Lamb, and he practically branded himself as Jimi Hendrix reincarnated by paying homage to him with a cover of Voodoo Child, renaming it Voodoo Chili.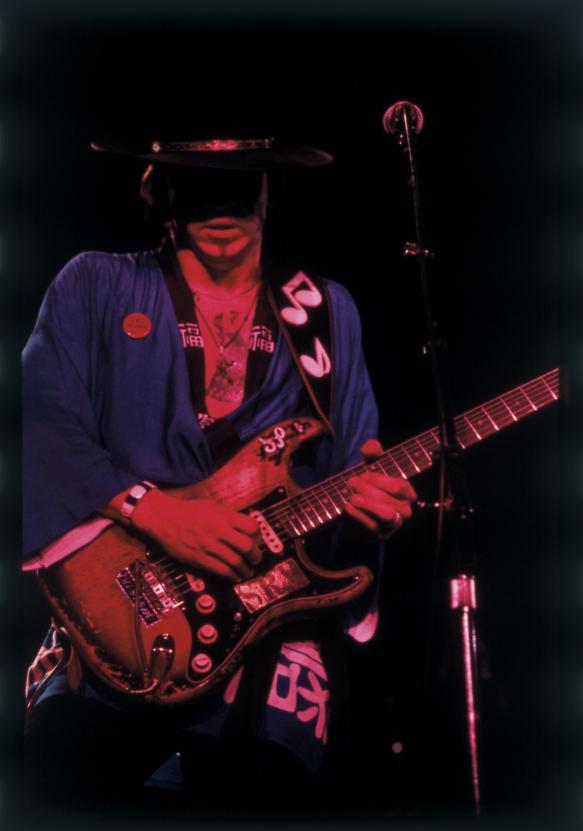 Stevie Ray Vaughan was hardly an African American during the late 19th and early 20th century though. He is, however, credited for bringing back Blues music to a mainstream American audience in the 1980s. The Blues revival that started in the mid-1960s attempted to resurrect traditional African-American music styles with a more modern feel by implementing rock-inspired performances, new studio technology, and modern day instrumentation. The Blues revival began to gain some attention when a number of white musicians discovered the genre and brought it to the forefront. These artists include people such as Paul Butterfield, Michael Bloomfield, the Allman Brothers, and Johnny Winter. Winter was a white guy playing blues and rock music, and Michael Bloomfield, an accomplished electric guitar player, showed Americans, and anyone else who was watching, that Blues isn't just for a certain color of people from a certain time in America. Blues began making its way into the hearts of people who it had never touched before. The Rolling Stones, formed in 1963, brought the Blues revival to the United Kingdom and had major success in their own interpretation of traditional blues themes and musical styles. They paved the way for bands such as The Yardbirds, who also incorporated Blues into their already British psychedelic rock style. Stevie Ray Vaughan was among many who helped carry Blues music into the 1980's and cement the Blues flare as a true American music genre, able to stand the test of time. Stevie brought a down-home Texas feel to traditional blues music and sprinkled a fast-paced rock feel into many of his songs.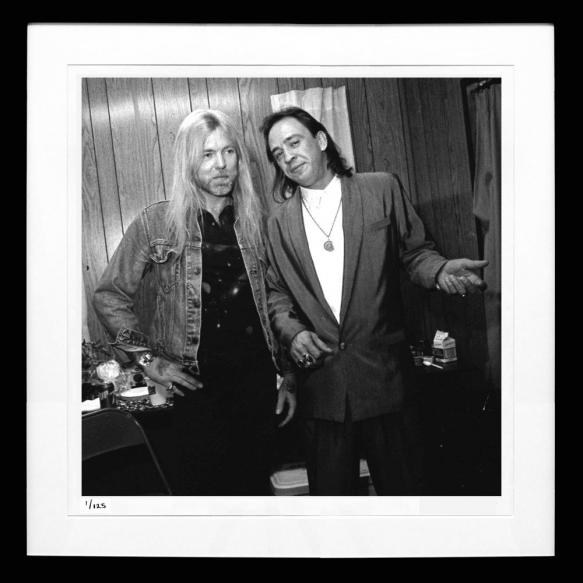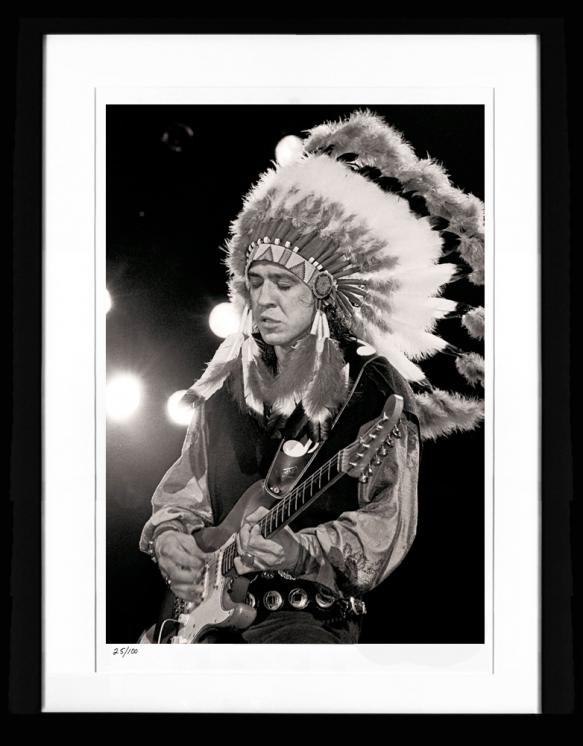 Born Stephen Ray Vaughan, Stevie was the younger of two brothers. Stevie grew up in Dallas, Texas, all the while idolizing his older brother Jimmie for being able to play guitar so well. When he was only seven years old, he picked up a guitar and fell in love with it. With a physically-abusive alcoholic father, Stevie didn't always have the best role model. His home life was not always the best either, but when he found music, he knew it was his way out. Little did he know that he would one day become Stevie Ray Vaughan, a legendary guitar player sharing the stage with such legends as B.B. King, Eric Clapton, and Buddy Guy, just to name a few. By the time he was fourteen years old, he was already playing local clubs in Dallas, and paying his dues to what would become a legendary career. By 1972, being only a junior in high school, Stevie dropped out and willed his way to Austin, where he would officially start his career in the music industry. With dreams of playing music for a living, Stevie did just that. He played in a couple different bands, such as The Nightcrawlers, and helped form bands such as The Cobras. He has said that he would make a living playing in "white clubs," but any chance he got, he would sneak away to the "black clubs" and have fun listening to their music instead. To make ends meet, he would collect soda and beer cans and live on friends' couches to get by. Eventually, he formed his own band in 1975. Their original name was Triple Threat Revue, but was later changed to Double Trouble when Stevie hired bassist Tommy Shannon and drummer Chris Layton to form his iconic Trio, with himself leading the way. Stevie's new band gained a large following in Austin clubs and this attention would one day lead him to win Grammy's and be remembered as one of the best American Blues bands in history.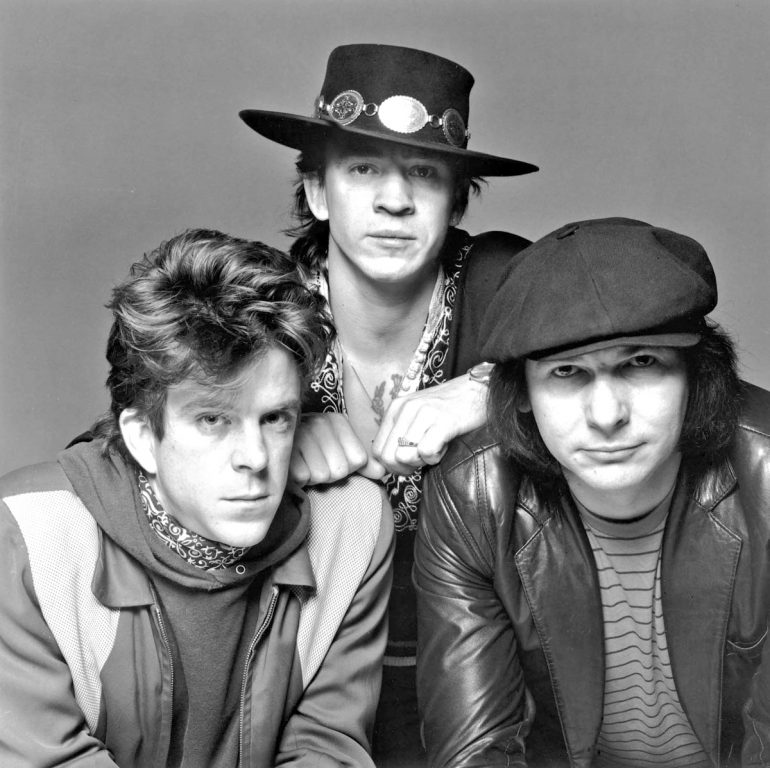 After many years of "paying his dues," Stevie's rise to fame really began in 1982, when he and his band played at the Montreux Jazz Festival in Switzerland. There they played a ten-minute-long performance that was sure to stir up some trouble. Not only was the performance of Double Trouble's Texas Flood something to remember, but the chaos it elicited from the Blues purists standing in the front row loudly booing made everyone pay attention, notably, David Bowie and Jackson Browne. When Stevie and the guys were finished on stage, they were met by Bowie afterwards to their surprise. Bowie sat with Stevie and talked about music and life, and eventually offered him to play on his upcoming album. Stevie accepted, along with another offer made to him by Browne. Browne offered Stevie free studio recording time, and he gladly accepted. Stevie would go on to play on Bowie's most successful album, Lets Dance in 1983. Stevie played on many songs, including lead guitar on huge hit songs, such as "Lets Dance" and "China Girl," cementing him as a true legendary guitar player. With the set dates of Bowie's new tour, and Stevie's own debut studio album, Texas Flood, coming out soon, there was no way he would be able to tour with Bowie and promote his own album at the same time. Stevie's manager made the decision herself to take Stevie off of Bowie's tour, which resulted in Stevie's equipment and bags being thrown out of Bowie's bus, but left Stevie free to pursue his own endeavors. However, all hope was not lost. His own album was recorded in less than a week, and shortly thereafter, John Hammand Sr. got Stevie Ray Vaughan and Double Trouble a contract deal with Epic Records. Stevie continued to promote his own album, and on June 3, 1983, their debut studio album Texas Flood was released. It reached number 20 on the Mainstream Rock Tracks with the hit song "Pride and Joy." Immediately after the album's release, it peaked at number 38 on the Billboard 200 chart. The album went platinum in Canada and double platinum in the United States. Sales hit over 500,000 copies and was considered a huge success. Rolling Stone even gave the album a 3/5-star review, and for being his first album, it was a pretty huge success. Stevie Ray Vaughan could now be heard on album rock radio stations throughout the country. Stevie Ray Vaughan's song "Pride and Joy" is his most recognizable song to this day. Many only hear the surface lyrics that speak about loving a lady and sticking with her until the end of time, but others who listen to the lyrics think Stevie was really writing about his love for music. He would stick with his true love, music, till his dying day.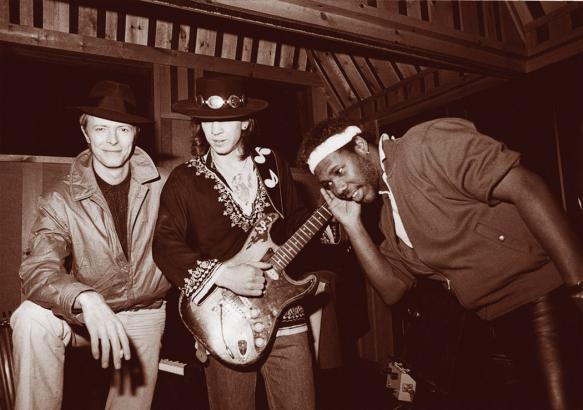 Following Stevie's first album and tour success, he soon released a second album entitled Couldn't Stand the Weather, which debuted May 1984, and became an even bigger success, reaching number 31 on the charts. By August 1985, Soul to Soul, Stevie's third and equally successfully album, debuted and Double Trouble added keyboardist Reese Wynans to their band. This was a high point for the Blues guitarists and Double Trouble's lead front man. Fame and success were plenty, but personally Stevie wasn't doing well. Falling into alcoholism and drug addiction with a harsh and fast-paced schedule, and a soon-to-be-over marriage to Lenora "Lenny" Darlene Bailey on the horizon, his stress levels were at an all-time high. In 1987, Stevie launched an extensive American Tour, and soon after it was over, checked himself into a rehab clinic. During the European leg of his tour on October 2, Stevie slipped on stage and collapsed. He started internal hemorrhaging and was quickly rushed to the hospital. Stevie had been abusing alcohol and taking large amounts of cocaine for years. His body was getting too beat up from the lifestyle he was living, and Stevie took this as a huge wake-up call. He eventually emerged with a newfound sobriety, but it wasn't enough to keep his marriage together. Lenny and Stevie divorced in the winter of 1988. Though their relationship lasted a solid fifteen years, and his crowd-pleasing song entitled Lenny was still very close to his heart, their breakup did not deter him from his music. The result of over a decades-long romance with now ex-wife Lenora was Stevie's fourth and most successful album. Debuting in June of 1989, In Step won a Grammy for Best Contemporary Blues Recording, and in only six months after its release went Gold in the U.S. The following Spring, Stevie and his brother Jimmie teamed up to record their first album together, called Family Style. Set to debut in the Fall of 1991, Stevie never got to see the success of his collaborative record.
The last concert Stevie played was part of his American headlining tour in the summer of 1990. Vaughan ended his set with a live jam session with guitarists Robert Cray, Buddy Guy, Jimmie Vaughan, and none other than Eric Clapton. After the concert was finished and Stevie said his goodbyes, but his fans were left forever wanting more. His live jam session with legendary guitarists was iconic and even more bitter sweet. After leaving his concert, Stevie boarded a helicopter bound for Chicago. Only a few minutes after takeoff, at 12:30 a.m., the helicopter and its five passengers crashed into the side of a Ski hill at Alpine Valley Resort in East Troy, Wisconsin. Stevie Ray Vaughan died alongside all four other passengers on August 27, 1990, at only thirty-five years old.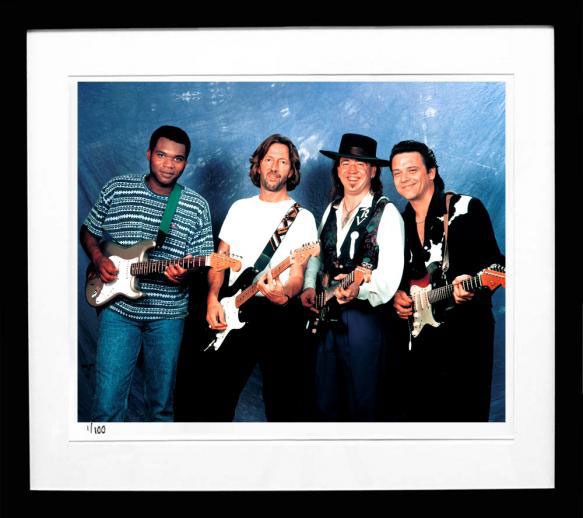 Stevie's mainstream career spanned only seven years due to his sudden death in 1990. After the release of his first studio album Texas Flood, Stevie Ray Vaughan and Double Trouble released four studio albums and one live album during his lifetime. Family Style, featuring Jimmie Vaughan, appeared in October 1991 and hit the charts at number seven. His last studio album was released one year after his death and included ten previously unreleased songs. The Sky is Crying went platinum in Canada and double platinum in the states. The Sky is Crying peaked at number 10 on the Billboard music charts for the title track. It also won a Grammy for Best Contemporary Blues Album in 1992, garnering Stevie Ray Vaughan and Double Trouble that much more success, even after Stevie's death.
Stevie loved and played music till the day he died. He did what he loved every single day and even kicked a cocaine habit for it. Music speaks when words fail to help us understand, and that is something that Stevie knew all too well. Speaking to the world through guitar solos, Stevie's legacy lives on among Blues listeners all around the country.
So what is to be said about one of the greatest electric blues guitarist in history?