On February 23, 1993, Walter McMillian's fifth appeal to the Alabama Court of Criminal Appeals began. A new trial was granted and it began hoping to clear all the charges against him and conclude that he was innocent and should be released from his sentence. On March 2, 1993, a hearing on the motion was set, and McMillian anxiously awaited the verdict on whether he was a free man or not. The tension in the room increased as all sat quietly waiting for Judge Pamela W. Baschab to return.
In 1988, Bryan Stevenson, a young Harvard Law graduate from the Equal Justice Initiative—a nonprofit organization that provides legal representation to people who have been illegally convicted, unfairly sentenced, or abused in state jails and prisons—was visiting death row to meet with five desperate and condemned men. One of these men in particular stood out to him, and that was Walter McMillian. Walter's lip quivered as he pleaded to Stevenson, "But… look, I'm sure I'm not the first person on death row to tell you that they're innocent, but I really need you to believe me. My life has been ruined! This lie they put on me is more than I can bear, and if I don't get help from someone who believes me…" Stevenson comforted him and reassured him that he would investigate everything carefully.
He was intrigued by McMillian's emotional claims and immediately began reading the short four volumes of trial proceedings. The case was from 1986, when an eighteen-year-old white woman, Ronda Morrison, was murdered in Monroeville, Alabama. The case went on for six months without any leads or suspects, until it focused on forty-five-year-old Walter McMillian. Stevenson learned that McMillian owned his own pulpwood business, which gave him a degree of independence that many African Americans in Alabama did not enjoy. This independence also cultivated contempt and suspicion outside of Monroeville's black community, which, for some of the white people in town, believed was "well beyond what African Americans with limited education were able to achieve through legitimate means." Although he did not have a previous criminal record, he was not without flaws. Attention was heavily draw to him because "he'd had an affair with a married white woman. A very public divorce between this woman and her husband pulled Mr. McMillian into the limelight and he soon went from someone having an interracial affair to someone thought to be capable of murder."
Monroe County Sheriff Tom Tate, under pressure to find a suspect and close this case, arrested McMillian in June 1987. Sheriff Tate arranged for McMillian to be placed on Alabama's Death Row before his trial even began, and before even being convicted of a crime. Shortly after his arrest, he explained that he was "with his family 11 miles away from the dry-cleaning store where Ms. Morrison was murdered at the time of the crime." Tate listened with disbelief as he replied, "I don't give a damn what you say or what you do. I don't give a damn what your people say either. I'm going to put twelve people on a jury who are going to find your goddamn black ass guilty." McMillian had numerous black people who could testify to his innocence, but they were all ignored. After spending fifteen months on Alabama's death row, his trial began, but it had been relocated by Judge Robert E. Lee Key from Monroe County, which is forty percent black, to Baldwin County, which is only thirteen percent black. The trial only lasted a day and a half, and the nearly fully white jury convicted him of capital murder, and the jury recommended a sentence of life imprisonment without parole. Once this decision was reached, "Judge Key overrode the jury's sentence of life imprisonment and sentenced Mr. McMillian to death by electrocution."
McMillian's arrest was primarily based on allegations by the only eyewitness, a white man, named Ralph Myers. He was accused of crimes in another county and it was later revealed that he was being forced by police to falsely testify about the murder of Ms. Morrison. Myers, when confronted by Stevenson, confessed that, "he knew nothing about the crime, that he was not present when the crime was committed, that he had been told what to say by certain law enforcement officers, and that he had testified falsely against McMillian because of pressure from the officers." EJI attorneys filed a petition for a new trial on the basis that the key witness perjured his testimony, that Mr. McMillian's conviction was based on this purged testimony, and that evidence of this perjury had been obtained. The Alabama Court of Criminal Appeals denied the claims on the basis that there was no credible evidence that proved he was forced to falsely testify.
Stevenson and EJI looked deeply into how they could prove Myers' coercion. This would prove McMillian's innocence because Myers' coercion was the only source of information that McMillian was convicted upon. Soon attorneys obtained the tape recording of Myers' original confession, in hopes of finding evidence of his perjury. The other side of the tape recording revealed a conversation between Myers and Sheriff Tate. In this conversation, Myers stated that he did not know Mr. McMillian or any details about the murder, and it appeared that "Myers is attempting to negotiate a deal for himself in return for evidence against the appellant." Myers was pressured to testify falsely at Mr. McMillian's trial in exchange for a shortened sentence. Questions were raised as to the authenticity and honesty of the State and its law enforcement. Due to even more inquiry on whether the State failed to disclose the tape recording when requested, which is a violation of due process, this negated McMillian's conviction. He was now entitled to a new trial and an entirely new investigation was ordered.
The Alabama Bureau of Investigation was able to confirm the evidence that was presented by EJI. There were still many challenges to be faced due to prosecutors wavering on whether they were in support of dismissing all the charges against McMillian. District Attorney Thomas Chapman, upon discovering this evidence, told Stevenson, "I want to do everything I can so that your client will not have to spend a single day more than he already has on death row. I feel sick about the six years that [McMillian] has spent in prison and the part I played in keeping him there." Many played a part in the wrongful conviction of McMillian, and it was finally time to fight for his life, the correct way.
On February 23, 1993, McMillian had his conviction reversed in his fifth appeal to the court. He was granted a new trial with a unanimous judge ruling of 5-0. This ruling invalidated his conviction and death sentence; however, it did not conclude that he was innocent and needed to be released. Upon hearing this news, Stevenson raced to death row to relay the great news to McMillian. Stevenson explained that the ruling only gave him a new trial, but he thought there was only the slightest chance they would try to prosecute him again. With hopeful thoughts of freedom, McMillian said, "I want to meet everybody who has helped me in Montgomery. And I want to go around with you and tell the world what they did to me. There are other people here who are as innocent as I am."
Only a week later, on March 2, 1993, the hearing was set and it was only expected to last a few minutes. McMillian's family members and friends and state, local, and national media outlets were crowded outside of the courthouse. There seemed to be no possible way the State could deny him in the sixth year of hearings and appeals. Stevenson observed everything as strangely pleasant in what was hopefully McMillian's final trial. Judge Pamela W. Baschab took the bench and told Mr. Stevenson to present the motion and provide a brief summary, because she intended to grant the motion immediately. The entire courtroom was exuberant; however, Bryan felt suddenly agitated. He began to think about the pain and suffering that was inflicted upon this community and how there were probably hundreds, maybe thousands that were as innocent as McMillian that would never get the help they needed. He began his final comment, "It was far too easy to convict this wrongly accused man for murder and send him to death row for something he didn't do and much too hard to win his freedom after proving his innocence. We have serious problems and important work that must be done in this state." Just like that, the judge pronounced McMillian a free man, once again. He hugged Stevenson tightly as they left the courtroom and joined all of his supporters and the swarming TV camera crews. Dozens of people were cheering and waving signs. This was a sign of hope in a hopeless place.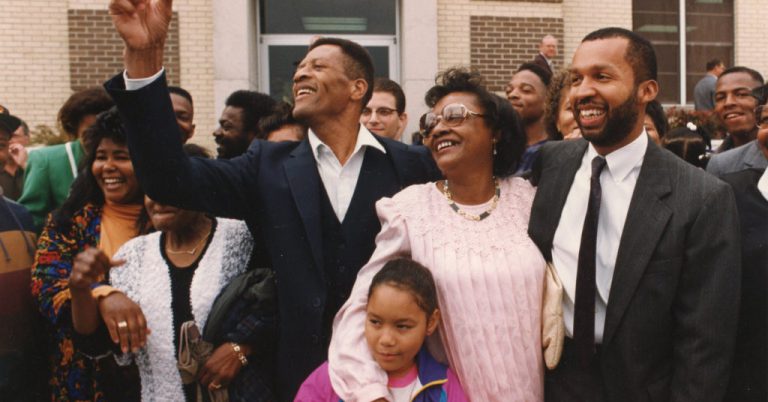 On his final trip to the prison to collect his possessions, the men in their cells shouted encouragement to McMillian. "As he walked to the car, Walter raised his arms and gently moved them up and down as if he meant to take flight. He looked at me [Stevenson] and said, 'I feel like a bird, I feel like a bird.'"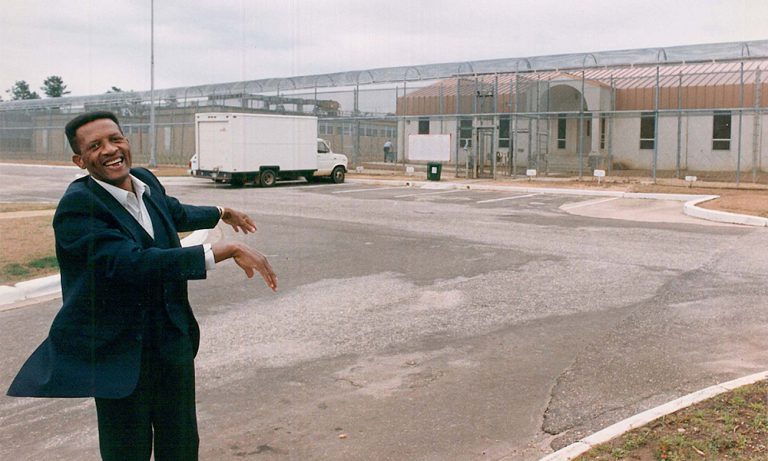 After his release, he became committed to educating people about the death penalty by sharing his experiences. Due to the public attention that his case got, light was brought to many other wrongful convictions and many other people were exonerated. On April 1, McMillian spoke to the U.S Senate Judiciary Committee about how it is crucial that the death penalty be terminated. He stated, "I am deeply troubled by the way the criminal system treated me and the difficulty I had in proving my innocence," he told the committee. "I am also worried about others. I believe there are other people under sentences of death who like me are not guilty." EJI filed a civil lawsuit against state and local officials for his wrongful conviction and incarceration on death row prior to his trial. These efforts went all the way to the U.S. Supreme Court, but it was ruled that the Sheriff could not be sued for monetary damages and was protected by immunity laws. When the lawsuit was settled, the compensation was subpar and less than what was hoping for. Sheriff Tate was never removed from office until he retired in 2019.
McMillian continued to spread awareness in hopes of saving the lives of the innocent and wrongfully condemned. One of his biggest worries while being on death row was whether he would ever receive the sufficient legal assistance that he needed to save his life. He experienced the horror of seven other men being executed. McMillian recounts, "From my cell you could smell the stench of burning flesh. The smell of someone you know burning to death is the most painful and nauseating experience on this earth." The trauma and stress he endured during his six long years in prison led to early onset dementia. He became too sick to work and couldn't take care of himself in his last couple of years of life. He passed away on September 11, 2013.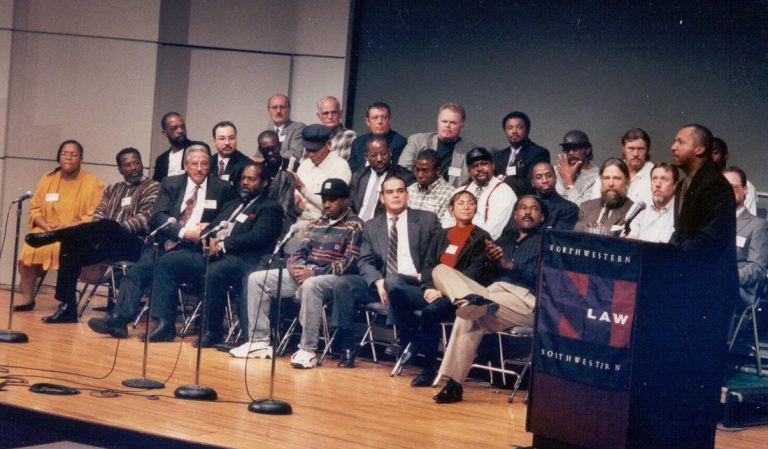 The Equal Justice Initiative was founded by Stevenson and is committed to changing ideals about race in America. He and his staff have won justice for over 135 wrongfully condemned or unfairly sentenced prisoners. He has received many awards, one being the MacArthur Grant in which he put all the money towards supporting the EJI. Earning over forty honorary doctoral degrees, he is a Professor of Law at the New York University School of Law and is the author of the New York Times bestseller, Just Mercy, which has recently been adapted into a feature film. The EJI has faced major feats such as in Miller v. Alabama, where the U.S. Supreme Court ruled that sentences of life without parole for children seventeen and under were unconstitutional. In 2019, EJI won a case in the U.S. Supreme Court that ruled that the eighth amendment protected condemned prisoners who suffer from dementia.
McMillian's story spread awareness and brought hope and justice to many, with the help of Stevenson and the EJI.