What if you could take the best of Jackie Robinson's athleticism and defense of civil rights, combined with the legal mind and drive for justice in Former Justice Thurgood Marshall, and refine it into a true kind and caring king just like T'Challa, would you have to live in the African fictional nation of Wakanda or could you have found him in America? A true a heroic king on and off the throne? Some might look for that inspiration in fictional characters. Yet you need to look no further than a real-life person whose noble character made him a true king on and off the throne: no other than Chadwick Boseman!
The star of the movies 42 & Marshall recounting the lives and exploits of Jackie Robinson and Justice Thurgood Marshall, beyond the icons portrayed was Chadwick Boseman. These roles gave him to prominence as an actor. He was born on November 29, 1976 in Anderson South Carolina. After graduating from High School, Boseman knew that he wanted to direct films and plays so he majored in Directing in college, but he did not expect fame from that. In an interview with Vanity Fair, Boseman confessed, "The only reason I started acting was because I felt like I needed to understand what the actors were doing and their process so that I could better guide them". Like previously mentioned, Boseman aspired to direct films but figured that he could have a better grasp of directing if he gained more insight through acting. From this, he developed a new appreciation for acting and decided to develop his career through it. Upon graduating in 2000 from Howard University, a Historically Black College and University (HBCU), he went on to study at Oxford.
During the early 2000's, Boseman appeared in different television shows and even starred in some. Shows such as Third Watch and CSI: NY are what helped get his name out. His role in Lincoln Heights was one that was more consistent during his television era, but it was not what really brought him stardom. Boseman started appearing in movies in 2008, but it was not until 2013 when he landed the acting job that jump started his career.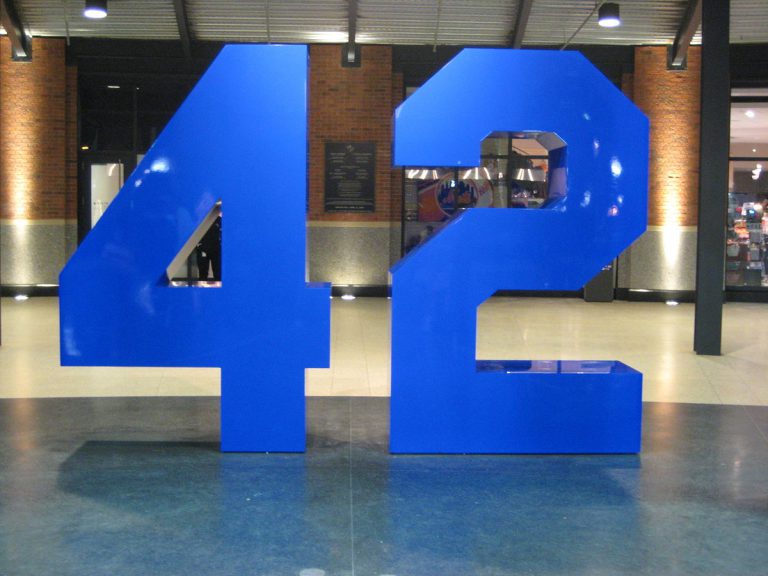 Chadwick Boseman knocked it out of the park with 42 when he portrayed the life and struggles of Jackie Robinson. Before Boseman, the only person who played the role of Jackie Robinson was Jackie Robinson himself. Being able to land the role and play it so well adds to the level of acting Boseman reached. This movie received much praise for its historical accuracy and for how Boseman transformed into Robinson. In 42, he demonstrated his ability to fully transform which opened new doors for him:  Marshall depicted the life and legacy of Thurgood Marshall, the first African American Supreme Court Justice.
During an interview with NPR, Boseman spoke about his inspiration for taking the acting job for Marshall. While speaking with his interviewer, he was asked how he knew the type of style to take because he did not grow up in the same era. He responded by stating, "I don't know if that's true. You know, I'm from Anderson, S.C., but I grew up in the South…I've been called boy and n***er and everything else that you could imagine." He continued by saying, "I failed at facing it. I get the opportunity in playing the character to relive those things and do things a different way."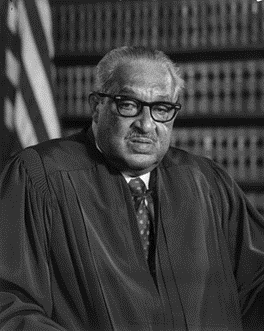 Boseman describes Marshall as, "… [He is] coming into his own in terms of being known as the attorney that is fighting for civil rights or human rights throughout the nation. This particular case is the one where the stakes are pretty high because if they lose this case, the NAACP will lose its donors and probably cease to exist…"
The National Association for the Advancement of Colored People (NAACP) set standards and precedents for civil rights. Founded in 1909, the NAACP intended to combat violence against black people and is now considered to be the largest civil rights organization in the nation. The reason that is was imperative for Marshall to win that case is because otherwise justice for people of color could be set back further. He not only needed to preserve the  credibility of the NAACP but he also needed to preserve their power accrued over forty years of work against the injustices against black people. So, there was no room for error. Winning justice despite a biased law enforcement and rigged court system was the only option!
The movie Marshall opens with the start of the career for Former Supreme Court Justice Thurgood Marshall and details the struggles that he endured while attempting to become and eventually becoming the first African American Justice to serve on the Supreme Court. In the movie, Chadwick Boseman portrays Marshall during one of his bigger human right cases, Connecticut vs. Joseph Spell. The case is about a black chauffeur who has intercourse with a white woman, and she tries to blame him and say that he raped her. Additionally, she had also claimed that Spell forced her to write a ransom note and tried to throw her off the bridge. Due to this, Spell was facing thirty years in jail despite being innocent. Since Spell was a black man in the 40's when segregation was fierce and purposefully oppressive. The all-white jury was unduly suspicious and the law team working to defend him had a lot to sort out if they were going to represent him successfully. They decided to work with the fact that there was not enough evidence.
To start, there was no note or rope that had been allegedly used. When Strubing, the accuser, claimed that she could not cry for help, Friedman who was working with Marshall attempted to scream with a gag and prove it was possible. When a doctor was asked about other evidence, he mentioned that there was none. The fact that this trial was even being held was a violation of Article 9 in the Universal Declaration of Human Rights which states, "No one shall be subjected to arbitrary arrest, detention or exile". According to the Center For Justice and Accountability, "Arbitrary or unlawful detention occurs when an individual is arrested and detained by a government without due process and without the legal protections of a fair trial, or when an individual is detained without any legal basis for the deprivation of liberty".[9 "Arbitrary Detention," The Center for Justice & Accountability, https://cja.org/human-rights-issues/arbitrary-detention/] Not having any evidence meant that Spell was arrested without any legal basis. Another violation was against Article 10 which states, "Everyone is entitled in full equality to a fair and public hearing by an independent and impartial tribunal, in the determination of his rights and obligations and of any criminal charge against him." This was violated because Spell was a black man who was being tried in an all white jury. According to Article 10, it is in Spell's human right to be tried in a jury with his peers, and since he was not, Marshall and Friedman were worried that because she was a white women, there was a strong chance that the all white jury would side with her. In the eyes of white people at the time, any sexual encounters could only have resulted from assault. But, despite this, the jury still came to the verdict to acquit Joseph Spell which was a surprise to his defendants. Marshall and Friedman believed that she lied about the rape in order to escape her fear and guilt and because her story was so inconsistent, the jury found Spell not guilty. Had Marshall not taken this case, circumstantial evidence would have likely condemned him in a society that was against him from the very start due to the color of his skin.
Marshall, among others, was a very inspirational and great movie to add the credibility of Chadwick Boseman. While Marshall was not his highest grossing film, it is one that deserves to be mentioned because of his role in the movie, and because it was a part of his journey in his acting career that got him to the stardom that he attained before he passed away. When remembering the life that Chadwick Boseman lived, it is also important to assess the life he lived outside of films. He was not just an actor, he was also an activist in his own right and believed in doing the right thing.
One of many heroic moments that Boseman displayed was his trip to St. Jude's Research Hospital right after filming for Black Panther. The CEO of the hospital's fundraising organization mentioned that Boseman wanted to visit the patients who were battling cancer and other diseases. To be able to go straight to a hospital to support others who are fighting against diseases right after filming is a very notable feat that must not be ignored. Boseman really cared about other people and showed this through his actions. This was just one thing that Boseman did in his heroic lifetime off screen.
Boseman defined another heroic moment when he went back to his alma mater and gave a speech in front of the 2018 graduating class honoring all his professors who had passed on and all present. During Howard University's 150th Anniversary commencement, Boseman spoke about his time at school and commended the students for their, "nine-day protest for officials to amend policies related to housing and campus policing". Boseman of course gave a motivational speech but also mentioned that he was fired in his early career for raising questions about inclusion and stereotypes. Boseman believed in fighting against injustice and standing up for what was right, and that was a message that he wanted to convey to the students as well. He mentioned to the students some experience with standing up for what he believed in during his speech with one of his acting jobs. One of the characters he was asked to play was made out to be a stereo typically black character; absent father, hopeless mother, prone to crime. Boseman did not like this image and pitched ideas that would put the character in a better light and the people on set fired him for it. "Sometimes you need to get knocked down before you can really figure out what your fight is and how [you] need to fight it". .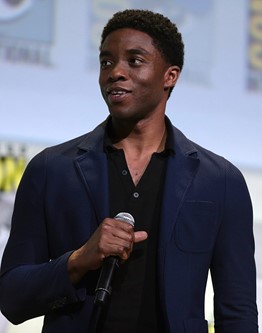 His toughest challenge came in 2016, Chadwick Boseman was diagnosed with stage III colon cancer, and battled it until the day he passed as it progressed to stage IV.
While shooting Marshall and Black Panther, visiting children in hospitals, and giving a most inspirational speech graduates and future leaders, Chadwick Boseman perfected his acting putting on a brave face while persevering through chemotherapy treatments to battle against colon cancer. Chadwick Boseman fought against colon cancer for over four years while still fulfilling his everyday responsibilities. He was a king, not only playing one on screen, but acting like one off screen showing his compassion towards others. He was a hero, a role model, who brought hope. Boseman has shown people that it is possible to become a man, hero, and king while still being a regular humble and kind human being. Through his life and actions, Boseman has granted people hope that it is possible for anyone to be these things and that all it takes is effort and a lot of heart. May the man, hero, king, named Chadwick Boseman forever rest in peace, and may he sit on his eternal throne in Heaven. As he once stated through a character he portrayed, "Wakanada Forever", and as everyone shall remember, "Chadwick Forever".