Since the end of Second World War, the United States has been the leading military and economic power not just in the Americas, but in the world.  This status is being challenged on an almost daily basis by a nation amassing more and more global power. According to the Yale Economic Review, China's economy has been accelerating at a growth rate in the double digits. This presents a great concern for many involved in American foreign policy.  A question persists: is China a friend or a foe of the United States?  For many years, the fast-growing Chinese economy was troubling, but in recent years, the Chinese have also increased their military power by their amplified presence in the South China Sea.  A few years ago, China made the unprecedented move of militarizing the South China Sea by constructing man made islands in the area over the Spratly Islands. Not only is the prospect of a more agile Chinese military a grave threat, but what does this mean for Chinese territorial waters? Does creating installations on artificial islands extend Chinese territorial claims into international waters?  This question has been worrying many in foreign policy and leads to the second question of how can the U.S. prevent further encroachments by China?  Fortunately, the UN Convention on the Law of Sea has the answer.
Beginning in 2014, Chinese President Xi Jinping ordered his military to begin militarizing small patches of land in the South China Sea that are collectively called the Spratly Islands.  The Spratly Islands are home to a wide array of oceanic life and are claimed not just by China, but also by the Philippines and Vietnam. President Xi Jinping refused to let these conflicting claims deter him from making his country's military presence in the area greater and more mobile. Chinese military engineers began covering various islands in tons of additional sand to build them up and make them more stable.  After this step, the Chinese military built communications towers and then, frighteningly, they constructed missile silos on these islands.  China is also making sure no fishermen from the Philippines, nor individuals from any other nation come close to the artificial land masses..  The United States' Navy has performed many drills in the region that were harshly denounced by China who claims that the US Navy is threatening its sovereignty.  This raises a series of other questions, however, as several other nations are declaring that the Spratly Islands fall within their exclusive economic zones.
According to the 1982 UN Convention on the Law of the Sea, territorial waters originate at a nation's coastal baseline, which is the low water mark of a country's ocean, and extend outward a distance of twelve nautical miles, or 13.8 land miles.  Exclusive economic zones occur beginning at this baseline of territorial waters and extend two hundred nautical miles outwards.  In addition to this clause, article 60 of the UN Convention states that as long as it is within a nation's exclusive economic zone, the construction of artificial islands and their maintenance is sanctioned.  This would seem as though it would settle the matter, but the primary issue is that while the Philippines, Malaysia, Brunei, and Vietnam are all claiming that the Spratly Islands lie within their exclusive economic zones, China is saying that historically, this region of the South China Sea belonged to them.  They claim this because the waters used to belong to them, and their fisherman continue to fish there.  China is frequently increasing the number of navy ships that patrol the islands to ensure that no other country can challenge their hold on the area.  The Chinese government believes that since their fishermen and military have been using the islands for centuries, they possess a natural claim to them, despite what other nations say.  Understandably, this poses a significant threat to the United States as China is already an economic powerhouse with a military that has increased its maneuverability.  Hence, the reason why the United States' government has been sending portions of its naval fleet to patrol the seas and routinely survey the area to see what China's next move will be.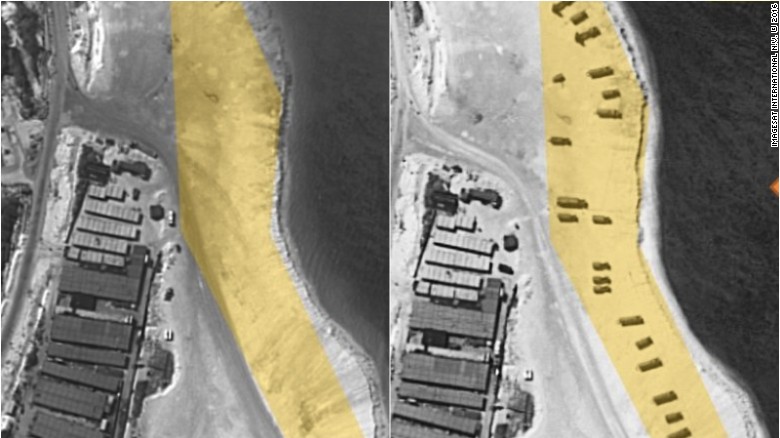 Actions like these are what make foreign policy experts wary of whether China is an ally rising up, or an enemy growing in both military and economic strength biding its time. The UN Convention on the Law of the Sea states explicitly that artificial islands in no way extends a nation's territorial waters..  While this may be the case, China does not seem to mind militarizing them and driving away anyone who gets too close to the Spratly Islands. When attempting to answer the China question, one must be cautiously optimistic. With their robust economy and the fact that they are major trading partners with the U.S., it is important not to automatically assume that they are a threat that must be dealt with.  While it is not yet clear what China's true intentions are, the Chinese nation presents at its best, a bullying and assertive friend, and at its worst, a belligerent and dangerous adversary.