In what has been called the "rape capital of the world" by a top UN official, Dr. Denis Mukwege offers hope to women whose attacks destroyed their bodies and now their lives. Before filling a desperate need and specializing in rape trauma surgery, Dr. Mukwege aspired to help women of the Democratic Republic of Congo (DRC) by providing better maternity care. In the DRC, one percent of women die during childbirth (to put it in perspective that is 1 for every 100 which makes Congolese women 8 more times likely to dye than in "developed countries,"  where the number is on average of 12 in every 100,000). However, shortly after he founded the Panzi Hospital in 1999, Dr. Mukwege's life took an entirely different course when his first patient was admitted. Instead of looking to have a baby, she sought treatment after suffering a rape where the assailants, from one of the many military groups in the DRC, had shot her in the genitals. Shortly after this event, the hospital cared for forty-eight baby girls, all raped by a local mans army, one of the tens of military, paramilitary, rebels, and foreign militant groups who use terror to displace locals and refugees in an attempt to secure natural resources. Luckily, these particular rapes stopped after the hospital and other human rights groups convinced a military court to prosecute the case.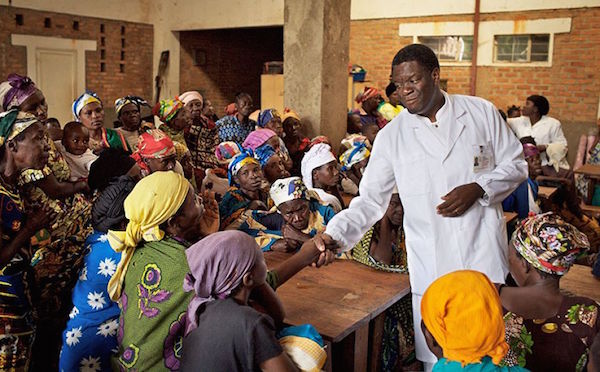 Though Dr. Mukwege did not realize it at the time, founding his hospital in Eastern Congo would help him "become the world's leading specialist in the treatment of wartime sexual violence and a global campaigner against the use of rape as a weapon of war." Caring for more than 3,500 women per year, and sometimes up to 10 women a day, Dr. Mukwege, as well as 370 doctors, nurses and support staff, do more than simply repair women physically, they also work to improve their lives in many meaningful ways. They follow a five-pillar method. The hospital works with each woman to provide physical medical treatment, psycho-social therapy, socioeconomic support and training, community reintegration and, finally, legal assistance in done in the order listed. A senior advisor to Dr. Mukwege, Elizabeth Blackney, describes this program as:
"Once [women] get through [their] psycho social and medical healing, [they] move on and work with our socioeconomic pillar [to] learn literacy and numeracy and education. [Women] have a safe space to learn vocational skills. And then we of course provide legal aid and assistance to help people get justice."
This work is not done without risk, however, and, in 2012, shortly after giving a speech at the United Nations in which he called for an end to the corruption within the government of the DRC, and stated not enough was being done to stop "an unjust war that has used violence against women and rape as a strategy of war," five armed men stormed the Mukwege family compound in an attempt to assassinate Dr. Mukwege, his wife, and two daughters. While Dr. Mukwege and his family survived, his trusted friend and bodyguard, Joseph Bizimana, died protecting the family.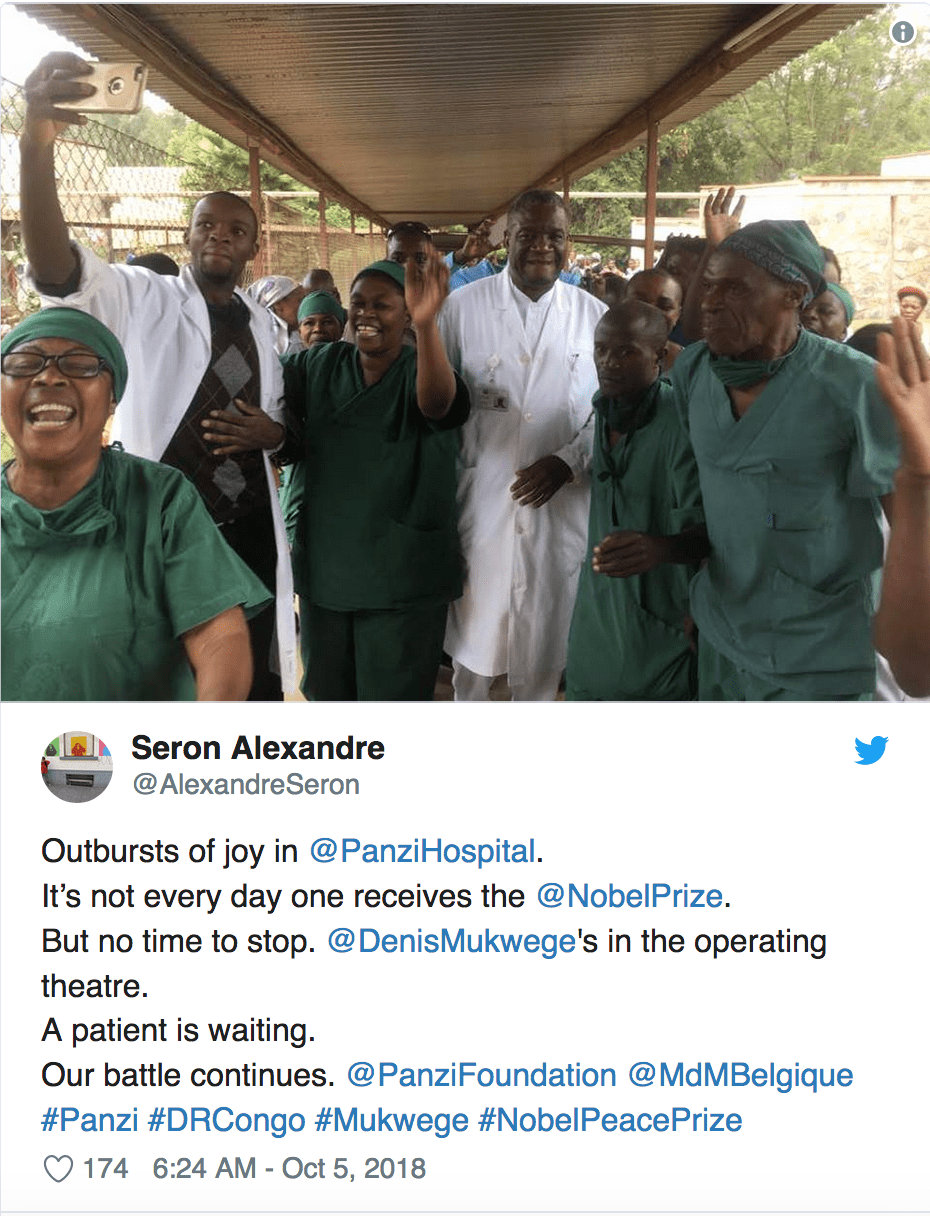 Though he fled to Belgium, he returned to the DRC not long afterwards, when women of the DRC sold their harvests and raised money to buy Dr. Mukwege and his family plane tickets back. When asked about his return, Dr. Mukwege told the British Broadcasting Network that "[a]fter that gesture, I couldn't really say no. And also, I am myself determined to help fight these atrocities, this violence. My life has had to change, since returning. I now live at the hospital and I take a number of security precautions, so I have lost some of my freedom." Despite the danger to his own life, Dr. Mukwege continues to transform the lives of many Congolese women in powerful, positive, and lasting ways. He is the light for thousands of women and continues to champion for the protection of women from current and future horrors that are the hallmarks of the conflict in the DRC since the mid 1990s. Proof of his incredible impacts is a woman named Sarah. Her attackers, after slaughtering her village, tied her to a tree where she was brutally raped by different men for days. When she arrived at the hospital, she was in critical condition, unable to even stand on her own. But, as each day passed, her will to live became stronger, and "[t]oday, Sarah is a beautiful, smiling, strong and charming woman…[who] runs her own business…bought a plot of land…has built a little house [and] is independent and proud." For these efforts and all of his contributions, in October of 2018, he was announced as the co-recipient to the Nobel Peace Prize with Nadia Murad "for their efforts to end the use of sexual violence as a weapon of war and armed conflict."