Yo nací en San Antonio, Tejas. El español es el lenguaje que yo crecí hablando, ya que mis padres son de Ciudad Acuña, Coahuila, México. En mi casa, el español fue nuestro único idioma, desde que nací hasta que tenía los cuatro años cuando empecé a ir a la escuela.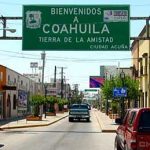 Recuerdo que cada viernes mi familia y yo nos íbamos hasta Acuña para ver a mis abuelos paternos. A mí me encantaba ir y ver a mi Abuelita Choco. También recuerdo que mi familia y yo comíamos muy rico. Al lado de la casa de mi abuela, había una paletería en la que siempre pedía mi helado favorito, un trolebús de limón. Incluso recuerdo el aroma de la panadería que también estaba al lado de la casa. Mi niñez fue muy divertida. Teníamos momentos inolvidables, sobre todo cuando íbamos al rancho y toda mi familia se juntaba.
Después, poco a poco dejamos de ir tan frecuentemente a Acuña. Con mis actividades extracurriculares en la escuela, se me hacía difícil ir a Acuña tan constantemente como cuando era más joven. Cuando murió mi Abuela Choco, tenía menos razón para ir al pueblo fronterizo donde mis padres se habían criado. Aunque ya no voy a Acuña tanto como iba antes, yo agradezco todos esos momentos que me enseñaron a amar mi primer idioma: el español.
Todavía, hasta la fecha, mis padres dicen que "el español se habla en casa." Esto es algo en lo que yo creo. Sin embargo, la diferencia con el lado materno de mi familia es que en su casa, los padres (mis tíos) les hablan a sus hijos en inglés, y a ellos, por ende, les cuesta más trabajo entablar una conversacion en español. Los datos concluyen que "the higher the birth order, the greater the use of Spanish at home both before and after entering school" (Parada, 2013, p. 310). Como es de esperar, los mayores de mi familia hablan más español que los pequeños.
De los ocho primos, yo soy el mayor. Este es el orden de los primos de mi familia de mayor a menor: yo (20 años), Emiliano (16 años), Josecarlos (13 años), Isabella (12 años), Santiago (10 años), Daniela (10 años), Valeria (9 años) y Victoria (7 años). Por mi experiencia, yo veo que mis primos más pequeños prefieren hablar más inglés que español. En el resto de este artículo, desarrollaré una descripción de mis primos y lo que he observado de sus experiencias con el español.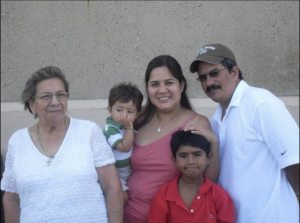 Emiliano es el hermano mayor en su familia. Él habla el español más al estilo "Spanglish", que es, según el diccionario de la Real Academia Española, la "modalidad del habla de algunos grupos hispanos de los Estados Unidos en la que se mezclan elementos léxicos y gramaticales del español y del inglés" (2014). Desde que era más joven, siempre prefería Emiliano hablar el inglés más que el español. Mi tía también hablaba con Emiliano en inglés más que en español. Aunque todavía se habla español en su casa, la costumbre en la casa de Emiliano es hablar inglés, especialmente cuando habla con su hermano menor, Santiago.
Josecarlos es mi hermano menor. Dado que vive en la misma casa como yo, la misma regla de que "el español se habla en casa" le aplica a él. Sin embargo, él prefiere hablar el inglés más que el español y yo también hablo más inglés con él que español. Debido a esto, el español se la va desapareciendo poco a poco de mí a mi hermano menor.
Isabella no solo es la mayor prima de la famila, sino que además es la mayor hermana de cuatro niñas. Isa siempre ha sabido expresarse bien. Para alguien que habla el inglés mucho con su madre, yo pienso que Isa habla el español mejor que el resto de mis primos, excluyéndome a mí. A mí se me hace impresionante que ella no haya perdido el español, a través de todo el inglés que practica más ahora en día.
Santiago es el hermano pequeño de Emiliano. Yo pienso que el español de Shago está al mismo nivel de su hermano, ya que están expuestos a ambientes y reglas similares. Estos quieren decir que, aunque el español se habla en su casa, la costumbre es hablar inglés.
Daniela es la hermana de Isabella. Como su hermana mayor, Dani siempre ha podido comunicarse bien desde que era una niña chica. Igualmente, Daniela también habla el español bien. Siempre que tenemos una reunión de familia, la veo hablar el español con mi familia, específicamente mi abuela. Ella definitivamente hace el mejor esfuerzo de practicar y aprender el español de los ocho primos, incluyéndome a mí.
Valeria es la tercera hermana de las cuatro. Vale no practica el español al nivel ni de Isa ni de Dani. Ella sí prefiere hablar el inglés sobre el español y nada más habla el español cuando tiene que hablarlo con mi abuela.
Finalmente, Victoria es la hermana pequeña de las cuatro y también la menor de los primos. Victoria es diferente de los otros primos. El denominador común es que todos hablamos español con mi mamá y mi abuela. Todos menos Victoria. Ella nada más habla inglés. No es porque no entienda el español, sino que simplemente no quiere hablarlo.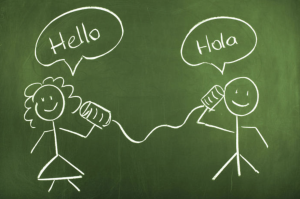 Yo les hice una entrevista en español a mis primos. Usé el español puesto que todos entienden el idioma; todos entendieron, pero no todos respondieron en esa lengua. En la entrevista, la primera pregunta que les hice fue: "¿Se sienten más cómodos hablando el inglés o el español?" Cada uno dijo que prefiere hablar el inglés. Mi primo, Emiliano, explicó, "Yo prefiero el inglés más que el español porque lo hablo más con mis amigos." Siguió en inglés, "Even though I speak Spanish every day with my mom and dad, I still feel more comfortable speaking in English because I practice it more with the people in my school." Los otros primos estaban de acuerdo con lo que dijo mi primo.
La siguente pregunta para mis primos fue: "¿Qué prefieres que te hablen tus papás?" Mi prima, Isabella, dijo que prefiere que sus papás le hablen en español. Razonó, "Se oye mejor cuando hablan español mis papás conmigo porque se siente más cómodo y natural."
La tercera pregunta fue: "¿Crees que hablas el español bien?" Daniela dijo, "Lo hablo así así." Siguió en inglés, "Even though I grew up in a Hispanic household, the schools I have gone to never really have had anyone that spoke Spanish so I just got used to speaking English more."
La cuarta pregunta fue: "¿Te gustaría estar en una escuela billingüe?" Mi hermano, Josecarlos, respondió, "Yeah, very much, because I want to learn more Spanish so I can understand my tíos and tías from Acuña more, because it feels weird not knowing what they are talking about sometimes. And I'm stuck there wondering '¿qué?' A billingual school will definitely be a key part in my life of learning Spanish, but unfortunately, I do not have it."
En su estudio, Fuller y Leeman dicen, "The reasons for the superior outcomes in dual language programs are clear: it is easier to learn to read in a language you know, and literacy skills transfer from one language to another" (2020, p. 209). Se puede relacionar con esta cita el punto de vista de Emiliano, Daniela y Josecarlos, porque si ellos hubieran tenido el privilegio de estar en una escuela bilingüe en que se hablara y se aprendiera en español, la práctica y el aprendizaje les habrían hecho a ellos senitrse más cómodos hablando en esa lengua con nuestros familiares.
La quinta pregunta fue: "¿Que pensarías si te mandaran a México a estudiar?" Santiago respondió, "I think it would be fun but I rather stay in Texas because I have more friends here and I like the school I go to and I do not want to leave my family." Victoria respondió con humor, "Yeah, no thanks, I would like to stay in San Antonio too." Todos nosotros empezamos a reírnos.
La sexta pregunta fue: "¿En que lengua piensas?" Josecarlos otra vez respondió, "I am a billingual thinker, I think in both." Le pregunté si piensa más en español o en inglés y dijo él, "I usually think more in English because I am learning in English at my school, so it makes it harder for me to even think in Spanish." Yo tambien les pregunté en qué lengua rezan. Valeria dijo que ella, como yo, piensa en inglés pero reza en español.
La séptima pregunta fue: "¿Tú qué sientes por poder hablar dos idiomas?" Emiliano dijo, "I have never really thought about it. I feel like it helps me but I still feel like it's whatever." Porque respondió así, le pregunté, "¿Tú crees que tienes un privilegio por ser billingüe?" Cuando le pregunté eso, Emiliano lo pensó, y dijo, "You know what, yeah, it is a privilege because many others do not speak Spanish, and at least I do. Maybe it is not a whatever thing."
El poder de ser bilingüe conlleva más ventajas de lo que creía Emiliano al principio. Caldas dice, "Early bilinguals (before age four) scored significantly higher on tests of numerical aptitude, verbal flexibility, perceptual ability, and general reasoning than either later bilinguals or monolinguals" (2006, p. 13). Aunque es anecdótico, los ocho primos somos inteligentes y pensamos de una forma lógica, abierta y flexible. Puede ser por la ventaja de haber crecido durante toda la vida con las dos lenguas.
La última pregunta que les pregunté fue: "¿Estás orgulloso del lenguaje de tus padres?" Isabella dijo, "Yes. Very much so. It helps that Spanish is an easy language to learn in San Antonio and it helps to make friends easier if they speak Spanish."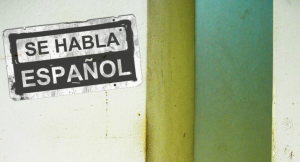 Con los resultados de la entrevista, una conclusión que se puede hacer es que lo más inglés que aprendamos y usemos mis primos y yo, lo más posible es que nosotros estemos más cómodos hablando en inglés que en español. Esto se relaciona con la idea del "bilingüismo sustractivo." Shin (2017) describe la situación de nosotros y de muchos niños parecidos. "Systematic exposure to the societal language starts when they begin schooling in the majority language. Many start using the school language at home and soon shift entirely to that language. Thus, instead of becoming bilingual, the children go from being monolingual in the home language to being monolingual in English" (Shin, 2017, p. 12). Yo, por ser el primo mayor (y el único sobrino por mis primeros cinco años), he tenido el privilegio de tener la mayor cantidad de práctica de nosotros. Por eso, aunque después de cuando empecé a ir a la escuela, todavía tenía el equilibro de los lenguajes por esa práctica anterior de hablar español. Especialmente en comparación con Victoria, la más joven, ella nació escuchando a sus primos hablar en inglés, aprende en una escuela en inglés y habla con todos sus amigos en inglés. No es de sorprender que, por este desequilibrio lingüístico, ella no quiere hablar español.
En la entrevista, los únicos que hicieron el esfuerzo de hablar español fueron Isabella y Emiliano. Los otros respondieron todo en inglés. Mi hermano menor, Josecarlos, hizo el intento de responder en español pero pensó que tendría mejores respuestas en inglés y porque se siente más cómodo hablando en inglés. Daniela también intentó hablar en español pero solo pudo decir unas cuantas palabras. El hecho de que Isabella y Emiliano fueron los únicos que hablaron español me interesó porque son los mayores de sus hermanos respectivos. Me imagino que, como yo, Isabella y Emiliano quieren ser admirados por sus hermanos menores. De todos modos, el hecho de que Isabella, Emiliano y yo hablamos más español y nos sentimos más cómodos hablándolo concuerda con Parada (2013), en que los mayores tienen más control de la lengua que los menores.

Se esperaría que la influencia de los hermanos mayores hiciera que los menores hablaran más español. Sin embargo, el cambio de español a inglés en las respuestas de Isabella y Emiliano enseña que aunque hablan español, el inglés es el lenguaje más cómodo para ellos. Y esto se les transmite a los menores. "As firstborns implicitly teach English to their younger siblings, they may also influence the younger, more vulnerable children's attitude toward the use of both languages" (Parada, 2013, p. 309). Yo, siendo el hermano mayor, le hablo en inglés a Josecarlos, y por eso, su español no está a un nivel similar al mio. En mayor medida, el hecho de que Isabella habla inglés con sus hermanas hace que la hermana menor no practique casi nada el español. Parada continúa, "As later-born children learn from their elder siblings to value English as the language of power, they are at the same time discouraged from speaking the native language" (2013, p. 309). Con los mayores hablando el inglés con nuestros hermanitos, les afecta las ganas de ellos de querer hablar el español, hasta el punto que a la menor le da vergüenza aprender y hablar el idioma.
Parada acaba su artículo, "Later-born children may also become "language-shy" to ridicule directed at them by their more proficient older siblings" (2013, p. 309). Esto es algo que desafortunadamente tengo que admitir que hago con Josecarlos. Cuando él se atora al decir algo en español, o cuando dice algo en "Spanglish", le digo "Pochecarlos" de burla. Nunca pensé de las consequencias de esto, pero la más burla que le hago a mi hermano, lo menos que va a querer hablar el español. Por lo que dice Parada (2013), voy a empezar a ser más solidario cuando se equivoca.

En un articulo llamado How to Raise a Billingual Child, Ana Celia Zentella dice, "La mayoría de los latinos en los EEUU consideran que el poder hablar el español es uno de los regalos más grandes que sus padres les han dado, y quieren seguir transmitiendo ese legado a sus hijos." (1998, p. 1). No importa el nivel de español que hablamos, mis primos, mi hermano y yo sabemos y apreciamos el español que nos dieron nuestra familia. Por ellos, tenemos el orgullo de ser billingües. Hasta mi prima chiquita que no habla español, el orgullo que tiene de ser mexicana y ser de un cultura fuerte es algo que no solo aprecia ella, sino que lo apreciamos todos.
Referencias
Diccionario de la lengua española. (2014). Espanglish. Real Academia Española. https://dle.rae.es/espanglish
Caldas, S. J. (2006). Raising bilingual-biliterate children in monolingual cultures. Multilingual Matters.
Fuller, J. M., & Leeman, J. (2020). Speaking Spanish in the US: The sociopolitics of language (2nd ed.). Multilingual Matters.
Parada, M. (2013). Sibling variation and family language policy: The role of birth order in the Spanish proficiency and first names of second-generation Latinos. Journal of Language, Identity & Education, 12(5), 299-320. https://doi.org/10.1080/15348458.2013.835572
Shin, S. J. (2017). Bilingualism in schools and society: Language, identity, and policy (2nd ed.). Routledge.
Zentella, A. C. (1998). How to raise a bilingual child. Kim Potowski. http://potowski.org/sites/potowski.org/files/media/Zentella_manual_0.pdf