Since the early stages of human life and prosperity, art has used by different societies to display their craftsmanship and to demonstrate their beliefs. Two types of artistic creations are the paleolithic Venus figurines from southern France and the bronze age jade figurines of China. These two art pieces contrast in both usage and symbolism. The figurines in the paleolithic, European era were made by hunters and gatherers, while jade figurines during the Bronze Age are part of an advanced civilization. Still, both provide scholars insight into the practices and goals of the people at the time.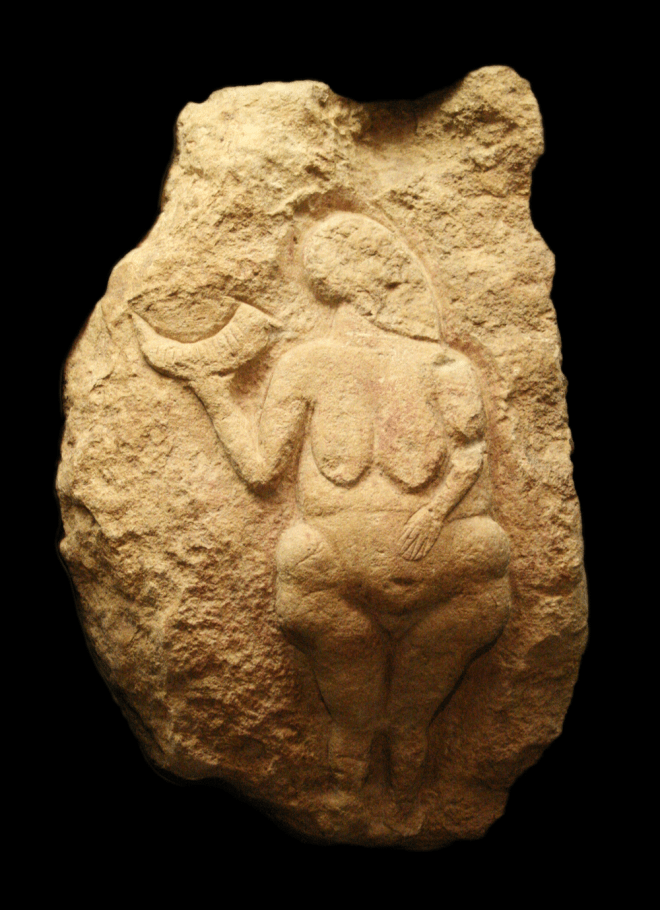 One of the earliest forms of art includes the figurines from the European paleolithic era. Created by homo sapiens about thirty thousand years ago, they were called Venus figurines by scholars after the Roman goddess of love Venus, because they depict the body of a woman. Today, more than one hundred have been found and they all have similar characteristics. The figurines range in height but are on average 150mm tall. They are made from materials such as steatite, calcite, limestone, bone, ivory, and clay.
Today we wonder about the meaning and purpose behind the faintness of facial features and hands in these figurines, yet we note the emphasis on the woman's hips and legs. Although we do not yet have definite answers to this question, there are many theories available. One popular theory is that the societies that created these figurines had a deep interest in female fertility. Other theories mention their hope for survival and fear for extinction. A less popular and more controversial theory is the possibility that Venus figurines were self portraits. Still, different theories are necessary in order to better comprehend the motifs behind the Venus figurines and their crafters.
In contrast to the Venus figurines in Europe, Chinese jade figurines offer a clearer sense of the usage of art in the Bronze Age. Jade figurines were often buried with wealthy individuals along with their former slaves, food, jewels, and many other objects. Although the jade figurines took very long to make and were a process of hard labor, their symbolism of prosperity and luxury in Chinese ceremonial traditions demonstrate the practice of ancestral worship and how important it was to them. Because they believed spirits passed into another realm of existence, from which they had the power to affect future generations, tombs were lavished with tools so that masters might live plentifully along with sacrificed slave bodies that would continue to serve their master. For example, in the tomb of lady Fu Hao, wife of the Shang king Wu Ding, 755 jade carvings, 468 bronze objects, 130 weapons, and 4 mirrors were buried.
Although prehistoric pieces such as figurines, cave paintings, and carvings are often overlooked because of the ambiguity of their meaning, they convey people's emotions, ideas, and talents. Creations such as the Venus and jade figurines provide the world insight into the practices of our ancestors and the kinds of resource available to them. They serve as a timeline and teach us about their interests and abilities in eras as diverse as the European Paleolithic and Chinese Bronze Ages.