In the city of Pacoima, near Los Angeles in the San Fernando valley, 17-year-old Richard Steven Valenzuela, later known as Ritchie Valens, would sit in the backyard with his younger siblings and their friends and sing them songs to keep them entertained. Ritchie loved the joy and happiness he gave to them. The year was 1958, the year that Ritchie would discover a new world that would change his whole future.
Ritchie was different from typical high school teenagers. Most teenagers attended school and focused on what they were supposed to be learning, or maybe they would focus on their friends. Ritchie, however, was focused on his music. He carried his green guitar wherever he went; his passion was music. It wasn't just an odd hobby; it was his true inner calling. He began playing music everywhere for anyone who would listen, to his family and friends, or to anyone around. He joined a band, the Silhouettes.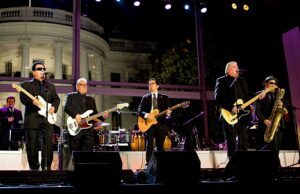 In fact, members of the Silhouettes were astonished by his raw talent, of which even the lead singer and band leader, Rudy, grew incredibly jealous. However, Ritchie's dreams went far beyond just his neighborhood and a local band. His first show with the Silhouettes did not go as Ritchie had hoped. Rudy did not let Valens show off his talent, which infuriated him; but Ritchie wanted nothing more than to be heard by the world, so he did not let that local band and petty band leader slow him down.
The American Legion Hall in Pacoima was rented with the help of his mother, so Ritchie could perform for the first time. Many friends and family came out that night in October of 1957 to support him, and it was there that Bob Keane, a record producer and label owner known for being a maverick talent scout, first saw Ritchie perform. Little did Ritchie know, but that night would be a major turning point in his life.
As Ritchie pursued his musical dreams, he also found himself pursuing a love of a different kind. He had fallen for a girl at first sight, a girl named Donna Ludwig, who was a new student in his history class. She seemed fond of him too, and their love became passionate, and he loved walking her home as often as he could. Ritchie had told Donna that he would be a music star someday and that his music would be heard around the world. However, when it came to his love for Donna, Ritchie faced a stumbling block, namely, the disapproval of Donna's father, who forbade her from dating a "Mexican."
The two were forced to split up because of her father, and Ritchie had to face the fact that her dad made her end it. He wanted her to go against her father's words and just be with him, but she couldn't. It left Ritchie angry and sad because he truly loved her and wanted to be with her. To prove his love to her, he spent days composing a song for the occasion and dedicated it to her, and named it "Donna."He could not wait to share it with her, so he called her to sing it to her over the telephone at a gas station just before he and his brother Bob left for a trip to Tijuana, Mexico. He wanted her to be the first one to hear her song. She was astonished with the song and truly loved it. She knew she had to be with him; it was meant to be, so she didn't care anymore and went against her father's words. However, Ritchie didn't tell her that he was planning to record the song so that everyone in the world could hear her song. That day would actually come, and when it did, Donna learned that the song went public while she was watching television. It would bring so much joy to her.
On that day when Ritchie sang "Donna" over the phone to Donna, Ritchie's brother Bob had decided to take him to Tijuana, Mexico, where Ritchie soon found another spark for his musical transfiguration. As Ritchie and Bob wandered around Tijuana, they entered a bar. Bob had intentions for Ritchie to hook up with a sex worker which was not very marvelous. Ritchie was not really interested in such entertainment, but something did stand out there. He heard in the background a band playing an old Mexican folk song, and he couldn't help but go over and listen. He actually sat beside the band and, having his guitar with him, he quickly joined aside to learn some of the melody and play it. This moment sparked something in him. It was as if the melodies were urging him to dig deep inside himself and bring that folk song to life with his own unique rock-and-roll arrangement. Even after later returning to Los Angeles, Ritchie could not shake the idea. He wanted to infuse that traditional melody with a twist that would reverberate throughout the rock and roll scene of the late '50s. His determination was unflappable.
While in Tijuana on that same trip, he also obtained a necklace, which he believed would keep him safe. He believed that it would also help him get over the dreams he often had about a childhood best friend who had died in a plane crash at the schoolyard. Ritchie had missed school that awful day due to the death of his grandfather. He believed that the death of his grandfather saved him from being at school when the plane crashed. He had only told Donna and his brother about the dreams.
Ritchie spent some time alone after returning from Mexico, to find a way to turn that old Mexican folk song into his style. With renewed determination, Valens was ready to pitch his musical vision to his record producer, Bob Keane. At first, Bob Keane was hesitant about "La Bamba." He was afraid it might offend the Latino culture and that it would not make sense to mix a Mexican folksong with Rock and Roll.  He also barely knew Spanish, which he would be singing in the song. He understood little bits of Spanish, and he tried to make up for the lack of authentic Spanish by spending time with his mother's relatives to improve his Spanish. He would break down the song into parts, and practice certain aspects of the song before he and Bob Keane started rehearsing and making practice takes. Valens was so certain of his idea that days turned into weeks as Ritchie and Bob Keane tirelessly rehearsed in Keane's home basement studio. His work with Keane led them both to Gold Star Studios in Los Angeles in December 1958, and there "Donna" was recorded as Side-A of the single, with his electrifying twist on Side-B: "La Bamba." And once it was released, it was "La Bamba" that skyrocketed, hitting the Top 30 on the charts, a remarkable feat for a foreign-language pop song in America. Ritchie was on the verge of something big–something that would lead to great changes in his life. Ritchie had made his promise to Donna come true with this very song, and he just knew it would be the one to change everything for him and his family. It would not only become his biggest hit, but it would also pave a path for more opportunities for his career. It immediately landed him on the Winter Dance Party tour and a few other small low-profile concerts.
Valens' stardom was rising rapidly. He gained fans and money, and he embarked on a nationwide tour, bringing his music to adoring audiences. However, amidst the triumphs, a storm brewed in his personal life. Ritchie had returned home to visit before he continued on his tour and was given a surprise party from his family and friends to congratulate him on what he had accomplished for himself. A jealous and intoxicated brother Bob disrupted the party, leading to a devastating rift between them. Later Ritchie called Bob, telling him that he needed him and that he needed to be around family. Even after the whole altercation that happened, Ritchie still wanted to be with Bob.
Ritchie then left Los Angeles to continue on the Winter Dance Party tour, performing for around 1,200 fans at Surf Ballroom in Clear Lake, Iowa, despite battling a severe cold. It was during this tour that Ritchie had the chance to perform alongside legends like Buddy Holly and the "Big Bopper" J.P. Richardson. He had to prove himself to both the massive crowd and the headlining stars. And on that very night of February 2, 1959, Ritchie played "La Bamba" in front of a roaring audience. It was a moment of pure musical rhapsody, and Ritchie did not fail to impress. Little did he know, that would be his first and final performance of the song to such a large audience.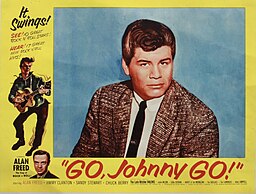 Tragically, the young 17-year-old's journey was cut short. He had flipped a coin to be able to catch a charter plane for warm air and cozy seats. The plane carrying himself and musicians Buddy Holly and J.P. Richardson crashed, killing all on board, and leaving a void in the world of rock and roll. – New York Times – ProQuest," October 8, 2014.] Ritchie's family found out early the next morning on the radio that Ritchie had died.
However, Ritchie's music endured. His songs have since been performed and have inspired other artists spanning generations, like the Ramones who would make a cover of his song, "Come on Let's Go." In 1972, Don McLean's song "American Pie" commemorated the three musicians who died in the plane crash, forever memorializing it as "the day the music died." In 1987, Los Lobos revived "La Bamba," propelling it back to the pop charts as a #1 single. The eponymous movie "La Bamba" re-introduced Ritchie Valens to a new generation that embraced his music once again, solidifying his legacy, and reclaiming him as the first Latino rock-and-roll music star that he had always sought for himself.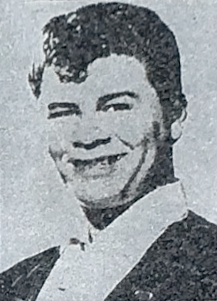 The movie La Bamba portrayed his life, struggles, and meteoric rise to fame. It not only celebrated his music but also shed light on the challenges faced by young, talented artists trying to make their mark. It served as a poignant reminder of the sacrifices Valens made to pursue his passion, further endearing him to audiences worldwide.
 Valens' impact extends beyond music education, inspiring countless individuals to explore the beauty of cultural and musical diversity. His fusion of rock and Latin rhythms serves as a testament to the power of music to rid cultural divides and create harmonious melodies that resonate across the globe.
In 2001, Ritchie Valens was inducted into the Rock & Roll Hall of Fame, a testament to his enduring contribution to popular music. His story, like his music, lives on, bringing together diverse musical genres and cultural influences across time.
I would like to thank the following individuals for helping me during the early stages of this project, for they made the process a memorable one. I am grateful for Dr. Duesterhoeft's advice on getting sources, which enabled me to pursue such a topic with passion. I am also indebted to Matthew Gallardo for his guidance in the project's proposal stage, as it proved to be very fitting to the story I wanted to tell. I'd also like to express my gratitude for Irene Urbina Zuniga's review and edits of my draft in the later stages of this project, since it aided me in getting to a good point for the producer edits. Lastly, I'd like to thank Dr. Whitener for giving me such a wonderful opportunity, not only to grow as a writer but to bring awareness to an issue that is being neglected.