The game of basketball was founded in 1891 by Canadian instructor, physician and Christian champlain James Naismith in Springfield Massachusetts. This game has now grown into one of the biggest and most popular sports worldwide. Despite the game being invented in 1891, it was not until the following year that women began playing the sport. In 1892 the first women's basketball team was officially established by Senda Berenson st Smith College. Although the team was established, it was not until 1893 when the first women's college basketball game was actually played at that University.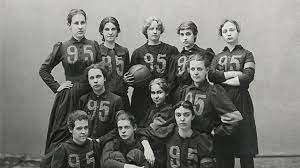 Gender inequality is a legal, cultural, or social situation in which the gender of a person plays a factor in opportunity for men and women. It is a concept used to describe the behaviors and perceptions that individuals are subjected to because of their gender. Unfortunately, basketball is no different as it has gender inequalities that date back all the way back in time to the day the game was invented. This article addresses the following three gender inequalities in basketball: facilities, perception in the media, and media coverage/publicity.
When it comes to facilities in basketball, the men's facilities are far more advanced and up to date than the women's facilities. One example is NCAA bubble weight room for the men and women's teams. In 2020, the NCAA March Madness tournament wa cancelled due to the covid outbreak. In 2021, the NCAA decided to play the tournament, but this year in what they called "the bubble". In this bubble, the players of all teams will stay in a specific hotel where they will be tested daily for COVID and other illegal substances following NCAA rules and have no contact with the outside world. The hotel featured a weight room for the men's and women's teams to use for weight training while competing in the tournament.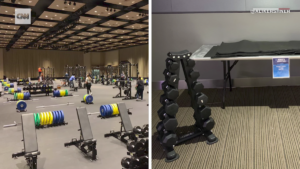 Looking at the side by side comparison of the two weight rooms, the inequality is very apparent. When these images surfaced on social media, it brought the controversy to the public. "These women want and deserve to be given the same opportunities. Not only that – 3 weeks in a bubble and no access to DBs above 30's until the sweet 16? In a year defined by a fight for equality this is a chance to have a conversation and get better." states Lynn Holzman, NCAA vice president of women's basketball. Oregon women's player Sedona Prince brought more attention to this in a TikTok video she posted. "This is our weight room," Prince said in a TikTok video verified by NBC News, showing a small weight rack. "This is the men's weight room," she says, panning across a vast space with workout benches, racks and many more weights. This even caught the attention of Golden State Warriors' player Stephen Curry who retweeted the video saying, "Come on now!" Due to the weight room photos and viral videos, the issue was brought to the NCAA. The NCAA soon after made a statement regarding the weight rooms. "I apologize to women's basketball student-athletes, to the coaches, Women's Basketball Committee for dropping the ball, frankly, on the weight room issue in San Antonio," Gavitt said during Friday's press briefing.
Women are also viewed in a different perspective in the media. They are subjected to act in a certain manner due to their gender. An example of this is the Angel Reece incident. Angel Reese is a forward for the Louisiana State University women's basketball team. She is arguably one of the best players in all of college basketball and is now officially a national champion. During a game this season, she put her emotions and passion for the game on display. She was visibly "talking smack" and showing tons of emotion. After the game she was featured on ESPN where the reporters and anchors began to criticise her for these actions stating that this was "embarrassing" behavior. Reese took notice to this and responded with a message of her own.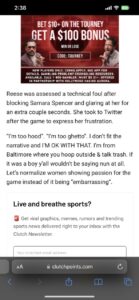 Her social media statement was very moving and attracted much attention from male athletes throughout the basketball community. One specific person who responded to this incident is Patrick Beverly player for the Chicago Bulls. Beverly is notorious for and has built his career on the art of trash talking. When asked his thoughts on Reese's trash talk to Clark in the national championship game he responded with "Love it."
He went on to also add, "Basketball was built to be a competitive sport. No matter how competitive it is, on what stage, or who's competitive," Beverley said. "The guys can do it, and it's praised. But a young lady does it, and it's frowned upon. I don't agree with that. I think a hooper is a hooper. You don't put gender, you don't put race on it." For this to be sort of cosigned by a player like Patrick Beverly can surely been seen as a small step in a positive direction.
Lastly, there is great difference in men's and women's basketball media coverage. All the different sports television channels can compete for the opportunity to air the live game and/or provide live game coverage. For the most part, these channels choose to air NBA or NCAA Division 1 major games. (Conferences such as SEC, BIG12, PAC12, BIG10, ACC) According to powerplays.news, "men's college basketball received three times as much coverage as women's college basketball" .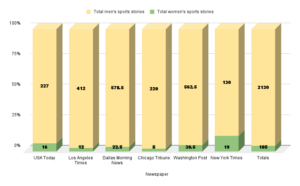 Above is the comparison between men's and women's basketball stories featured in the largest news outlets in the U.S. during 202 . A recent example of this is Caitlin Clark, Iowa University player in the NCAA women's basketball 2022-23 season. Clark is a standout guard for Iowa women's basketball who had a spectacular season although she came up short in the national championship game. Despite this shortcoming she was still awarded the John Wooden award for the 2022-23 women's college basketball season.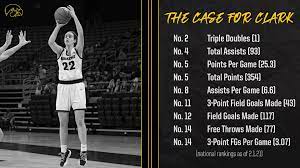 For those who do not know much about basketball, the simplest way I can describe Clark's statistics is that she is an incredible overall athlete. These record breaking stats and performances she put together gained the attention of many big names in the basketball community.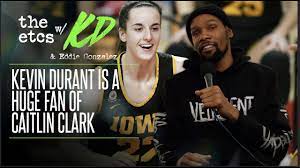 Gaining the attention and support of an NBA star ad future hall of famer like Kevin Durant is huge. She's displaying some skill right now, and she's moving fast," he said. "It looks like everyone on that court is way slower than her when she's getting to her stuff." states Durant. "I'm like, 'Who the hell is this? She is nice.' (Someone) said, 'Oh, she's the best player in the country.' I was like, 'Oh, damn. I see it now.' When you walk in and you don't know who anyone is, and they're like, 'Yo, that's the best player in the country right there,' that … hits you out of nowhere, like 'Let me focus in on her.'" Durant adds.
Although there are many inequalities that still exist in basketball, I believe we are moving in the right direction of moving past that era. Many big name superstars in the NBA are using their voice and platform to acknowledge these hard working women. It is very important to spread awareness of these inequalities and steps to move past them. I believe the best way is to share the stories of all the hard working women's basketball players. In comparison to the men, you will not find many differences. Basketball is a beautiful game and Naismith did not invent the game for only one gender. Basketball was made to develop love, passion, and change lives of ALL.