Winner of the Spring 2018 StMU History Media Award for
Best Article in the Category of "Sports"
Puerto Rico has made its mark when it comes to competing in international competitions. From iconic moments, like being the first team to take down the United States Basketball "Dream Team" in the 2004 Olympics, to making it to two straight World Baseball Classic finals in 2013 and 2017, Puerto Rico has indeed made its mark. But there are two Puerto Rican athletes whose stories draw attention to issues far beyond their respective sports. One athlete is seen as betraying her country, and another as being a crowning jewel of Puerto Rico. Both were Puerto Rican, and both won Olympic medals, both in the sport of Tennis. This is the story of Beatriz "Gigi" Fernandez, Olympic gold medalist in 1992 and 1996, and Monica Puig Marchan, Olympic gold medal winner in 2016. But one thing differentiates the story of these two women: when Gigi stepped up to the podium, the anthem that was played was The Star Spangled Banner, not La Borinqueña, Puerto Rico's national anthem.1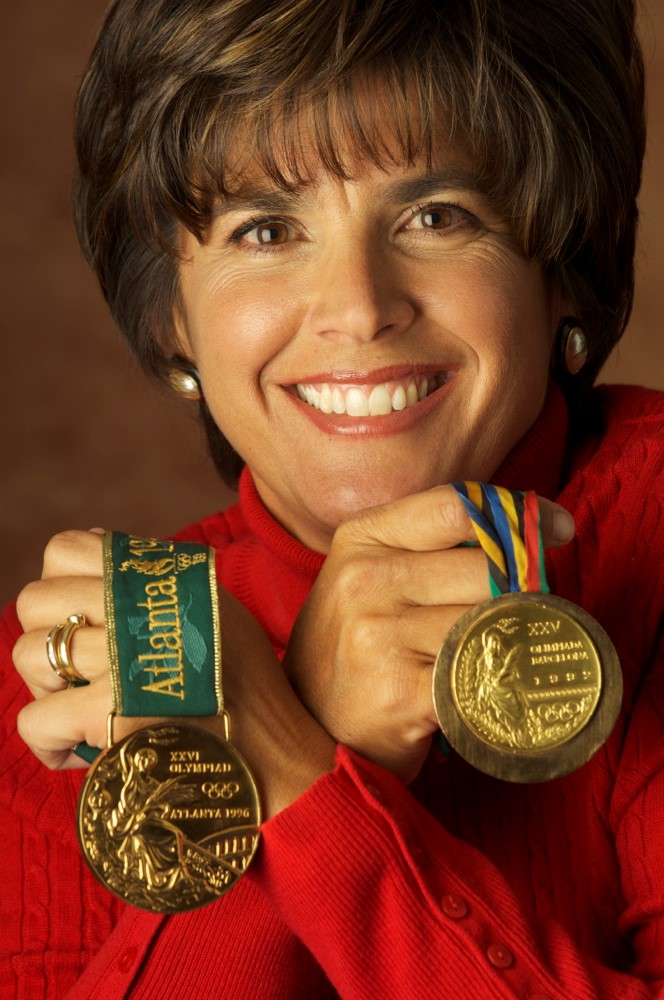 Gigi Fernandez is at the center of the biggest controversy in Puerto Rican sports history. When it comes to representing one's country at the Olympics, it is quite a big deal in Puerto Rico. In the 1992 and 1996 Olympics, Gigi made the crucial decision to play for the United States, not Puerto Rico, because she believed that it was her best shot at winning a gold medal. At the time of the 1992 Olympics, Gigi wanted to win. She was still a young athlete and was playing the best tennis of her career. At one point she was ranked #27 in doubles by the Women's Tennis Association and was the player to watch by Tennis magazine. She was just coming straight out of college at Clemson University, where she had reached the National Collegiate Athletics Association (NCAA) tennis final her freshmen year.2
In the span of the two Olympic cycles between 1992 and 1996, Gigi won multiple doubles titles in each Grand Slam tournament, including the Australian Open, French Open, US Open, and Wimbledon, making her a must-watch player. Gigi considered playing for Puerto Rico in those Olympics. In fact, she had represented Puerto Rico in international competitions before 1992, and was offered to be the island's flag bearer for the 1992 games, according to reports of that year, but she later claimed that she had never been given that offer.3 But if she chose to play the Olympics for Puerto Rico, she would have had to play with a partner ranked less than 240 in world rankings, making her chances of obtaining a gold medal crucially low. The United States Olympic delegation told Gigi that if she were to play for the United States, she would be partnered with Mary Joe Fernandez, who was then ranked #9 in doubles world rankings. Given that scenario, Gigi decided to play with Fernandez and the United States team, and they eventually won gold in both the 1992 and 1996 Olympic games.4
Her decision, however, was not taken very well by islanders, because as soon as she made her decision, she began receiving criticism from political figures, being called a traitor and being the most hated sports figure on the island. To this day, she is not considered the first Puerto Rican woman to win an Olympic gold medal. Gigi had this to say about it: "It was a tough decision, but in end, if I put my career in front of my heart and my patriotism, then I made the right decision. The only chance I had to win a gold medal was for the U.S. since there was not another Puerto Rican to play with. It's still controversial. Sometimes I'm not credited with being the first Puerto Rican woman to win a gold medal."5 Puerto Rico has won silver and bronze medals in Olympic play, but no gold medals.
"I still feel Puerto Rican… I am very proud for Puerto Rico. I am very proud for the US, I am very proud." -Gigi Fernandez
The tennis athlete who rewrote the history of Puerto Rican sports is Monica Puig Marchan. Monica was born in Puerto Rico, but she moved to the United States at a young age due to her parents' work issues. She has always been proud of her Puerto Rican roots, and from the moment she began to play tennis, she said she would represent Puerto Rico until the day she retires from the sport. Eventually, she would become the first athlete representing Puerto Rico to win a Women's Tennis Association (WTA) title, participating in all the Grand Slam tournaments: the Australian Open, French Open, US Open, and Wimbledon.6 She is still working toward her first title in a Grand Slam event. When Monica qualified for the Summer Games of 2016, she was unseeded, and as she worked up the tournament brackets, she took down topped-ranked players, and even defeated Grand Slam champions Garbiñe Muguruza and Petra Kvitova.7
August 13, 2016 is a day that will forever be marked in the history of Puerto Rican sports and its Olympic delegation. This was the day Monica took down former #2 ranked player Angelique Kerber 6-4, 4-6, 6-1, to claim the island's first ever Olympic gold medal. Monica was the first athlete, male or female, to represent Puerto Rico to achieve this, and for the first time in the sixty-eight-year history of Puerto Rico's Olympic delegation, La Borinqueña was heard across the globe from the Olympic stage.8 "I am a proud latina and I love Puerto Rico with all my heart. As long as I am still playing tennis I will proudly represent Puerto Rico."9
When Monica won, the atmosphere in Puerto Rico was wild. People went to the streets shouting Monica's name and waiving Puerto Rican flags all over. This was just the beginning of a big celebration that was awaiting for the island's new young star. And as soon as the island's first gold medalist stepped foot in Puerto Rico, she received a hero's welcome with the whole Puerto Rican delegation that was brought to the summer games, expecting a record breaking crowd in San Juan. The director of the Department of Parks and Recreation Ramon Orta said to a local radio: "She brought us all together as a country and there aren't words to describe what it means to the island."10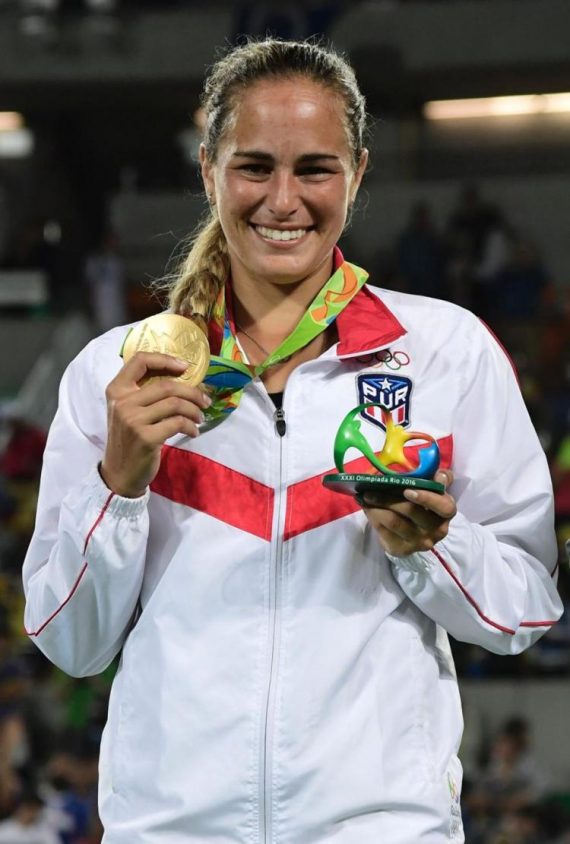 "It was a very special moment, I love Puerto Rico so much and I am very grateful for all the love and support I have received. I felt that I owed the people of Puerto Rico so much and I repaid them with this gold medal."- Monica Puig11
Gigi's decision to choose the United States over Puerto Rico will haunt her for the rest of her life, but she says if she could go back to 1992 and 1996, she would still choose to play for the United States. In fact, if it was not for Puig's success, the debate over who won the first gold medal for Puerto Rico would not be brought up at all. She was once asked what anthem she would prefer to hear, and she responded by saying that it was a very naive question because she grew up with both and knew Puerto Rico's national anthem by heart. Later she said that both anthems to her have a very strong emotional feeling, and stating that for Puerto Ricans, as US citizens, it is very difficult to state those emotions.3
When Monica won the gold medal, of course Gigi Fernandez was watching. Gigi congratulated Monica, but that was not taken very well by Puerto Ricans, receiving criticism all over social media. People were calling Gigi a sellout, a racist, and a traitor to her country. Right after the win, Gigi told The Associated Press that what bothered her was that people thought she would not be happy for Monica's achievement. She stated that she was very happy and wildly ecstatic.13 In fact, there is no feud between Monica and Gigi. Monica said that Gigi congratulated her personally and that it was very nice of her, and that she was an inspiration to many.14 Monica was able to unite a nation, a nation suffering from an economic crisis and divided by political views. For two whole days, Puerto Rico was united, which is something Gigi Fernandez was not able to do. When you win a medal while representing a country that has damaged and divided your people, you are never going to be honored with the title "first Puerto Rican born athlete to win a gold medal" back on the island.