Feeling an intense personal pressure to be the greatest by besting all previous composers, Gustav Mahler forged his future accolades by naming his first expansive work "The Titan," giving light to his piece as one that prolifically stood out for greatness and achievement, as the name "Titan" implies. Moreover, Mahler felt the need to not only best the famed Ludwig van Beethoven in the breadth of his greatest symphonies, but also in the sheer size of his works. However, as confident as Mahler was, he was even more so insecure as he battled his own personal demons throughout his childhood, which would include being classified as "absent-minded" by his teachers. These battles eventually plagued his adult life, and influenced his works, and created an entire shift in the world of classical music altogether.
On an icy winter day in 1888, Mahler began energetically composing "The First Symphony" in Leipzig, Germany. With an "intense creative burst," he began writing in January and constantly worked between his usual rehearsals and conducting, utilizing all of his free time to complete the masterpiece soon after in March. While not composing, Mahler taught private piano lessons as well as conducted at the Leipzig City Theatre. On top of conducting numerous operas, he worked diligently on his First Symphony. Six weeks of attention to detail and hours spent writing finally culminated in the piece's premiere over a year and a half later, on November 20, 1889. However, the full story of this piece actually starts nine years earlier, in 1880. Mahler lived then as a private piano teacher, but he composed his own dramatic Cantata, "Das klagende Lied (The Song of Lamentation)," which became his initial inspiration to begin penning a major symphony, later to be known as "The Titan." Taking inspiration from this Cantata, along with that of his mentor Anton Bruckner, Mahler began piecing together the various ideas that were sewn together to create "The First Symphony."
Being both a contracted conductor and a private piano teacher, Mahler was left with little time to compose; however, his consistent goal of wanting to transcend other composing giants and become the best gave way, allowing him time outside of work at the Leipzig City Theatre to refine his personal craft. Drawing on his need to outdo Beethoven, Mahler was certain this piece had to be even bigger and even better than any of Beethoven's works. Designating this piece as "The Titan," Mahler already made up his mind that this would be larger than any symphony anyone had done before him. He decided to write this masterwork in five movements, one more than the time period's norm. Additionally, this work had extensive instrumentation using instrumental doubling to include seven French Horns rather than four, and a widespread choir to accompany the colossal orchestra.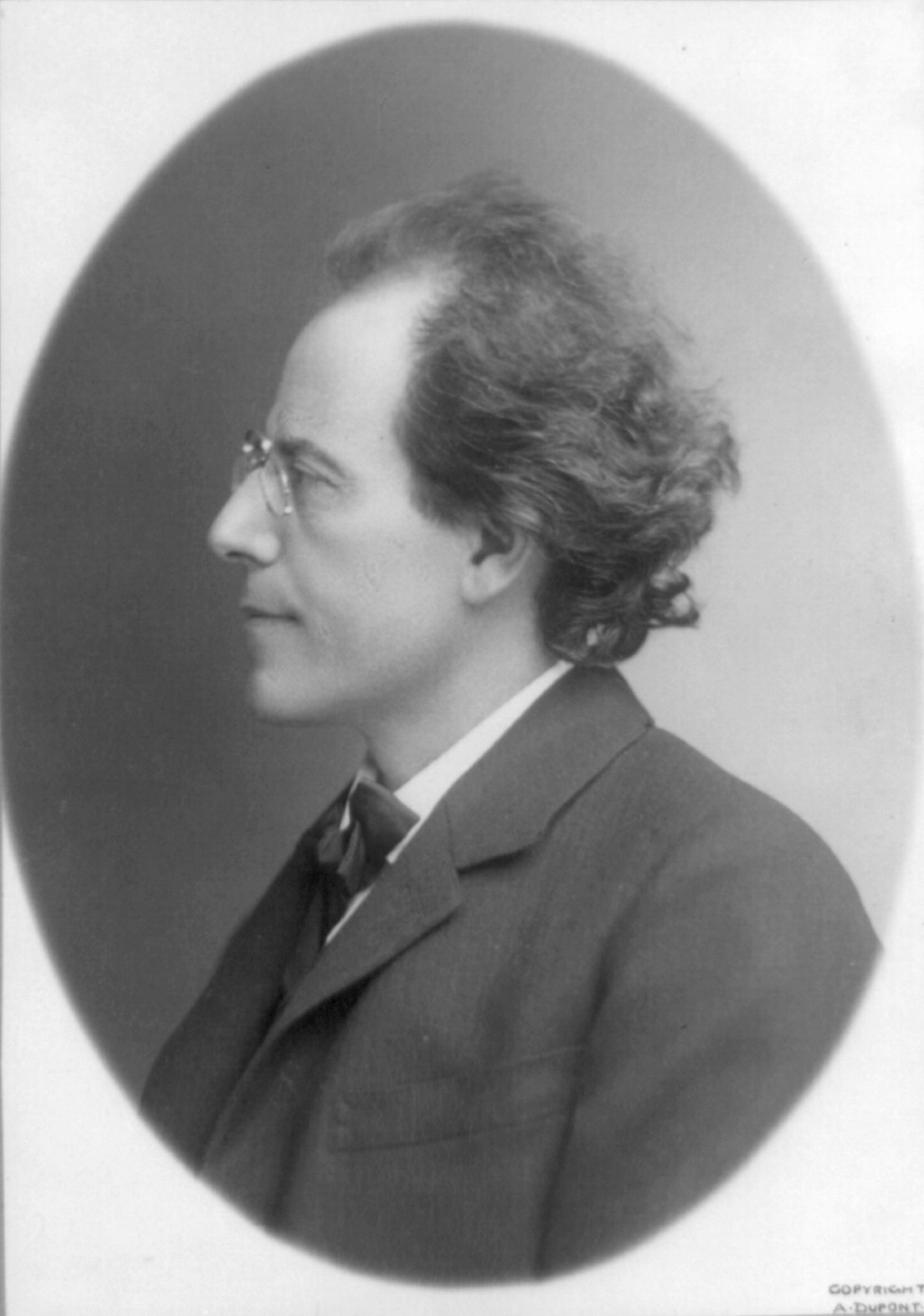 Mahler's life had been filled with insecurities that stemmed from his childhood. Filled with constant bickering from his parents and non-stop condescending comments from his teachers about his intelligence, Mahler always had these voices in the back of his mind when composing "The Titan." He constantly questioned his musical choices, and wondered whether he would ever be good enough compared to composers that came before him. He even constantly questioned his self-worth when it came to his conducting, teaching, and composing career. On top of these issues, Mahler suffered from a very tough battle with depression his entire life, and music was his outlet to express his depressive outlooks. He wanted to transcend other composers and make his symphonies superior and do more than any before him. The key to that for Mahler was that he use his emotions and insecurities to inspire some of the greatest emotional moments in the First Symphony, and he even pulled from some of the music he composed for his 1880 Cantata. Not only that, he took the children's tune of "Frère Jacques" and put his own unique spin on it. He put this famous children's tune in a minor key and made it sound almost like a funeral march. It is said that he used that to symbolize the sad and depressing loss of his younger brother Ernst, who died in the year 1875.
After the Symphony's composition had been completed, Mahler was faced with a myriad of tragedies prior to the premiere of "The Titan." On February 18, 1889, Mahler lost his father, Bernhard Mahler, and later in the same year, he lost his sister on September 27th and his mother on October 11th. After the loss of his mother, Mahler was tasked with providing care for his four younger brothers and sister. Due to all of the tragedies that had occurred, and tasking himself with composing a large scale musical work, while already suffering from a life-long state of depression, Mahler also began having nagging migraines and was often plagued with septic throat, all while preparing for the premiere of his First Symphony. The goal to premiere this symphony was inspired by all of the tragedies Mahler faced. He used his life experiences and hard emotional moments as ways to push through and complete his goal and take steps to make sure his Symphony was a success.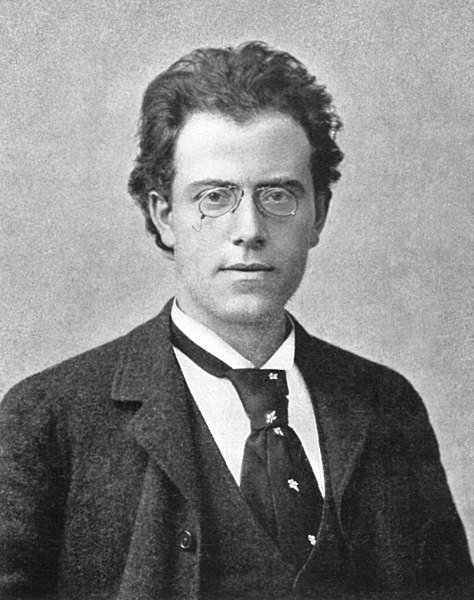 In the days leading up to the premiere, Mahler pushed himself to premiere this work despite the tragedies that occurred. During the final preparations of "The Titan," Mahler again began to face numerous insecurities and anxieties. On top of the battle with depression he faced his entire life, he would fall even deeper into this depressive state due to the loss of his parents and sister. With constant self comparisons to other great composers, his questioning of himself on the quality of his work as a musician began to sneak back in and he questioned the symphony's worth and quality. Despite these mental and emotional setbacks and hardships, Gustav Mahler finally premiered Symphony Number 1 in D Major, "The Titan," on November 20, 1889 at the amazing Vigado Concert Hall in Budapest, Hungary.
Following the premiere, "The Titan" received disastrous reviews. Some critics even mentioned that it was too different from the clichés of classical music at the time. Some called it a nuisance and confusing.After that disastrous premiere, Mahler left the work untouched for three years. Mahler fell into a deep state of depression as well, confirming the self doubt he imposed on himself. Mahler called himself a failure and considered the fact that maybe he was always meant to be a conductor rather than a master elite composer. Subsequently, after three long, dreadful years in a state of self pity, dread, and even mental abuse from himself, Mahler began to make revisions to this diverse work of music. Mahler worked from January of 1893 to August of the same year. Finally, after years of tragedies, disasters, and dread, Mahler re-debuted Symphony Number 1 on October 27, 1893. What differed from the first debut was the fact that Mahler included program notes as well as conducting the piece himself, bringing together both of his worlds in the art of music. Mahler then went on to receive favorable and better reviews for this Symphony as many critics even considered it ahead of its time. Mahler himself was quoted about the quality of his music, stating, "Would that I could perform my symphonies for the first time 50 years after my death!" Nonetheless, "The Titan" proved its own worth and was considered one of the best symphony's of all time. It went on to be the key that led Mahler to great success in music.
Mahler learned from his mistakes in the following symphonies that he later went on to compose, and it showed in his very successful Second Symphony, which was given the title "Resurrection." The "Resurrection" symphony proved to be Mahler's true rise to fame and cemented his legacy as one of the elite composers of classical music. Another one of the greats in composing and conducting, Leonard Bernstein, later brought Mahler's music back into relevancy in the twentieth century and allowed a new generation to discover and fall in love with these amazing masterworks of orchestral music. While Gustav Mahler struggled, he never faltered and he went on to establish his own legacy as he composed a record of ten master symphonies, thereby transcending the number of symphonies by the great Beethoven, who composed only nine. Mahler not only composed a large number of symphonies, but he also innovated the Symphony Orchestra to what it is today by expanding it in size. Without Gustav Mahler, classical music may have never become one of the elite art forms and the Symphony we know today possibly may have never evolved into one of the most popular forms of classical music.
I would like to thank Ms. Eryn Oft (Double Reed/Music History Professor at Jacksonville State University) for all her help in the early stages of this project, particularly in helping me with the approach to take in my research. I am also indebted to Dr. Bradford Whitener in the editing phase of the project.