In 1924, George Gershwin, a famous American composer, premiered "Rhapsody in Blue," which became hailed as a "highbrow jazz" piece. Gershwin enjoyed taking common art, like jazz, which he thought was crude and vulgar, and make it transcend itself into a higher form of art, like he did with "Rhapsody in Blue." This would not be his only work that elevated the music of "commoners." In 1925, Gershwin read DuBose Heyward's novel, Porgy, which illustrated the love story of two African Americans named Porgy, a crippled beggar, and Bess, who was addicted to drugs and was in an abusive relationship with her boyfriend, Crown. This story takes place in a black slum in South Carolina, the home state of Heyward, called Catfish Row. This novel was Heyward's attempt to capture the folk culture of the African American community, and George Gershwin took an interest in it as well. Heyward and Gershwin wanted to present authentic African American folklore in an opera, so in the summer of 1934, they spent time on Folly Island, South Carolina in an African American community to experience its culture through its church services, revival meetings, and funerals. The duo also agreed that they would not use blackface, but instead, they would hire an all-black cast who could authentically convey the African American culture to the audience. Porgy and Bess premiered in 1935 as an operatic piece with music by George Gershwin and his brother Ira Gershwin. But, was the attempt of Heyward and Gershwin to convey the African American folk culture on stage accepted by the African American community as an authentic and respectful representation of their culture, or was it seen a glorified minstrel show?
Minstrel shows were a popular form of entertainment during the second half of the nineteenth century. At first, these shows were performed by an all-white cast in blackface presenting stereotypes of slave culture in a comedic sense through song, dance, and jokes. Al Jolson had a successful career in blackface and even wanted to play the part of Porgy in Porgy and Bess; however, Heyward and Gershwin wanted to steer away from blackface to produce a more authentic representation of folk culture. However, the use of an all-black cast in Porgy and Bess does not automatically dismiss its inability to be called a minstrel show. In 1865, the first all-black minstrel group, the Georgia Minstrels, gained popularity in the Northeast, and the saturation of all-black minstrel groups in America grew through the 1870s. Black minstrel groups provided more authenticity to this form of grotesque entertainment in regards to dance and music.
To begin to answer the question of whether or not Porgy and Bess was, in fact, really a minstrel show or genuine operatic work, it is important to listen to the voices of African American critics, since it was their culture that Gershwin decided to put under the stage light. Not surprisingly, there was great criticism over the dramatic content of the play and its portrayal of African American culture. Pearl Bailey, who played Maria in Porgy and Bess, criticized certain lines from the opera saying, "I don't care if it's Negro, or Italian or Creek or French, it's in bad taste," also claiming that these particular lines were "unnatural." This use of the word "unnatural" implies that Gershwin and Heyward were unable to capture the authenticity of the African American culture fully, probably because they were not of that race and ended up creating over-exaggerated elements of African American lingo. Leigh Whipper, an African American actor born in 1876, claimed that, "As a person and president of the Negro Actors Guild of America, I will not participate in any project that may prove to be derogatory to my race." A. S. Young, also an African American actor, wrote to Goldwyn, the producer of the movie adaptation of Porgy and Bess, that Porgy and Bess "perpetuates old stereotypes of people that right-thinking people have buried long ago."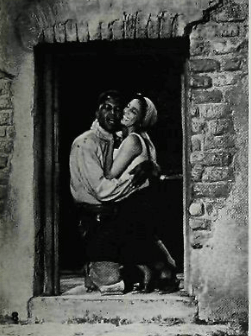 Today, Porgy and Bess is considered a classic, especially because of the musical elements, and it is still performed. Grace Bumbry, a contemporary actress of the character Bess, stated, "I thought it [the role of Bess] beneath me. I felt I had worked far too hard, that we had come far too far to have to retrogress to 1935. My way of dealing with it was to see that it was really a piece of Americana, of American history, whether we liked it or not. Whether I sing it or not, it was still going to be there." Gathering from both historical and contemporary voices, Porgy and Bess has never been accepted by the African American community as an authentic or tasteful representation of their culture particularly due to the stereotypical characters created by Gershwin and Heyward. Still, regardless of the dissatisfaction it brought to the African American community,  Porgy and Bess has been immortalized in today's theatrical repertoire by its equally immortalized composer, George Gershwin. It will always be America's first opera. Not only that, but it is American's first opera that just so happened to be made for African Americans during the 1930s. While it is an important historical opera, Porgy and Bess will also continue to spew controversies over its racial content.