"Oh deep in my heart, I do believe that we shall overcome today," was sang outside the Health Education and Welfare (H.E.W.) building in Washington D.C. by Judith Heumann and protestors alongside her in 1977. Judy, like her fellow protestors, wanted the signing of the 504 regulations to finally happen and was tired of waiting. Section 504 of the Rehabilitation Act states, "No otherwise qualified individual with a disability in the United States shall, solely by reason of his or her disability, be excluded from the participation in, be denied the benefits of, or be subjected to discrimination under any program or activity receiving federal financial assistance."
The signing of the Rehabilitation Act of 1973 under President Nixon was intended to protect people with disabilities from discrimination. However, four years later, the law had yet to be implemented. Schools, libraries, subsidized transportation, courtrooms, and many more places were supposedly "available" to the public, but they were not accessible to people with disabilities. After years of lobbying and letter writing, the disabled community had had enough of waiting for things to change. The American Coalition of Citizens with Disabilities warned Mr. Joseph Califano Jr., the secretary of Health Education and Welfare under President Jimmy Carter, that if action did not occur by April 4, there would be national outrage. Judith Heumann and Kitty Cone were two of the prominent activists that planned and organized the subsequent protests. Judy had contracted polio at 18 months old and became disabled. This ultimately shaped her life as she was excluded from schools and job opportunities because of her disability.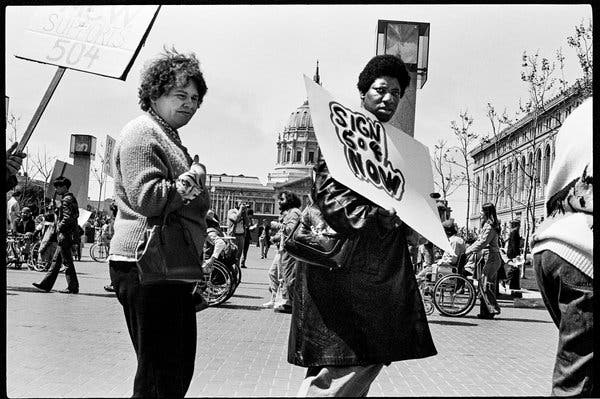 Across the country, people with disabilities, their families, aids, and allies protested at local government buildings from Chicago and Boston to Atlanta and Seattle. Some protests lasted a few hours and others lasted days. In California, one of the bedrocks of the disability liberation movement, hundreds of protestors and organizations headed to the regional H.E.W. office, and among them were Judy and other prominent leaders, like Kitty Cone and Brad Lomax. When the protestors arrived to meet with Joseph Maldonado, the regional director who reported to Califano, they were surprised to hear that no one knew what Section 504 was or why they were there.
Judy and her fellow protestors were exasperated at the lack of respect and not being taken seriously. Since no one knew what they were there for, they decided to not leave the building. That night marked the first night of a 25-day occupation of the building. People in wheelchairs and using other aids occupied the building and refused to leave. In a society where disabled people are not able to freely exist, they forcefully took up space and refused to go by unnoticed. They had no idea how long they would be there; all they knew was that things needed to change and they were going to be taken seriously. Due to the fact that the hundreds of the protestors in attendance were from various diverse backgrounds, many of them had connections to a plethora of groups that could offer them support in their struggle. Churches, LGBT organizations, and other groups offered support to the protestors. Brad Lomax, a member of the Black Panthers, was able to get support from the Black Panthers. The Black Panthers, Grey Panthers, and other organizations brought blankets and hot meals, and helped individuals with showers. Even the mayor, at the time, offer support to the protestors. Mayor George Mascone brought small mattresses for the protestors to use to sleep on during their stay at the H.E.W. building.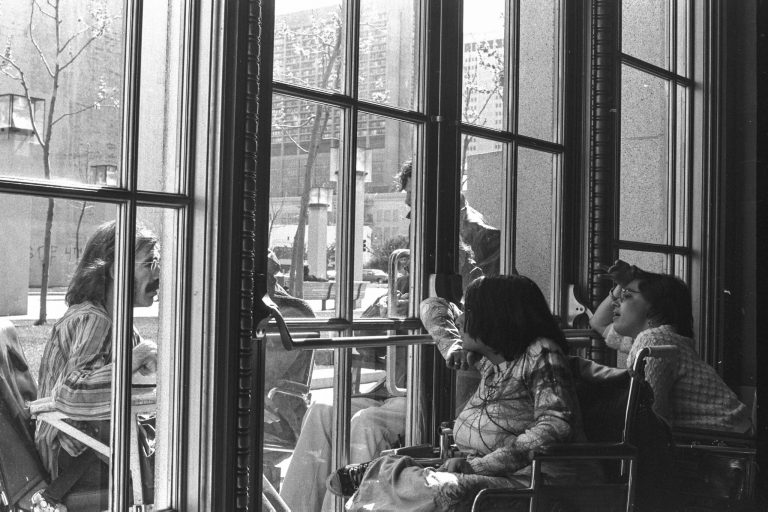 Each grueling day, Judy went to each protestor and asked if he or she was able to stay another night. Sleeping and living out of a government building would be tough for anyone, but for protestors with disabilities, many of them did not have access to the aids that they normally would have. Some needed special medications or breathing machines while others needed someone to help move them at night. However, each time Judy asked if they could stay for one more day, the protestors told them they would stay. They never gave up, even after the officials turned off water to the building and cut the phone lines. The protestors refused to leave. Even though the phone lines were cut, their communication with the outside world was still not hindered. The Deaf and interpreters utilized American Sign Language to communicate with protestors outside the building through windows. The protestors inside the building would not be able to enter the building again if they left because they would be locked out. So protestors that had decided to leave and could not spend the night due to health concerns would come back, along with any new protestors, and support the ones inside. They especially were helpful because they could update the ones inside with news about what was going on in response to their occupation.
Many of the officials in the building tried to reason with the protestors in the building. Politicians and officials argued that they were in fundamental agreement with the protestors, which further ignited Judy and her fellow protestors with outrage and disgust because each day Joseph Califano and the administration reported more and more 'points' that they included as areas that they did not agree with and thought needed to be addressed in the wording of Section 504. One protestor rebuked, "We are in fundamental disagreement." Exhausted and furious, Judy tried to make it clear to the men from the regional H.E.W. building, tearing up, she stated, "Every time you raise issues of 'separate but equal' the outrage of disabled individuals across this country is going to continue. It is going to be ignited. There will be more takeovers of buildings until finally maybe you begin to understand our position. We will no longer allow the government to oppress disabled individuals. We want the law enforced. We want no more segregation. We will accept no more discussion of segregation." After feeling like they were still not being taken seriously or heard, the protestors devised a new plan. Fourteen of the protestors, including Judy, and eight aids left the sit-in and flew to Washington D.C. in hopes of either talking to President Carter or to Joseph Califano. The protestors that were left behind continued their sit-in and waited for news from Washington.
Once in Washington, they headed to Joseph Califano's headquarters where the protestors were stopped by inaccessible curbs outside the H.E.W. building. They continued to protest outside the building from the street, even after Joseph Califano canceled a previous meeting with them. Judy told a reporter, "I felt like I was being excluded from a building that I pay taxes to keep open. And I am absolutely mortified that President Carter is allowing this to go on. His 'open door policy' certainly is not very open." The protestors went from the H.E.W. building to outside Joseph Califano's house, but were still met with silence. In order to travel from place to place, the protestors rode in the dark, in the back of a giant moving truck because the public transportation did not have wheelchair lifts or accessible entrances for them. They headed to the White House to protest as well. All they could do was hope that all their efforts and travels would meet some promising conclusion.
After protesting in Washington, Judy and the others headed back to San Francisco, to their fellow protestors that were still holding strong at the government building occupation. On April 28, 1977, the regulation was finally implemented. The sit-in continued for two more days after the signing, as they cleaned the building and waited for Judy and the others to return. The 504 sit-in in California is among the longest occupations of a federal building in US history.
The signing of Section 504 laid the groundwork for the writing of the Americans with Disabilities Act years later and was the first legislation in American history to recognize people with disabilities as members of society that had a right to participate openly. Judy Heumann and the countless other protestors and leaders like her fought tirelessly in the face of ignorance, discrimination, harassment, and blatant disrespect so that people with disabilities today could have access to the things everyone else already has access to. However, there is still much work to be done as many places are still inaccessible, people with invisible disabilities still face stigma, and the healthcare system inherently values the lives of the non-disabled more than people with disabilities. Judy Heumann went on to help other countries draft legislation for people with disabilities and is still an active presence in the disability rights movement today.