"God help me out somehow," whispered Kerri Strug, a two-time Olympian and gold medalist, as she was one perfect vault away from winning the 1996 Olympics. Kerri was the youngest in the 1992 Olympics in Barcelona at the age of fourteen. After her travels and rigorous training, at the age of eighteen, Strug achieved her goal of qualifying for the 1996 U.S. Olympic Team for gymnastics. Going into her second Olympics in 1996, Strug could have never expected the spotlight and the loyal fans she gained from her motivational vault. Kerri Strug's final vault was over in the blink of an eye, but her determination and drive still continues to inspire people all over the world. Strug was a gymnast who overcame many obstacles in her journey to win several Olympic medals. Her comeback from the 1992 Olympics was the build-up of her astonishing performances. Strug's downfalls and fierce comebacks kept her on the road, which led to her successes and the up-lifting of her inspiration.
The successes of her sister in gymnastics inspired Kerri to be exactly like her by becoming a gymnast herself. Kerri's sister, Lisa Strug, was coached by the famous Bela Karolyi; as a young athlete, Strug automatically knew what she wanted in order to gain the help she knew she needed to be successful. At the age of eight, Kerri competed in her first meet, increasing her interest and passion for the sport. As Kerri Strug grew older, she insisted she should be coached by Bela Karolyi as well. Although she begged for his intensive coaching, he made sure it did not happen unless Kerri moved away from her home in Tucson, Arizona and moved to his Houston-based gymnasium. Strug and her parents agreed to let her move away to Houston and allow Bela to take full responsibility for her. And at the age of thirteen, Kerri began preparing for the 1992 Olympics.
Even though Kerri joined gymnastics because of the enormous passion she had for the sport, she took on a good deal of training, which was thought to be the reason for her successes in all competitions. Kerri trained six to seven days a week, and each training day consisted of a total of eight hours. As part of her training, Coach Bela and his wife Martha strictly enforced healthy nutrition diets. They kept their eyes on the gymnasts' food intake from the time they woke up to the time they went to bed. The girls' nutrition was the main thing that was going to keep them in the running for the 1992 US Olympic Team. Barcelona's 1992 Olympics was a whole lot closer than it seemed to Kerri. The last Olympic trials had been held in Baltimore. In this competition, Kerri performed some of her best, putting herself up in the top picks. When it came down to the event she was known for, things didn't go as planned. In her floor routine, she fell after an aggressive tumbling pass caused her to lose points. Although she thought that this would affect her chances of making the team, it did not do so at all. Strug ended up being the sixth pick for the Olympic team! Kerri felt accomplished knowing that she made the Team, but she made sure she did not settle for it. Going into the Olympics, Kerri's goal was to qualify for the individual competition, which she did not when the time came. When the entire team received a bronze medal, she was not satisfied with how she performed. This only motivated her to continue training to increase her chances of once again getting into the 1996 Olympics and to qualify for the individual competition.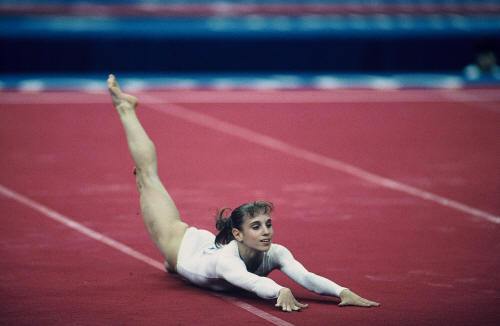 As soon as the 1992 Olympics came to an end, Kerri's mind was already set on the next one. But little did she know that she was going to have trouble finding a coach that she could have the utmost trust in, and one she felt comfortable enough to be coached by. Coach Bela decided he was going to retire from coaching, and announced it to his gymnasts right after they completed their performances and bronze medal ceremony. Bela left his prodigies with no coach and no gym to return to.
With this information, Kerri wanted to stop allowing gymnastics control her life. But she felt like she couldn't just forget about the sport. For the next three years, she jumped from gym to gym, but was never able to find one that felt like home, or even a coach that pushed her to her limits, as Bela had done. With all of this going on, Strug had trouble competing at her highest potential. At one of her non-medal competitions, Kerri badly tore her stomach muscle, resulting in keeping her out of gymnastics for a total of six months. She decided to return home and finish school. Once Kerri was cleared from her torn muscle, she went back to training, and competed in yet another non-medal competition in California. Here she was injured again with pulling her back muscles. With this injury, she was out for an additional six months. Due to her injury, Kerri decided to complete high school in a positive way, and she was then accepted into UCLA, but she turned their offer down.
Kerri was on a decline in the gymnastics world, starting with not qualifying for the individual competition in the 1992 Olympics, Coach Bela retiring, and her injuries during the time of her searching for a coach and gym. With the handful of troubles Kerri had encountered, her mind was full of doubt. She was unsure of herself, and she had lost all motivation. Kerri had no drive to go to college either, and she made the decision to take some time off from school. After awhile, in 1994, Strug heard a rumor about Bela returning from his retirement, causing her to begin her search for him. Kerri knew that this journey was going to be tough, getting back into gymnastics; but the only way it was going to be viable was if Bela Karyoli were her coach. Strug made sure he was her coach again, and went straight to him for his fierce attitude and training. Now this was just the start of Strug's comeback. Kerri qualified for the 1996 Olympic Team, and her one goal other than receiving a team gold medal was to qualify for the Individual Competition, since she failed to do so at her last Olympics. Kerri knew that this was not going to be the easiest and it was significant that she was precise with every event she performed in.
The 1996 Gymnastics Olympics was an intense one. The Russians and the Americans were going head to head for gold, and the final vault of Kerri Strug's was the tie breaker. She ran down the strip and hit the vault perfectly, but came clashing down to the mat, and began to cry. Kerri had injured her ankle, and knowing that her vault was on the line for gold, she got back up and attempted her last vault. "Go Kerri, you can do it! You can do it!" shouted Bela. Kerri motivated herself, saying "You will do this. You're strong. You're fast." As she sprinted down the strip, somersaulting off the vault, she stuck the landing on one foot, leaving everyone in amazement with this stunning vault. It put Kerri in the qualifying list for the Individual Competition, and put the team in the standing for a gold medal!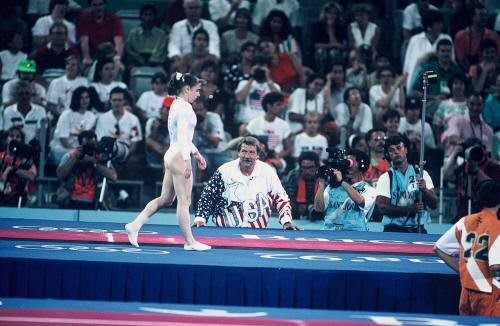 Gymnasts do not get very much time to participate in the sport, considering their time frame is usually from the age of thirteen to eighteen. This makes it incredibly tough to create a successful career. Throughout the gymnastics years of Kerri Strug, she had accomplished a lot more than just winning Olympic gold and bronze medals. Strug always performed at her best potential knowing that there would be a time when she could no longer compete in the gymnastics world she found so heavenly. She went through doubts in carrying on her passion for gymnastics, but with the announcement of the returning of Coach Bela Karyoli, Kerri wanted more for her career as a gymnast. Kerri Strug faced many struggles between 1992 and the 1996 Olympics, but her extravagant vault and the clenching of her spot in the Individual Competition in the 1996 Olympics would have not existed if it were not for her and Coach Bela's inspiration comeback.