Several Canadian communities in the province of British Columbia (BC) have experienced a significant increase in the number of earthquakes in recent years. As they watch a once infrequent geological phenomenon become a regular occurrence, British Columbian residents are making a connection between the increase in earthquake activity and the rapid development in the number of sites utilizing a controversial method of resource extraction: hydraulic fracturing, or fracking. Despite the protests from surrounding communities, BC has experienced a rapid increase in fracking projects. As it stands today, "most of BC's energy wealth is extracted through hydraulic fracturing"; But what may prove to be most shocking to the locals is the risk that comes with the seismic events they don't feel.
Hydraulic fracturing, or fracking, is a drilling method that is most commonly used to extract natural gas from low permeability shale rock formations. The fracking process requires the injection of high-pressure fluids into underground shale formations to create fractures in the rock and increase permeability to allow for the extraction of previously inaccessible oil and gas. The fracking fluids and saltwater that are extracted along with the natural gas are referred to as wastewater, that is often disposed the subsurface by injection into deep wells. Hydraulic fracturing is a controversial topic across the globe due to concerns surrounding the environmental impacts associated with fracking practices; these concerns have spurred several countries to temporarily ban the practice entirely.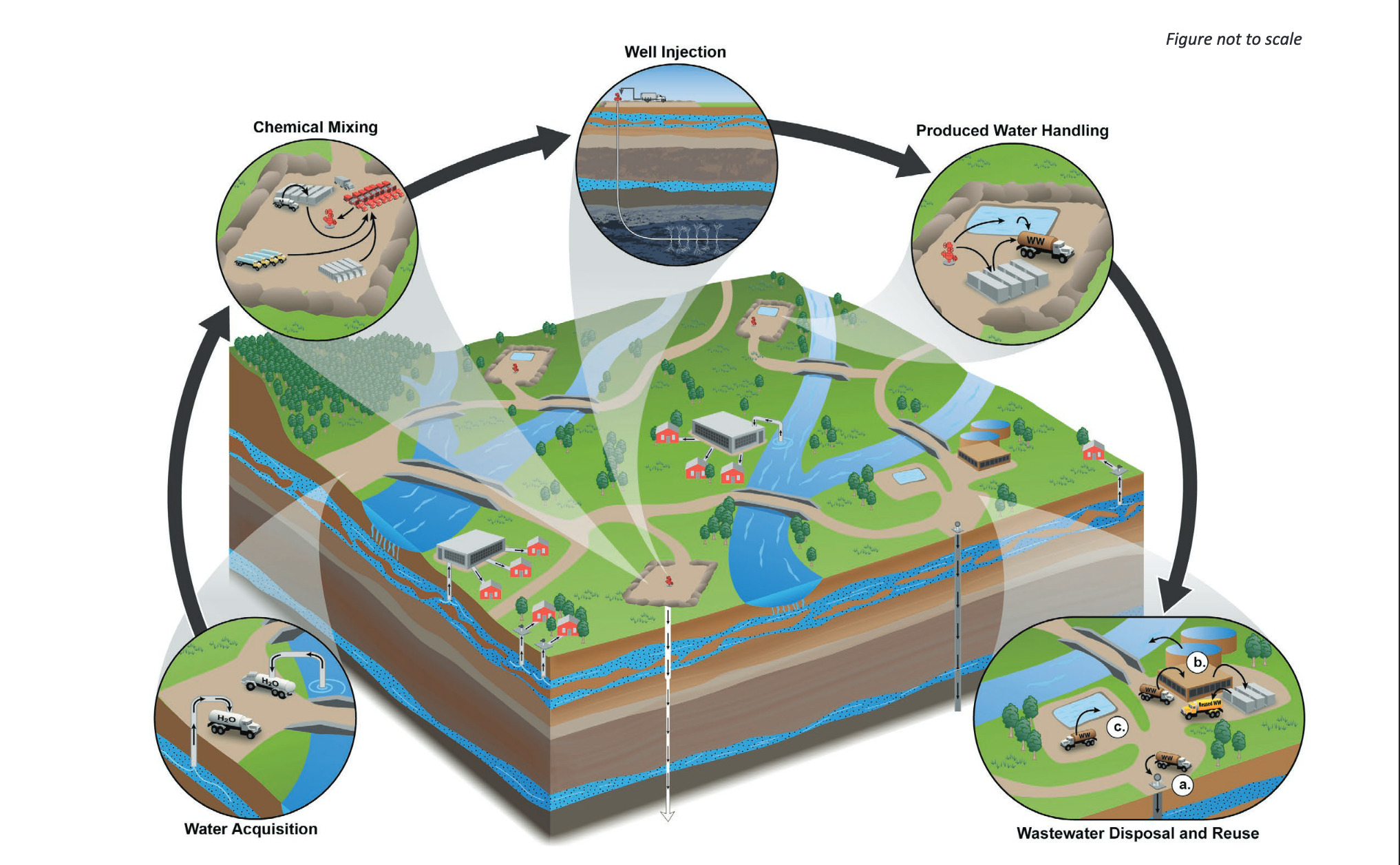 A common concern voiced by fracking critics and local residents alike is the increase in earthquake activity observed at several hydraulic fracturing sites in BC in recent years. It is important to note that the process of fracking causes small and intentionally induced earthquakes at the targeted shale rocks, but the major concern is directed at the earthquakes that are larger in magnitude, unintended, and linked to previous hydraulic fracturing efforts. The disposal of wastewater through subsurface injection has also been linked to larger magnitude earthquakes than fracking alone, though most are still too weak to be felt. Most fracking sites located in BC are required to dispose of wastewater through deep injection. However, pre-existing faults that can be activated through wastewater injection methods are often unmapped, raising the potential for unanticipated induced earthquakes, and making wastewater injection a risky process.
British Columbia is home to four large shale gas basins and is considered one of the world's largest exploitable reserves of recoverable unconventional gas. The Site C Dam project is located near one of these shale basins, and has experienced a large increase in the number of earthquakes for nearly a decade. While these are mostly small earthquakes (less than magnitude 3), a 4.5 magnitude earthquake occurred in 2018 that forced workers to evacuate the Site C Dam project. These earthquakes have been attributed to an increase in the number of hydraulic fracturing operations in the surrounding areas. The region, not previously known for having many earthquakes until fracking arrived, has been referred to as Canada's fracking earthquake capital.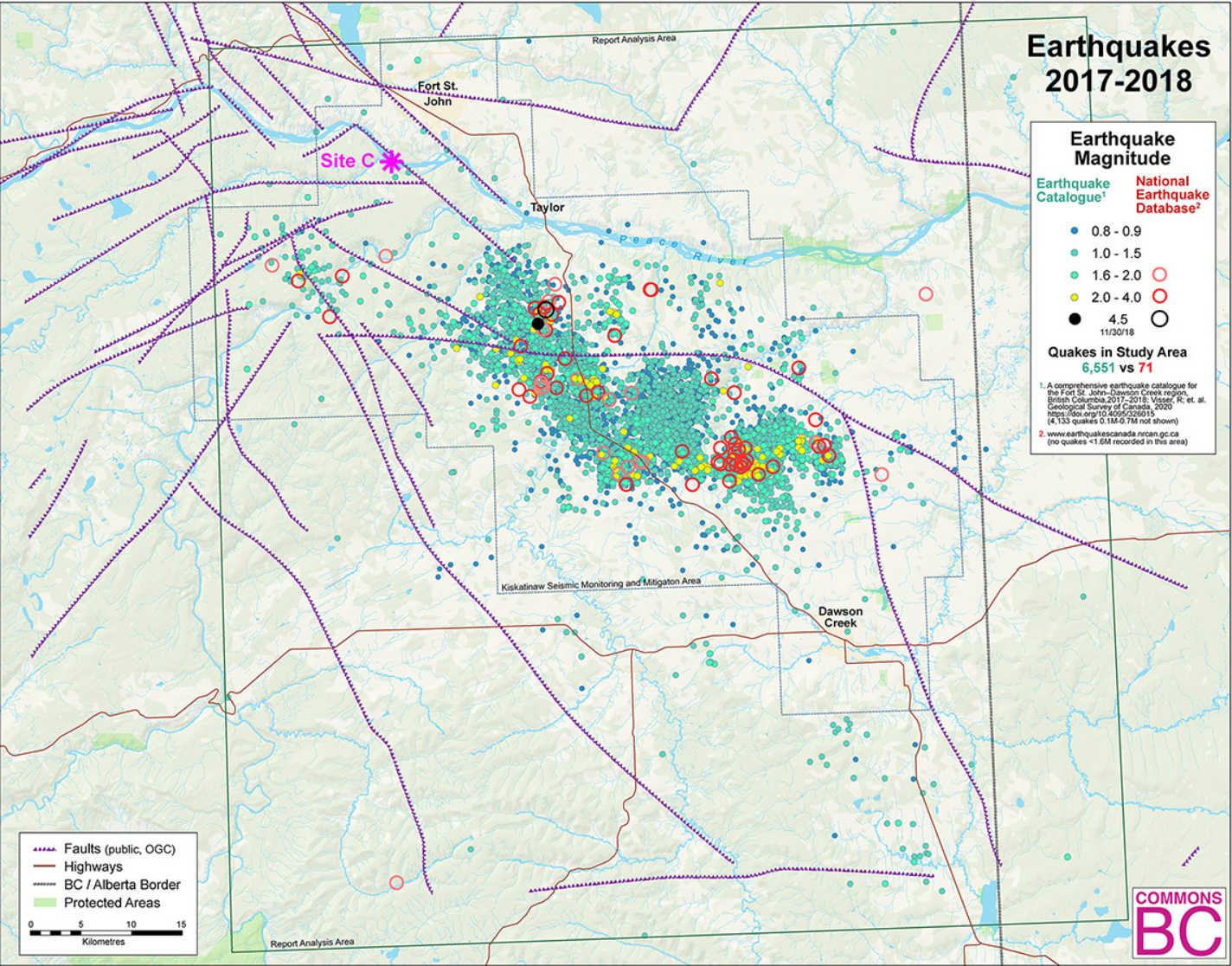 "Between 2017 and 2018 alone, there were 6,551 earthquakes in the region equal to or greater in magnitude than 0.8… [T]here were more than 4,100 other very small magnitude seismic events in the same area that registered under 0.8 magnitude."
Documents obtained via a Freedom of Information Act (FOIA) request revealed concerns that the numerous fracking and wastewater disposal operations in BC triggered several earthquakes that are dangerously close to existing critical publicly funded infrastructure such as the Site C Dam project, Peace Canyon Dam, and the WAC Bennett Dam. The FOIA documents also revealed that "should a strong enough earthquake be triggered near the Peace Canyon Dam it could set in motion events that brought the concrete and steel structure down", and noted similar concerns regarding the vulnerability of the WAC Bennet Dam. Damage to either dam would wreak havoc on the power grid and surrounding communities, as BC Hydro and Power Authority, a Canadian electric utility, estimates that the water in WAC Bennet Dam accounts for a quarter of all power generated by BC Hydro.
Locations of hydraulic fracturing and wastewater sites in the region also coincide with the most geologically sensitive areas of BC: along mapped, existing fault systems. Numerous earthquakes are occurring in a zone already riddled with underlying faults that "can easily become critically stressed with just small increases… during fracking operations." These dormant fault lines were formed by geological activity over thousands, or event millions of years, but it only takes one small seismic event to trigger an even larger earthquake that geologists previously estimated to occur at a much later time. These existing fault lines add insult to injury in terms of the risk posed by fracking, making an already high-risk operation worse.
Despite reassurances in BC Hydro's quarterly reports, there are other geotechnical problems that are suspected to be attributable to regional fracking efforts, including decreased structural stability of existing infrastructure and increasing ground instability at the Site C Dam. Former BC Hydro president and CEO Mark Eliesen questions whether the Site C Dam project should have been approved for construction by government officials, estimating that the original taxpayer-funded $6.6 billion (CAD) cost estimate will almost double to more than $12 billion before the project reaches completion. Construction on the dam project and nearby fracking operations have recently come to a halt, while concerns for similar publicly-funded dam projects have emerged amid the increase in regional seismic activity.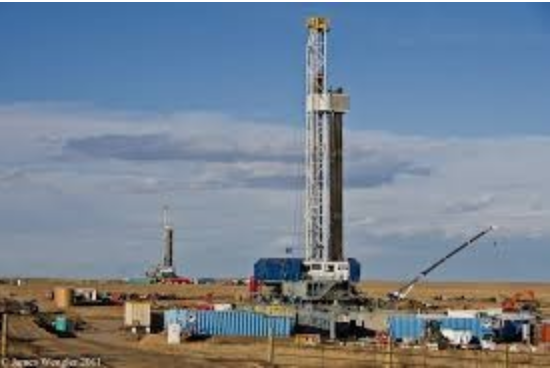 Despite the major risks posed to surrounding public infrastructure, companies continue to show interest in pursuing further hydraulic fracturing projects in the region.  Natural gas production in BC is projected to increase by 87% over the next 20 years. This projected growth in future operations only serves to exacerbate the seismic risk of activating dormant faults that will continue to decrease the stability of public infrastructure at the taxpayer's expense. Though government officials continue to approve permit requests made by companies like BC Hydro and Power Authority, Canadians remain hopeful that their voices will be heard as they continue to adapt to their changing environment alongside protesting efforts.