The saying, "Like father, like son" is many times referred to as a son who follows his father's footsteps and who shares similar beliefs and values. However, for Amenhotep III and Amenhotep IV this was quite the contrary. Some scholars argue that Amenhotep IV was many times kept behind closed doors due to his unique physical appearance; and on the other hand, some argue that Amenhotep IV had been serving as an assistant king to his father for an extended amount of time before the crown was officially passed down to him. In the fifth month of the year 1353 B.C.E, Pharaoh of Egypt, Amenhotep III, officially handed the throne to his second son Amenhotep IV, after the eldest son died at a young age. After Amenhotep III reigned for thirty-eight years, Amenhotep IV became the tenth king of the eighteenth dynasty. According to scholars, Amenhotep III ruled peacefully. He carried on sacred traditions instilled within Egypt. Amenhotep III made no drastic changes with the power that he was given over the land and his people; nor were there rebellious acts or revolts against traditional views during his reign. Amenhotep IV became king during the New Kingdom, Egypt's most prosperous period. This glorious time in Egypt would soon be diminished as Amenhotep IV would struggle to replace the ideas of polytheism (the belief in many gods), which were well practiced and thriving under his father's reign, with the revolutionary idea of monotheism (the belief in one god). Scholars argue that he initiated a revolution in Egypt in the perspective of religious thinking. Although Amenhotep IV did not create the idea of monotheism, he had a great influence on its spread in Egypt. Because he initiated new ways of religious thinking, Amenhotep IV is characterized as a very impactful African philosopher, not only for his own time, but throughout history. Some argue that his religious thinking did not initiate a revolution, but it endangered the traditional way of life Egyptians conformed to.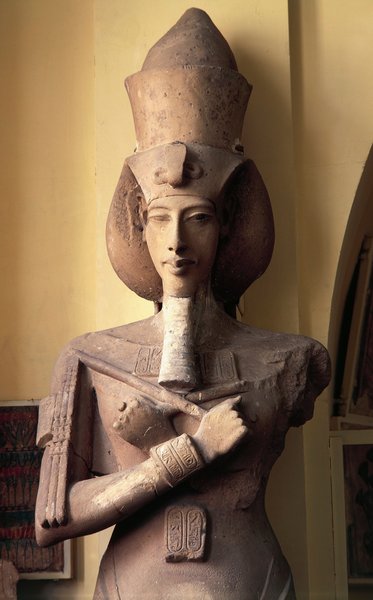 It gradually became apparent that his religious thinking had taken a turn, as he began to replace religious images and symbols of the God Amen with the God Aten in temples and chapels across the land of Egypt. In Amenhotep's fourth year of reign, he claimed to be "revealed by Aten himself." This revelation led to a number of events, such as the Pharaoh changing his name in the fifth year of his reign. He changed from Amenhotep, Mighty Bull, tall of feathers, to the Aten inspired name Akhenaten, Mighty Bull, beloved of Aten. He not only changed his own given name of Heru (Horus), but he had the names of his wives changed as well. Akhenaten not only used his given power to change religion within Egypt, but he made changes to the politics and celebratory traditions as well. For example, the Sed jubilee festival was celebrated by Akhenaten on his third anniversary of becoming Egypt's ruler. This type of festival, however, was traditionally restricted for the thirtieth regnal year. It is stated by scholars that "to break this tradition meant that the king could break any tradition." Akhenaten was making drastic changes within such a short time of being granted the power of the throne. Further breaking tradition, he moved the capital from Waset to the New Land of Akhenaten. The new capitol was built on a site that had not yet been touched by man, located on the east bank of the Nile. When moving the capital from Waset, Akhenaten did not take along with him the old clergy and those who held an original position of authority, but chose to appoint new authorities within his own personal preferences and likings.
After reigning for seventeen years as a very controversial King, he died in the year of 1336 B.C.E and was succeeded by Tutankhaten, his youngest probable son. After Akhenaten's death, the traditional politics and polytheistic religion were quickly restored and Akhenaten was labeled as a criminal throughout the land of Egypt. According to scholars, the temples in which Aten was praised were abandoned and soon demolished, and Akhenaten's reign as king was removed from the records.
Although Akhenaten did not discover monotheism, he has provided us with the greatest example of non-Jewish monotheism in ancient history, and he, indeed, made an everlasting impact on African philosophy and religious thinking.