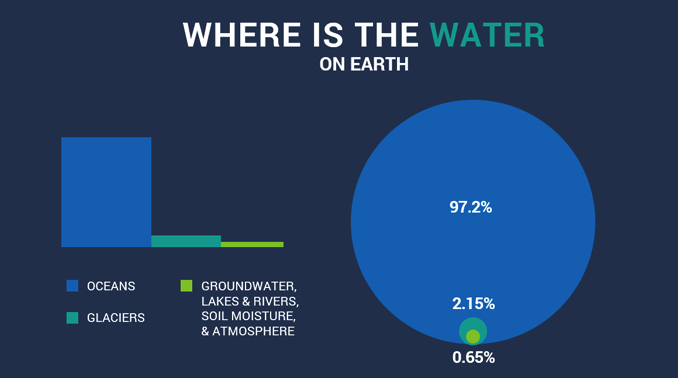 Water is necessary for every living thing on Earth, and the human race uses water for drinking, irrigation, and sanitation. The Earth's surface is composed of 71% water. Of that, 97% of the water is located in oceans, too salty to drink or be used for irrigation. That leaves only 3% as fresh water. Even for this potentially drinkable water, most is not available for human use because it is locked up in inaccessible environments like glaciers, soils, the atmosphere, or areas too deep underground to reach. The human population is left with only 0.5% of the total water budget as available, usable, fresh water (Figure 1). With such a limited water supply world wide, developing countries like Bangladesh that harbor growing and prosperous areas full of water sources, need to take extreme care in managing this precious resource, especially when booming megacities like Dhaka continue to expand in population and urbanization.
Nestled within a corner adjacent to northeastern India, spanning 57,300 square miles, lies one of the most densely populated countries in Southeast Asia, Bangladesh. The population of Bangladesh is spread out, with roughly 114 million people (76%) living in rural areas, and 36.4 million (24%) living in urban areas, with the largest concentration in the capitol, Dhaka. It is classified as a "riverine" country, with a vast amount of rivers and streams that flow from the higher elevations in the northern part of the country down through the rural and urban areas to the south. Four major river systems allow 230 rivers to interconnect throughout the land (Figure 2) which gives 97% of the Bangladesh population access to water. With 20 million residents, the mega-city of Dhaka relies on major rivers such as the Buriganga to sustain their existence. Unfortunately, these water systems are in peril from human-generated factors such as agriculture, industry, mining, power generation, unsanitary waste disposal practices, and other human factors. These factors affect the public health with high amounts of metal contaminants like arsenic, and bacteria such as E. Coli causing increased impacts to human health, and even death.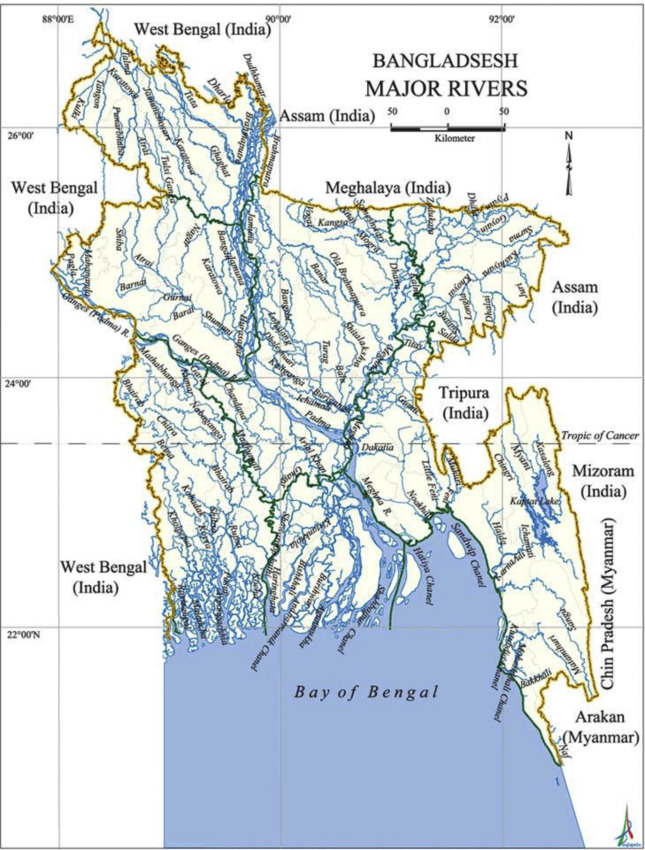 Bangladesh was previously a country stricken with poverty and famine. Since gaining its independence from Pakistan in 1971, it has become a case study for economic development. The growth in its economy is due to its industrialization and exportation of ready-made garments (RMG) beginning in the 1980s. According to an article written by the International Finance Corporation, Bangladesh's garment industry accounts for 80% of earnings from its export revenue, resulting in an annual rise from $19 billion to to $34 billion within the past seven years. The growth in the economy is largely due to structural reforms that took place to remove state control and allow privatization of the garment industry. Because of these reforms, the number of industries within Bangladesh has risen from 134 RMG factories employing 400,000 in 1983 – 1984 to 5,876 RMG factories employing 4 million workers (Figure 3). These RMG factories have become the foundation of Bangladesh's economy, but are also the biggest contributor to the surface and groundwater pollution of Bangladesh affecting millions of residents in Bangladesh.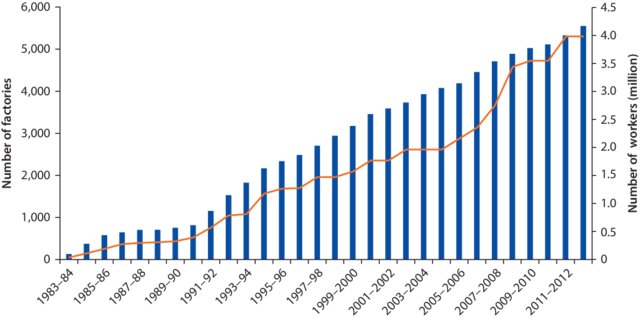 These RMG factories have become the backbone of Bangladesh's economy, but are also the biggest contributor to the surface water and groundwater pollution that affects millions of Bangladeshis through untreated effluents. According to recent studies, in the years of 2012 – 2016 tannery and textile factories used up to 1.8 billion m³ of groundwater a year in Bangladesh. High quantities of withdrawal of fresh, potentially drinkable groundwater is used to wash, dye, and finish the products. During this process from start to finish, various chemicals are used and accumulated effluents are generated and processed into effluent treatment plants (ETPs) before being discharged into the nearby river systems. Unfortunately, these ETPs aren't monitored efficiently (Figure 4). Lack of monitoring results in the ETPs to routinely violate government standards, with up to 56 million tons of solid waste and 500,000 tons of toxic sludge discharged into surface waters.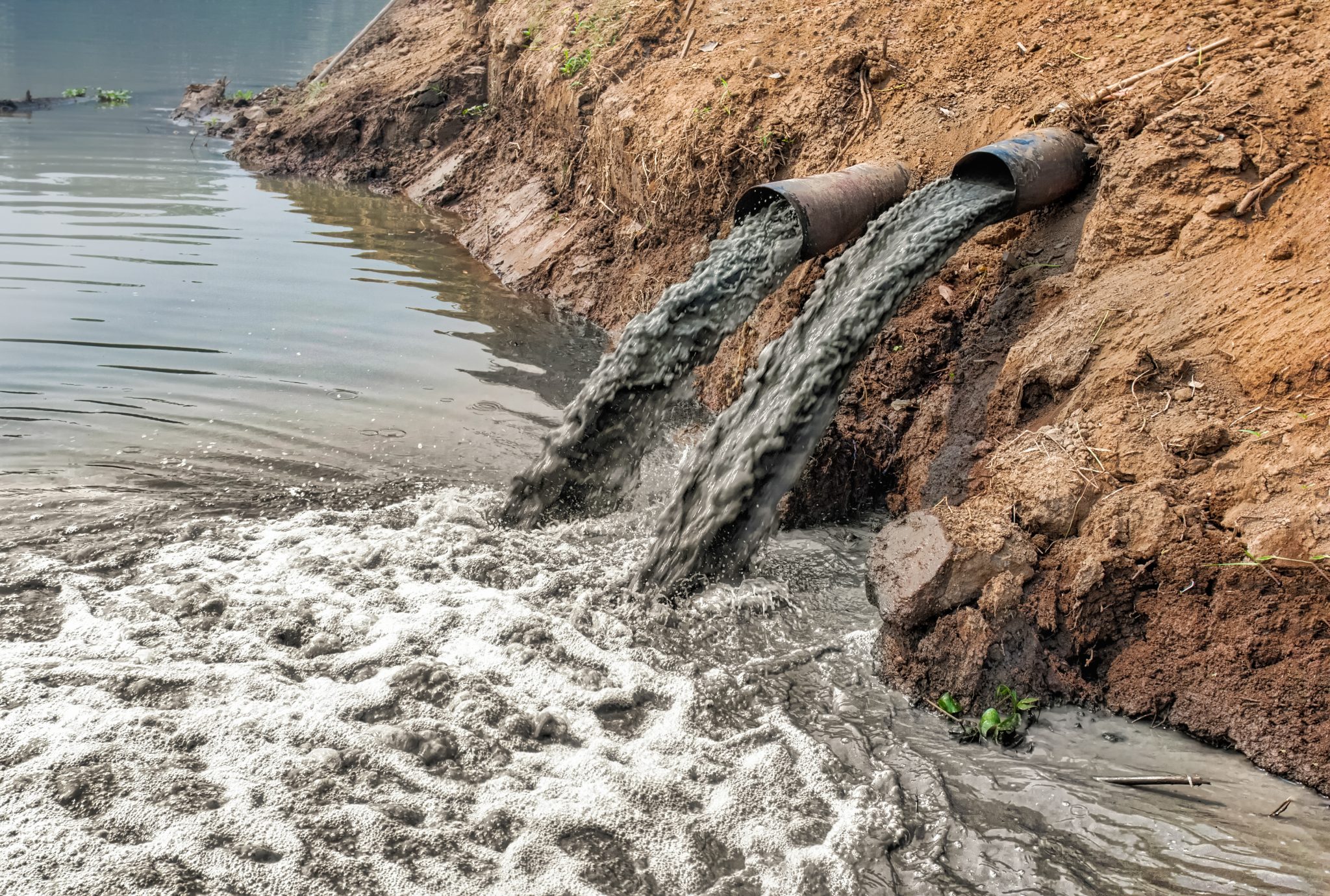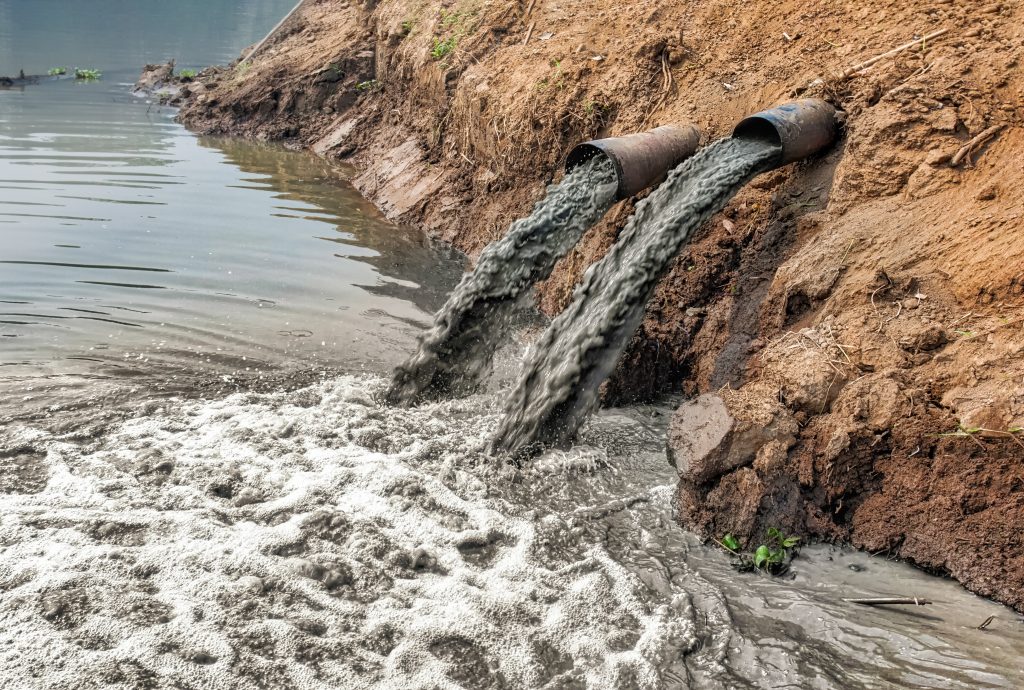 How can this amount of pollution be discharged into the water systems? In Bangladesh, water management is through four different types of organizations: community representatives (industrial companies), civil society organizations (academic researchers), non-government (non-profit organizations) and government management agencies that effectively manage pollution in the industrial, household, and agricultural sectors. Unfortunately within these organizations there is no cohesion, resulting in a deficiency in manpower, and a lack of clarity that leads to ineffective coordination in managing water quality. Some organizations state they are working under time constraints, where they are given extensive projects to complete within a timeframe that is too short to effectively perform a quality job with the available manpower. While trying to plan these projects in certain areas, they are also handed small, basic side tasks, such as attaching an apparatus to a water pipe to collect effluents. When it comes to clarity with respect to reporting responsibilities, some areas include a multitude of organizations that claim jurisdiction over managing the water quality. For example, in Dhaka, there are 16 different ministries at the government level involved in fecal sludge management. The confusion surrounding the lack of one clear controlling authority, results in unclear responsibilities, weak lines of communication, and ineffective planning.
In relation to the RMG industries that contribute most of the pollution into the water systems, where does this lack of monitoring come from? Many of the lower tier organizations such as the non-government and civil societies highlight the opaqueness of accountability the government holds the private industrial sectors resulting in pressure put on organizations like the Department of Environment (DoE). The DoE is dedicated to monitoring, evaluating, and enforcement. Although the agency plays a pivotal role in managing the compliance with respect to ETPs, it is often pressured to report that high amount of effluents are being captured by the ETPs, instead of the ETPs not performing optimally and requiring the industry to shut down for repairs. The potential for a conflict of interest between the industrial sectors and government agencies further denotes the lack of cohesion amongst the water management organizations and results in inefficient implementations of strategies including highlighting areas that need to be reevaluated.
However grim it might seem for the water quality in Bangladesh, many of the management agencies look forward to continuing progress that began in 2009 with the re-election of Prime Minister Sheikh Hasina (Figure 5). Standing on a platform devoted to restoring Bangladesh's water quality while retaining its economic growth, she noted that "Conservation and protection of the environment is a time-honoured 'responsibility', not just a necessity." In 2017 she gave a speech at the Dhaka Water Summit that highlighted some of the accomplishments she has overseen during her term in office. The rate of unsanitary human waste disposal in 2003 was 42%, but by 2017 the rate of unsanitary waste disposal was below 1%. She has taken an approach to restore surface water and reduce the amount of groundwater being used, resulting in 7,000 ponds being desalinated by sand filtering, with 4,700 reservoirs constructed to catch and preserve rain water. Plans to build reservoirs in industrial and housing areas are underway, with the installation of rainwater harvesting systems filtration systems for wastes and polluted water. Another breakthrough is the backing of the Bangladesh High Court that has ordered 231 out-of-compliance factories to shut down and repair systems to meet DoE clean water requirements The fact that the Bangladesh High Court has ordered factories to shut down until operations can meet DoE water quality regulations shows that collaboration is increasing among the agencies that hold power to promote change.
As progress continues and water quality increases, clean drinking water can be provided to the population of Bangladesh. This steady record of improvement showcases the importance of interagency collaboration, and how all individuals will need to adapt in order to maintain access to clean water. Although there is a long journey ahead to clean all the water in Bangladesh, the progress made today shows that collaboration is no longer missing, it is beginning.