New scientific inventions pave the way for societal change. Artificial intelligence has been all the rage recently, with the new AI plagiarism statements now entering many college campuses as a prime example. Another scientific advancement is the development of artificial chicken from vats rather than the actual animal. One of the most pressing and discussed topics is the issue of human editing and its implications. Where does this scientific advancement leave our society, and does it cause humanity to lose its uniquely human aspect? The application of CRISPR-Cas9 human genomic editing is ethical for therapeutic somatic treatments but immoral in genomic editing for human enhancement in germline cells, as proven by the Dr. He experiment.
Understanding genetics begins with understanding how genetic information is passed from organism to organism. The central dogma explains the flow of genetic information from deoxyribose nucleic acid (DNA) to ribose nucleic acid (RNA) through the process of transcription. Once transcribed, the RNA is then translated into proteins on ribosomes in the cells. The structure and shape of proteins greatly impact their function. These proteins, coded by organisms' DNA, help give organisms life. The central dogma and flow of genetic information are unique to living organisms. DNA sequence changes can arise in several ways, including mutations and evolutionary changes. Although the word mutations sound damaging, not all mutations are harmful. Missense mutations occur when there is one base pair change that does not change the protein product due to a wobble base pairing of the third amino acid in the codon. Other mutations can cause organisms harm. An example of this is the loss of function mutations. In this type of mutation, the originally coded protein has a base pair substitution that causes the protein that originally was coded for to lose function. This can be detrimental to an organism if that protein is necessary to live. However, if the protein that lost function was harmful to the organism, then this could give the organism a new chance at life.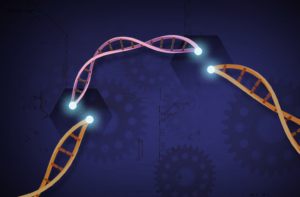 Cluster regularly interspaced short palindromic repeats (CRISPR) was originally created at a Japanese University in 1987.  This advanced technology completely changed the game of gene editing by allowing selective removal of transcripts inside cell lines. The deactivation of genetic information allows scientists to select traits and produce a geneticly outcome favorable to circumstances. The CRISPR-Cas system has two main categories, which allow for gene selection of multiple proteins through the Class 1 system and single multidomain protein through the Class 2 system.  The Cas9 nuclease protein is very important for genetic modification studies because it functions to splice foreign DNA and can be applied to RNA. Cas9 effectively changes the genetic sequence by removing parts of it. This removal causes genetic information changes induced by scientists, which can be used for things like cloning, genetic modification of food, and disease protection.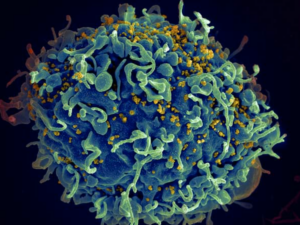 Human immunodeficiency virus (HIV) is a virus that leads to life-threatening conditions. Symptoms include lack of energy, drowsiness, sleep difficulties, and pain. According to the CDC, there have been 36,398 diagnoses of HIV in the United States in 2019. HIV is a very contagious virus when not treated with antiretroviral therapy. For HIV to enter cells, CCR5-tropic HIV strains enter the cell using the CCR5 to enter host cells. 
A prominent example in the scientific community of CRISPR-Cas9 usage was an experiment conducted by Dr. He Jiankui. He is a Chinese bioscientist who was the first to reveal germline-edited twins. The He experiment was conducted in a Chinese laboratory where Dr. He conducted experiments to selectively remove the HIV-encoding gene in embryos. He used HIV-positive fathers and HIV-negative mothers to conduct his experiment. Dr. He used seven couples for this experiment, two of whom became pregnant with the genetically edited embryos. He edited the genomes of these embryos ex vivo and implanted them into the mother's uterus. Dr. He injected a CRISPR nuclease into the embryos to cause  "a 32-base-pair deletion in a gene called CCR5, which is found on chromosome 3. This variant is called CCR5Δ32." The first couple who became pregnant gave birth in October of 2018 through an emergency Ciscarian. The babies seemingly spent a month in the hospital before being deemed "healthy" and able to leave. Dr. He Jiankui selectively edited the genomes of the non-identical twins who are scientifically named Nana and Lulu.  
The twins that Dr. He edited had genotypes that were not intended. Dr. He aimed to make the twins resistant to HIV. For this resistance to occur, there must be two copies of a variant form of the gene. Meaning that the desired genotype would be homozygous CCR5Δ32. Of the twins, one was heterozygous for the variant and had one copy of CCR5Δ32 and one copy of CCR5, while the other was homozygous for the 32 base pair deletion and had CCR5Δ32 variant. The issue was that both Lulu and Nana only had the edited genomic sequence in some of their cells and not all of them. The lack of consistency in the expression of the CCR5Δ32 calls for scientific concern and question due to the scientists' lack of control over this expression. If human beings are being genetically edited, then scientists better guarantee they are able to do it correctly.
Numerous academic journals, which are peer-reviewed and edited, rejected Dr.He's articles due to safety and ethical concerns, and so little information about this experiment was published by him. Guangdong authorities investigated the He experiment, resulting in Dr. He and other people receiving punishment due to their actions. Dr. He was charged in December of 2019 and convicted of violating ethical and safety guidelines. His sentence was served in a Chinese prison, and he was released from prison in April 2022.
Dr. He's experiment was declared "a reckless ethical disaster" by Heerly Greely, a lawyer at Stanford's School of Law.  Numerous academic journals, which are peer-reviewed and edited, rejected Dr. He's articles due to safety and ethical concerns, and so little information about this experiment was published by him. Guangdong authorities investigated the He experiment, resulting in Dr. He and other people receiving punishment for their actions. Dr. He was charged in December of 2019 and convicted of violating ethical and safety guidelines. His sentence was served in a Chinese prison, and he was released from prison in April 2022. There is no clear-cut standard for global evaluation of ethics regarding human genetic editing. Councils have met to discuss their opinions on the topic. One council that met regarding this issue is the Islamic Bioethics. It is important for religious organizations to discuss prominent scientific topics like human editing because many believers rely on religion for their sense of ethics. Islamic Bioethics evaluates their ethics according to guides put in place by the theory of Maqasid al-Shari'a. This theory has five main principles that govern the ethical correctness of an activity or experiment. One notable principle is the principle of protection of intellect. According to Nimah, Dr. He did not have the approval from his university to conduct this experiment. He was let go from his university quickly following the experiment. Additionally, Dr. He did not properly consent to the couples participating in this experiment. Although they signed a consent form for an AIDS vaccine study, the parents apparently did not sign an informed consent for human germline editing.  According to the Islamic bioethics presented by Alsomali, "Somatic cell editing with CRISPR/Cas9 may be permissible according to individual necessity and evaluate the potential harms and benefits." However, Dr. He's experiment did not follow their criteria for this approval. Regardless of opinion on human genomic editing, scientific experiments without proper informed consent are unethical and illegal in the United States and many other countries.
Implications of this research lead to a very slippery slope. Due to scientific trait expression, drastic changes could be made to the human population. Now, imagine a society in which every trait of human identity is selected. Hair color, eye color, height, and intellect could just be the beginning of this social experiment. Traditional gender reveal parties could transition into baby reveals, where a couple could show every aspect of their predesigned child that was completed through a system similar to online car customization. A convergent society would emerge for people who could afford to produce these designer babies scientifically. The decision of human traits that are deemed to be good and bad is left in the hands of human decision-makers. If left unregulated, an extreme dystopian future could arise in which only one race and style of person exists.  These possibilities disproportionally affect the low-income population. Minorities make up the majority of the lower economic social class. Minority races would likely be selected against in this dystopian society and not have the opportunity to access the same resources that upper economic classes could access. This would create a further divide between the superhuman designer babies and the dying population of minorities.
As scary as that possibility sounds, rest assured because human CRISPR applications aim to eliminate detrimental diseases.  The usage is ultimately up to the scientist playing God. Ted Peters, a Professor of systematic theological studies at the University of Berkeley, argues that God gave us science. In a compelling paper, he discusses the applications of human genomic editing using the CRISPR-Cas9 system. Because of the possible life-saving applications of disease eradication, Peters stated, "therapeutic somatic gene editing is ethically acceptable. However, gene editing for enhancement purposes brings up ethical questions." These ethical concerns include changing the future in an under-researched and unethical way. The possibility of convergent trait selection could be detrimental. Convergent human-induced evolution could make genomes more separable to future harm, favoring the newly selected genotype.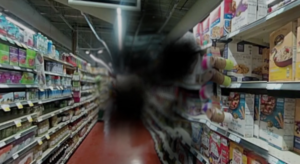 Although the CRISPR-Cas9 system is relatively new, the idea of changing the human population is nothing new to society. In 1966, amniocentesis was created and discovered. Amniocentesis is the process of entering a needle into the mother's womb to withdraw amniotic fluid, which can be used for genetic testing for chromosomal abnormalities. Aneuploidy is "a genetic disorder when the total number of chromosomes does not equal 46" in a human. One in every 700 children born has Down Syndrome, making it the most common form of aneuploidy. In a survey conducted, karyotype abnormalities like Down Syndrome discovered from amniocentesis increased the number of abortions compared to the average. Despite abortions being banned after 20 weeks in numerous places in the United States, a significant increase was found in abortions of babies diagnosed with Down Syndrome between states allowing abortions and states with the 20-week band. Regardless of your personal opinion on abortion, this creates a society that converges toward euploidy. The morality of determining who should be allowed to live and in what capacity these people should exist is not a new problem. Aneuploidy creates a unique set of challenges for those diagnosed and from their families. This genetic testing, combined with possible terminates, creates a possibility to eradicate Down Syndrome. The morality of this lies in the patient's opinion on the definition of life. What cannot be ignored is the fact that it does change society and the population balance of euploidy to aneuploidy.
On the other hand, ignoring the possible benefits of human genomic testing and editing using the CRISPR-Cas9 system would be irresponsible. A study predicted the life-changing possibilities of CRISPR-Cas9 in ophthalmology. Human eye diseases such as age-related macular degeneration (AMD) affect a vast number of people. In the end stage of this disease, patients can lose their vision and become blind. The loss of vision is something that would completely change someone's life. If preventable, the ethical thing to do would be to intervene medically. A small nucleotide polymorphism (SNP) called SNPrs8072199 increases the chances of developing AMD. Due to the unique anatomy of the retina, there is no regenerative aspect to it. This makes AMD detrimental to people's vision. CRISPR-Cas9 editing of the "Vegfa or Hif1a gene in RPE cells can be targeted by CjCas9 to reduce the size of laser-induced choroidal neovascularization, and this approach can be developed into in vivo genome editing therapy for AMD." This application could help to restore vision in AMD patients. The impact of this therapy is critical for the future of ophthalmology. There are numerous other scientific applications of CRISPR-Cas9 that provide optimism for diseases.
The defining factor in deeming the unobjective good of CRISPR-Cas9 lies in the cell line that it is used in. Somatic cells are any cell in an organism that is not a reproductive cell. Therapies like the one providing hope for AMD patients target and edit somatic cells. Dr. He's experimental testing paved the way for CRISPR-Cas9 editing of germline cells. Germline cells are the cells in an organism responsible for the passing on of genetic information through reproduction. In changing a germline cell, the scientist is not only editing that specific organism, but it is also genetically changing all future embryos that rise from the edited organism. This is an irreversible process that could snowball into unimaginable possibilities.
The vast application of CRISPR-Cas9 systems can greatly improve the health of the population as a whole by selectively cleaving genes causing disease. However, careful thought and consideration must be used when selecting situations in which CRISPR-Cas9 can be used. The medical benefits of somatic cell editing outweigh the harm that germline selection could cause. It is important to remember that "with great power comes great responsibility." Because of this, scientists need to use great caution when considering the usage of this CRISPR-Cas9 editing to prevent this scientific breakthrough from becoming a detriment to human society.