I accept the legal conclusion of the Department of Justice and determine that none of the provisions of Geneva apply to our conflict with Al Qaeda in Afghanistan or elsewhere throughout the world because, among other reasons, Al Qaeda is not a High Contracting Party to Geneva…and…I also accept the legal conclusion of the Department of Justice and determine that common Article 3 of Geneva does not apply to either Al Qaeda or Taliban detainees, because, among other reasons, the relevant conflicts are international in scope and common Article 3 applies only to "armed conflict not of an international character.
Moreover, President Bush continued to state that the Al Qaeda detainees are unlawful combatants, therefore, they do not qualify as prisoners of war under Article 4 of the Geneva Convention. Detainees held for interrogation at Guantanamo Bay were stripped of rights granted under the Third Geneva Convention, including the protection against physical or mental torture, or any other form of coercion, that may be inflicted on prisoners of war to secure from them information of any kind that would protect them and entitle them to humane treatment.
As more information on Guantanamo Bay became public, international organizations and the US public began to discover how Guantanamo Bay was being governed and the conditions under which detainees were held. The prison population at Guantanamo continued to increase as the war on terror progressed. Detainees suffered from indefinite detention, sleep deprivation, exposure to extreme hot and cold temperature, serious threats, forced stress positions, beating, water boarding, and choking. The range of torture interrogation techniques varied based on the detainee's potential intelligence and status. Secretary of Defense Rumsfeld authorized a "special interrogation plan" for detainee Mohamed al-Qahtani because he was deemed to have high intelligence value. Amnesty International reported that Mohamed al-Qahtani was subject to 18-20 hour interrogation days, extreme isolation for 3 months, forced to wear woman underwear, tied by a leash and was made to perform dog tricks, coerced to dance with male interrogators, forced shaving of his head and beard, sexual humiliation, strip search by female interrogators, loud music, white noise, sleep deprivation, exposure to extreme hot and cold temperatures, placed in stress positions for long periods, forced to urinate on himself, threatened with shipment to foreign torture centers, and injected with tranquilizers. Another detainee known as Omar Khadr, claimed to have urinated during interrogation and the soldiers dragged him through the urine "like a human mop." To protest the indefinite detention, detainees began participating in hunger strikes and some have even resorted to attempting suicide in order to bring adverse publicity to the prison. In June of 2006, 3 detainees managed to commit suicide in their cells. Guantanamo Bay officials resorted to force feeding those detainees participating in hunger strikes. Critics claim the detention facilities actions constituted torture and publicized the accounts of those detainees who were forced fed. By May of 2003, the Guantanamo prison population hits its peak, housing 680 detainees.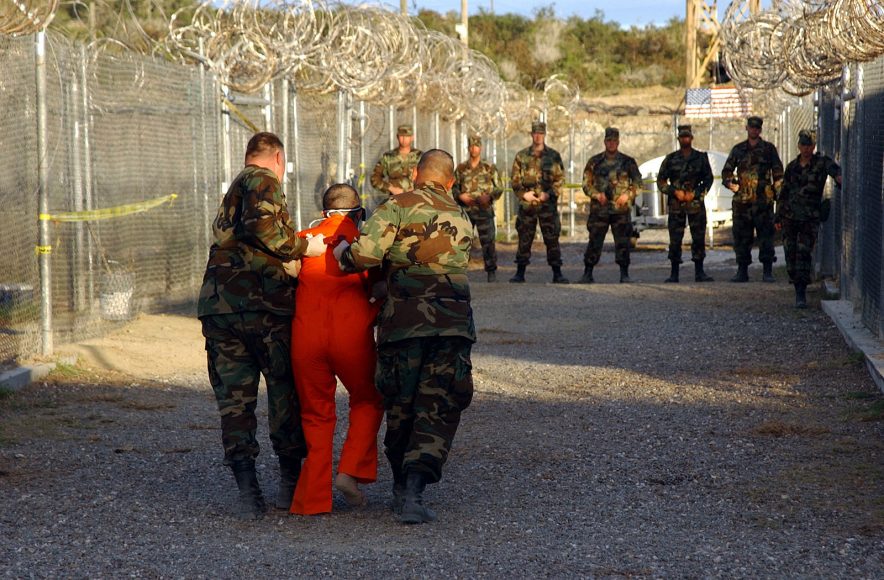 A series of important U.S Supreme Court ruling between 2004-2008 ruled in favor of the detainees in Guantanamo Bay. One of the first court cases that was brought up to the U.S Supreme Court was Rasul v. Bush. The Supreme Court in Rasul v. Bush ruled that the U.S courts have jurisdiction to hear habeas corpus petitions filed on behalf of foreign nationals imprisoned at Guantanamo Bay. As a result of the decision, hundreds of detainees had the legal right to challenge their imprisonment at Guantanamo Bay. In 2006, the Supreme Court case Hamdan v. Rumsfeld ruled that military commission established by the Bush administration to try Guantanamo detainees violates both the Universal Code of Military Justice and the four Geneva Conventions. Furthermore, the Court also concluded that Congress did not strip the Court of jurisdiction to hear cases from Guantanamo detainees when it passed the Detainee Treatment Act of 2005. In response to the court ruling in Hamdan v. Rumsfeld, Congress passed the Military Commission Act of 2006, which authorized trial by military commission for violations of the law of war. The act prohibited detainees who had been classified as enemy combatants from using habeas corpus to petition federal courts in challenges to their detention. In 2008, the Supreme Court case Boumediene v. Bush ruled that enemy combatants held in Guantanamo Bay have a constitutional privilege of habeas corpus. The Court also found section 7 of the Military Commission Act, which limited judicial review of the petitioner's enemy combatant status, an unconstitutional suspension of habeas corpus.
By February 2006, 240 detainees had been let go following the establishment of the Combatant Status Review Tribunals. Towards the end of the Bush administration the total number of detainees grew to 390. Some detainees were released and others were transferred to their home countries for incarceration. Leading into the 2008 presidential election, Barack Obama during his campaign promised to close Guantanamo Bay, to reject the Military Commission Act, and to adhere to the Geneva Conventions. On the second day of office, President Obama issued Executive Order 13491, which stopped the use of interrogation techniques, like waterboarding, on individuals in custody. On that same day, Obama also passed Executive Order 13492, which prompted the determination of how to deal with and dispose of those detained in Guantanamo Bay and the closure of the detention facility. The process was much more difficult than the Obama administration anticipated it would be. Not having bipartisan support within Congress on closing Guantanamo Bay, the Obama Executive branch was unable to bring an end to the infamous detention facility. 9 years later, after Obama vowed to shut down Guantanamo Bay for good, the detention facility still remains open with detainees raising further criticism.
Obama's efforts to close Guantanamo Bay were placed to rest on January 23rd, 2018, when President Trump issued Executive Order 13823: Protecting America Through Lawful Detention of Terrorists. Executive Order 13823 revoked the Review and Disposition of Individuals Detained at the Guantánamo Bay Naval Base and Closure of Detention Facilities, thereby keeping Guantanamo Bay open indefinitely to house any new suspected terrorists. During the first State of the Union Address Trump stated, "In the past, we have foolishly released hundreds and hundreds of dangerous terrorists, only to meet them again on the battlefield. […] I am asking Congress to ensure that, in the fight against ISIS and al-Qaeda, we continue to have all necessary power to detain terrorists, wherever we chase them down, wherever we find them. And in many cases, for them, it will now be Guantanamo Bay." Till this day, the Guantanamo facility remains open and home to 40 detainees. History will cast a harsh judgment on the human rights violations that have occurred amidst the war on terror. The actions that have occurred at Guantanamo Bay will portray the U.S in the eyes of many as a nation that failed to follow the very principles it imposes to the rest of the world. Until further legislative action and bipartisan support is gathered, Guantanamo Bay will continue to remain open, undermining the U.S's status as a human rights advocate.