When you love someone, you think you will be safe. That was not the case for Belle Gunness' suitors. Belle's husband, Mad Sorensen, was declining in health. Nellie Larson, Belle's sister, had her suspicions about what was going on with him. One day, Mrs. Larson was outside with Belle's children, while Belle was finishing up dinner. Mad Sorensen arrived home from work and went straight to bed. When Nellie Larson came in for dinner, Belle said that her husband refused to eat and had gone to bed. Her sister had an odd suspicion. She went to check on him and found him unresponsive. She then ran to tell her sister and Gunness appeared to not care.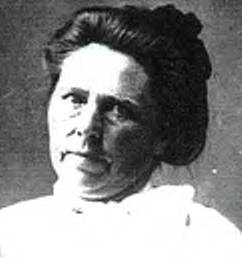 Belle Gunness and Mad Sorensen had gotten married in 1883. They began their life in an Austin subdivision west of Chicago. Gunness was prone to fits of rage followed by a sudden calm and quiet manner. She also had a soft spot for adopting children. While Sorensen was working on his store, Gunness would look after children that other people did not want or couldn't take care of. Gunness and Sorensen relationship was getting strained, and he was considering leaving his wife and traveling. Gunness refused to let him leave her. A year later, after an argument, his store caught on fire with Gunness and the children still in it. The whole town believed that Gunness was the one who started it. After they received the insurance money, they moved to a house between Chicago Avenue and Ohio Street in Austin.
Belle Gunness' family doctor had been treating Sorensen for an enlarged heart, but Dr. Charles E. Jones insisted that Sorensen's symptoms were of "Prussic acid poisoning." Sorensen's body was unusual, with fresh pink coloring to his cheeks. Dr. Jones could hardly believe that Sorensen was dead. Jones was convinced his death was suspicious. Larson said, "It seemed [Belle] would do anything for money. I never saw such a money-mad person in my life." Sorensen passed away on July 30, 1900, a day before his $2,000 life insurance policy was scheduled to expire. He intended to cease payments and let the policy lapse. Belle cashed his life insurance policy and kept up appearances in Austin for another year. After Sorensen was lowered into the ground, she became cold to her children.
Driven by greed and a hunger for wealth, Gunness took Jennie and her other two other foster children and left Austin, Illinois for Wisconsin. Belle then started with her first victim, Peter Frederiskson. She persuade him to sell his house and increase his life insurance. She also try to make him run away with her to LaPorte, Indiana. He first responded with enthusiasm, but later down the line, he wasn't so enthusiastic. They started planning a wedding and his family refused to attend. His family told him "to think twice." He later called it off. Belle took off to west-central Minnesota to visit her cousin. While she was there, she rekindled her friendship with Peter S. Gunness, who was a widower with two children. His family was opposed to Belle, and they knew that Peter was afraid of Belle. The family thought her influence "was too great for us to prevail." But she married Peter and they settled into Brookside farm in LaPorte, Indiana on April 1, 1902, sending Jennie on a train to Chicago.
During the first couple of weeks with her new husband, one of Peter's children died. After nine months of being married to Belle, Peter was pronounced dead on December 16, 1902. According to Belle, Peter was picking up his shoe, and a sausage grinder and a stone jar hit his head. He was left with a deep cut on his scalp. He was already dead when Dr. B.O. Bowell determined that his cause of death was by skull fracture. After the death of Peter, she placed her first advertisement in the migrant newspaper. In the ad, she put that she was looking for a husband. She lured suitors to her farmhouse, where she tricked them into giving her money. She would have visitors every week and she told people that they were all her cousins. Most of the men would bring trunks, but they rarely took them away. She kept her male friends with her all the time, but mostly in her bedroom. Belle was careful to make sure the children stayed away from her male friends. George Berry came to LaPorte, Indiana with $1,500 dollars. He intended to work on the farm and eventually marry Belle. That was the last time people saw him.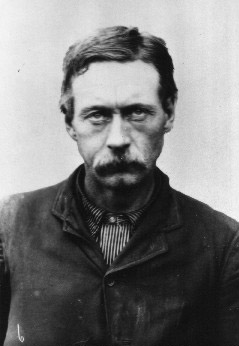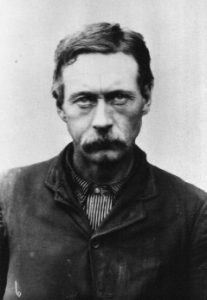 Gunness then hired Ray Lamphere in June 1907. As their relationship developed, it seemed Lamphere would do anything to please Gunness. Their relationship evolved and there was talk about marriage. She encouraged him to take out a life insurance policy and to name her the beneficiary of the policy. Lamphere refused, which led to a falling out between them. But he remained in her good graces and promised to never tell anyone that she murdered people. In fact, he began assisting her with her murders. She had a secret room on the second floor that only she had a key to. This is where all the cutting up would take place. After discovering human reminds in the cellar, investigators also believed that murders happened in the cellar. Gunness watched closely over Lamphere to make sure he didn't spill her secret. Lamphere shuddered constantly when walking past her graveyard. He knew what she was capable of and that made him afraid to step out of line.
While she lured her suitors with ads in the paper, she planned how she'd killed them. Gunness would put Strychnine in her suitors' food. Strychnine stops the inhibitory reflex within twenty minutes. She stood over her victim's body with a smug look. She experienced excitement while watching her victims die within minutes. After her victim's death, she would drag them out of the kitchen down to the cellar, where she would butcher and dismember their bodies. The room was off-limits to everyone. Gunness would dispose of the body parts in her pig pen or bury them in holes around the grounds. She would use quicklime to speed up the decomposition process. A lot of her hired help would be asked to dig up tree stumps and refill the holes with soft dirt. One of Gunness' farmhands, Fred Richman, remembered how she asked him to dig a hole that was five feet deep. She offered him a drink as two men showed up. His drink contained a drug that made him pass out when he managed to make it home. Once, Belle's children were sent to school and the teacher noticed how sad they looked. They told her they had been beaten and whipped by their mom because they were caught in the basement where the cellar was. One of the little girls confided a secret to her friend. She told her friend that her mother killed her father Peter by hitting him on the head with a meat cleaver.
Gunness had another conquest, Andrew K. Helgelein. She sent him letter after letter trying to convince Helgelein to come down to see her. In her letters, she wrote how no one compared to him and he needed to take all his money out of the bank. When he did not arrive, she become more urgent. During these conversations, she would mention robberies and how much safer he would be with her. He eventually gave in, but before he left, he told his brother Asle he would be back in a week. Helgelein came to view Gunness' property for a future home. While Helgelein was there, Lamphere was so jealous he made a hole in the floor to eavesdrop on their conversation. He was convinced they would plan to kill him. He told one of his friends that if he died, an autopsy should take place. This would show, he claimed, that Gunness had poisoned him.
Lamphere became so out of hand that Belle intended to put four legal actions in place against him. The most critical action she failed to put in place was in declaring Lamphere insane. She evicted Lamphere from her home, fired him, and attempted a peace bond. A peace bond is when a person who was threatened, can get money. She feared he would take her life or expose her secret. Sadly, Helgelien fell into her trap instead. He was the last of her victims. Asle refused to believe anything Belle said about Helgelein's whereabouts. He contacted the bank where his brother had all his savings. The bank told Asle that Gunness divulged all information concerning Helgelein. To make her less suspicious, she sent out a letter to Asle saying Helgelein only stayed for a couple of days and then went to try to find Asle's other brother. He still didn't believe her; he demanded more information about his brother. She wrote a letter to him saying she was telling the truth and that her daughter walked him to his car station.
Gunness knew she had to plan her next move carefully or else her secret might come out. She kept her three children home from school on April 27, 1908. While they were at home, she headed to LaPorte to write her will. She left her $13,000 estate to her three children but she did not include Jennie. After she wrote her will, she purchased a significant amount of kerosene oil.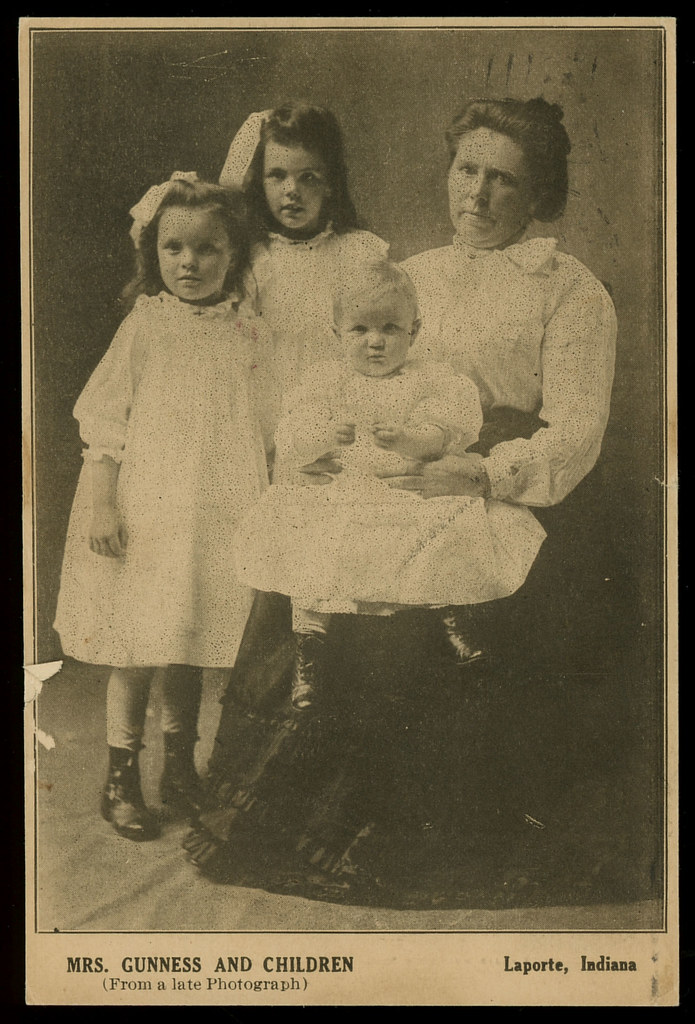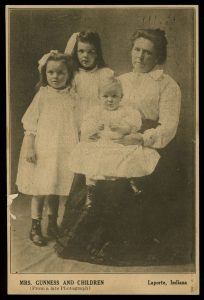 Maxson, her new worker, woke up with his room full of smoke, because his room was above the kitchen. He believed Gunness was in the kitchen making breakfast and that the stove might have caught on fire. He looked at his watch and knew it was too early to be making breakfast. He realized the whole house was on fire. He tried to kick Gunness' private apartment door down, but he failed. He ran outside, but then returned inside to get Gunness and her children. For the next 24 hours, people cleaned up the burning house. Philip, one of Gunness' children, was lying on a headless woman when they found him.
Three of them were her children ranging from the ages of 11, 9, and 5. When they saw the fourth body they thought it was strange that it was missing its head. Also, the headless body didn't match Gunness' body; it was a small-set frame. The headless woman was positioned holding her children as if she was trying to save them. The police believed that the body was Gunness' and that the remains were her children. The death was from suffocation and burns. They believed the cause of the headless body was because of the fire.
Lamphere was taken into custody and charged with arson. Lamphere was believed to have started the fire and to have killed Gunness and her three children in the house. After the fire, the police discovered the mass graveyard of Gunness' victims. Lamphere said Gunness would ask him to buy chloroform, which is used on rats to kill them. When Asle arrived at the farm, he began to dig where Maxson had dug a five-foot hole. When Lamphere saw Helgelein's body, he suspected Gunness had killed him.
Lamphere's attorney Worden pled that his client was innocent. He pushed the theory that the people knew she escaped from the firetrap, which is a part of the building that catches on fire easier than the rest. Maxson provided testimony against Lamphere, detailing what happened on the day of the fire. Maxson claimed that he spotted Lamphere on the property the day before. He also remembered Gunness being very nervous, and he believed it was because she might have poisoned Lamphere with choral to put him asleep. When he went to sleep, he didn't wake. He knew it was Gunness favorite method of killing. George Wrase worked at the cash register the day before the fire and recalled Gunness coming in to buy Kerosene and an oil can. After she came in, Lamphere also came in to buy chewing tobacco. The oil can was found a few yard from the bodies on the day of the fire. There were also three of Gunness' rings at the crime scene with her teeth. Gunness' dentist Ira P. Norton testified they were 100 percent her teeth. This evidence gave the court enough to convict Lamphere. The motive for the crime was revenge, because Gunness broke her promise to share Helgelein's money with him. On November 25, 1908, Lamphere was found guilty of arson, but not murder. On January 6, 1909, Lamphere confessed to Harry Myers's on his death bed that Gunness escaped by horse nine miles from town, where a man helped her get to Chicago. Many other people said they saw Gunness a couple of months after the fire happened, but they had no proof. It is still a mystery whether she lived passed April 28, 1908 after the fire. Gunness had killed over 25 victims on her farm.