It was just a regular day for Mustafa Bozdemir in 1963 as he made renovations to his home in Nevşehir Province, Turkey. That is until Mustafa knocked down a wall of his home and behind it, discovered a whole new room. Connected to this room was an entire city built for nearly twenty-thousand people. This city is what became know as Derinkuyu, one of the ancient world's biggest mysterious.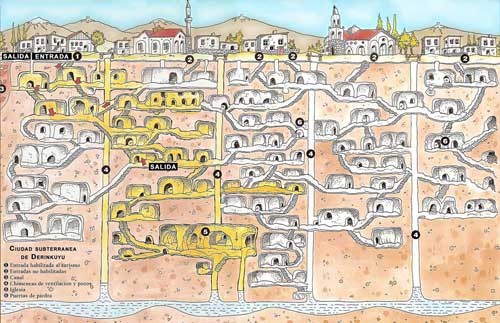 What we know about who built and lived in the city of Derinkuyu still remains unknown. According to one theory, the city's beginning dates to 800 B.C.E. when Derinkuyu was built and inhabited first by the Hittites from the Old Kingdom period for an estimated short one-hundred years. After the fall of the Hittites around 700 BCE, historians have come to the conclusion that the Phrygians inhabited Derinkuyu. Derinkuyu was a sanctuary for the people who lived above ground in the Cappadocia region of modern-day Turkey. The entire region of Cappadocia above Derinkuyu was under constant attack. Since they were under constant attack, this inspired another theory that the majority of the twenty-thousand people who lived within Derinkuyu were refugees from the war between the Arab tribes and Byzantine Christians who were at war overhead around 650 BCE.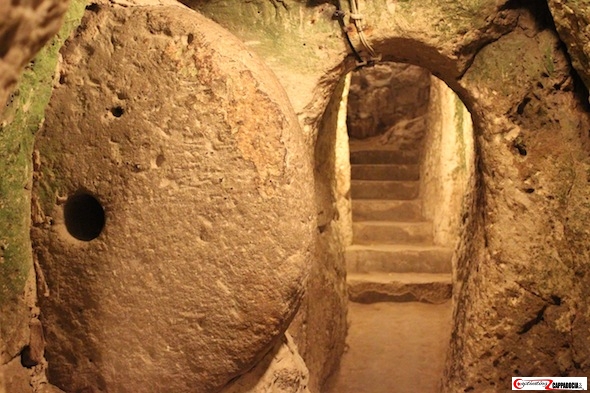 Derinkuyu was equipped with amenities, created with technology far beyond their time. Such amenities included housing for livestock, ventilation chimneys, churches, and schools. Archaeologists were baffled by the design of Derinkuyu. The engineering used to build Derinkuyu was with a technology that seems to be from a later time. The cities were carved out of volcanic rock found underground. Since protection was their number one priority, multiple mechanizations were put in place in order to ensure their protection. Such mechanization included rolling stone doors to close off various tunnels. In the case of an attack, the rolling stone doors would block any entrances to trap intruders within the tunnel. In the roof of the tunnels, what would appear to be ventilation holes, were actually holes to pour oil on any intruders.
Derinkuyu was a thriving city for an estimated four-hundred years. Another question historians have about Derinkuyu is what happened to its people? Once Derinkuyu was discovered, it did not take researchers long to learn that it was connected to multiple other underground cities in the surrounding area, including Goreme and Kaymakli. Historians have come to the conclusion that Derinkuyu must have been under attack, and people fled to one of the surrounding cities; however, it is still uncertain.
The majority of Derinkuyu's history may never be known; however, this mysterious city is still an important part of ancient Turkey. Derinkuyu has influenced engineers today to consider the possibility of building underground cities as the population and need for living space continues to grow. Today Derinkuyu has become a tourist attraction for people all over the world.