After four decades, The Go-Go's are officially getting the recognition they deserve—an induction into the Rock and Roll Hall of Fame. The band is happy to boast about their latest achievement: "Women have always been a vital part of the ever changing music business and we are so proud to have our success story honored and recognized by the @rockhall and our wonderful fans!" The band are known for their catchy tunes and clever lyrics, and they credited with breaking down barriers for women in the music businesses. The Go-Go's only released four studio albums between 1981 and 2001, but the impact of their music has been widespread. The Go-Go's have reigned as the most successful all-female rock band of all time since the release of their iconic debut album, Beauty and the Beat, in 1981.
Known primarily for their pop hooks, The Go-Go's originally started off with a much different sound. Their journey began in the Hollywood punk scene of the late 1970s, years before "We Got the Beat" hit the airwaves. In a male-dominated music industry, the Go-Go's experienced sexism and discrimination; however, this was not the case at the beginning of their musical career. The band got their start playing at small venues like the Masque, Whisky a Go Go, and the Starwood in Los Angeles, California. This was the same scene that was home to punk bands like X, the Germs, and the Bags. From 1978-1981, The Go-Go's were part of an egalitarian, DIY punk scene that encouraged them to form a band even though none of the members knew how to play an instrument.
In 1978, after a pilgrimage to see the Sex Pistols play at their famed last show in San Francisco, Belinda Carlisle, Margot Olavarria, and Jane Wiedlin came back to LA with the inspiration to start their own band. Belinda remembered the show as being incredible. However, Jane felt underwhelmed by the Pistols' lackluster performance and knew that the original punk scene was coming to an end and something new needed to happen.
The punk scene was so small that everyone knew each other, even if it was just through mutual friends. It seemed that Belinda, Margot, and Jane were the only ones left who were not in a band. Their friend Alice Bag recalled being jealous for just a moment when Margot and Jane told her they were going to form an all-girl band with Belinda Carlisle as their singer. Bag cast her envy aside when she remembered she was already leader of The Bags, who were beginning to headline their own shows. To be unsupportive to her fellow punk rockers would be a bad representation of the scene's spirit.
Alice Bag, Chicana punk and co-founder of The Bags, was a prominent figure in the LA scene. Bag recalled, "I remember our scene—the original Hollywood scene—as egalitarian. It wasn't perfect or utopian, but it was pretty fair and open. We were not goody-goodies, not by a long shot. We were not always politically correct, but by and large we treated each other with respect."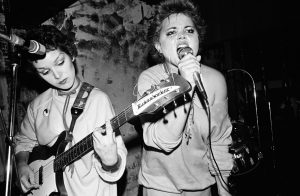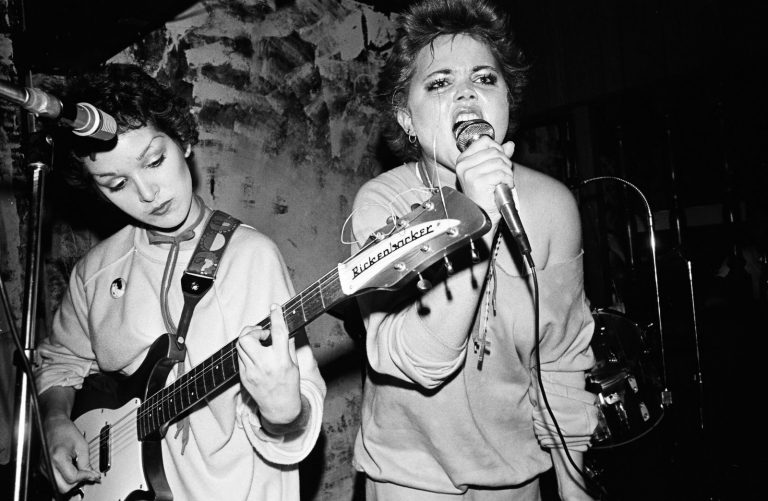 Essentially, all were welcome to see the punk bands play at venues like the Whiskey a Go Go and The Masque. There was a sense of camaraderie that many young people could not find at home, school, or other public spaces. Young punks like Jane Wiedlin found solace in the Hollywood scene: "We hated society and our parents, but we supported each other. Everyone was welcome: outcasts, geeks, gays, straights, people of color, women. It was inclusive. And that was a great place for me to be because I always felt like I didn't fit in."
Feeling empowered, Belinda, Jane, and Margot set out to be the new version of The Shirelles or Shangri-las, but with the addition of them playing their own instruments. However, none of the girls at that point knew how to play any instruments. Undeterred, the girls played with a high energy at The Masque and Whiskey a Go Go. In 1978, "there were 50 kids tops in the LA punk scene. It was DIY and if you were terrible, you were cooler, and anybody could do whatever they wanted. It was total freedom."
Their setlists were short since they only performed songs they knew how to play. Although their early shows were messy as they learned how to play their instruments, the band still felt like they were tapping into something special. They just needed the right musician to help elevate their music to the next level. This is where Charlotte Caffey came in. She was trained in classical piano, which she loved playing, and did not have a snotty attitude as did the girls associated with trained musicians. Punk taught Charlotte to throw music theory and rules out the window. After Margot and Belinda went to see Charlotte's band, The Eyes, they knew they needed to recruit her for The Go-Go's. Charlotte joining the band was their first turning point. She played bass and lied when Belinda asked if she could play lead guitar. Charlotte was honored to be singled out by these cool punk rock girls and would have said anything to be in their all girl-band. They immediately started rehearsing.
The Go-Go's were more determined than ever to tighten their sound and start packing shows. Unfortunately, the band's drummer, Elissa wasn't as dedicated as the rest of her bandmates. The girls urged her to quit her job, but when she refused, the band decided to find a replacement. In 1979, after meeting Gina Schock, The Go-Go's invited her to an audition. They were blown away by her playing and after three songs they knew they had found their drummer. Gina was confident in her abilities and left Baltimore to follow her dreams of playing in big arenas. Before she left for Los Angeles she vowed to everyone back home, "The next time you see me, I'm gonna be a rock star." Gina knew the band was special and much to the girls' chagrin made them rehearse every night and pushed them to take the music more seriously.
Now that the band was starting to come together and rehearse more regularly, they were going to need a manager. Ginger Canzoneri was at The Masque one afternoon when the band members were practicing. She remembered how screechy they sounded as Belinda awkwardly held the microphone. Ginger was excited to see women punk rock empowerment and knew she had to do her part to help them succeed. With her support, The Go-Go's soon became the house band at the Whiskey a Go-Go and opened up for every band that came to play there. One of those bands was Madness, who in 1980, went back home to England and spread the word about The Go-Go's.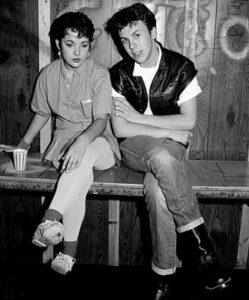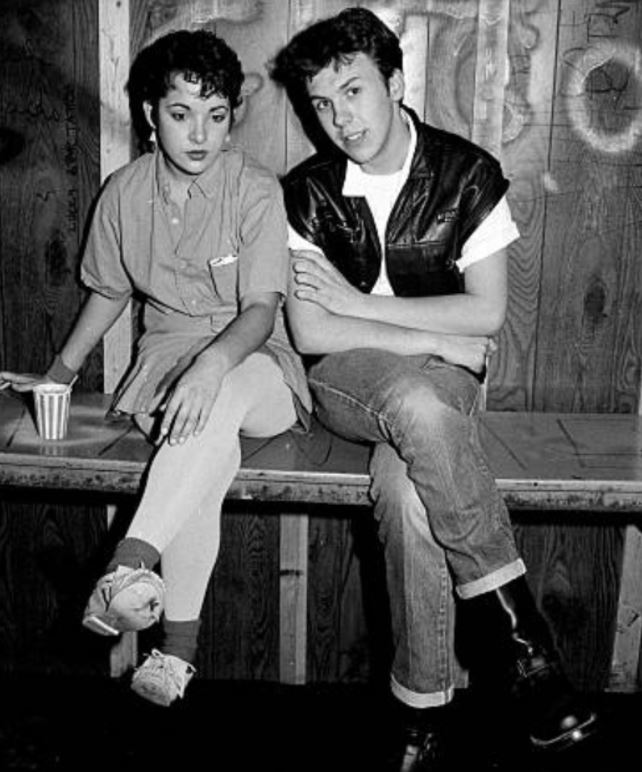 Madness' counterparts, The Specials, came to the US and played in LA with The Go-Go's as their opener. Both bands got along very well, and The Specials asked them to come back and tour the UK with them. The band jumped at the chance. The Specials were the originators of the 2 Tone music scene in England—a style of music and working-class subculture that blended punk and Jamaican ska together. Most 2 Tone bands were multi-racial or woman fronted, and they sang songs about racism, teen pregnancy, and unemployment.
Ginger sold almost everything she owned in order to fund the band's trip to England. They were excited to go to England as most of the bands they idolized were British. The opportunity to open for Madness and The Specials appealed to the band because, according to Jane, "They were stars. We felt like having these opening slots with two bands who were at the top of their game and were very, very successful there, that, I mean, how could we fail?"
Touring in the UK was a far cry from the shows back home. Despite the anti-racism message that 2 Tone was based on, The Specials often attracted an unwelcome type of audience—members of the National Front and Neo-Nazis. The Go-Go's played rough clubs across Northern England to aggressive audiences that often included these working-class, racist skinheads. When they got drunk, it was common for them to taunt and spit on The Go-Go's because they were women. Although the performances were grueling experiences, the band knew they needed to play in the UK as it would help build their credibility back in the states. Not only would they go back home like heroes, but they also landed a much-needed recording opportunity. Madness' label, Stiff Records who, according to Belinda Carlisle, was "the prestigious label that launched Elvis Costello, the Damned, the Pogues, and Nick Lowe—released "We Got the Beat" as a single in the UK. They did it as a favor to Madness, but we didn't care how it got done." The song became an underground dance hit, and The Specials, who were wildly popular in the UK at the time, invited the band to do background vocals on their second album. The musical partnership also led to a romance between Jane and Terry Hall of The Specials who co-authored what would become The Go-Go's classic, "Our Lips Are Sealed."
Although the UK tour was more difficult than they ever could have anticipated, it proved a worthwhile endeavor. Their musicianship tightened and Madness saxophonist Lee Thompson was proud to say The Go-Go's "taught him a thing or two." Lynval Golding of The Specials was impressed by their determination and drive to leave LA to tour England. The Go-Go's really proved themselves as songwriters and performers; there was just one thing holding them back—Margot.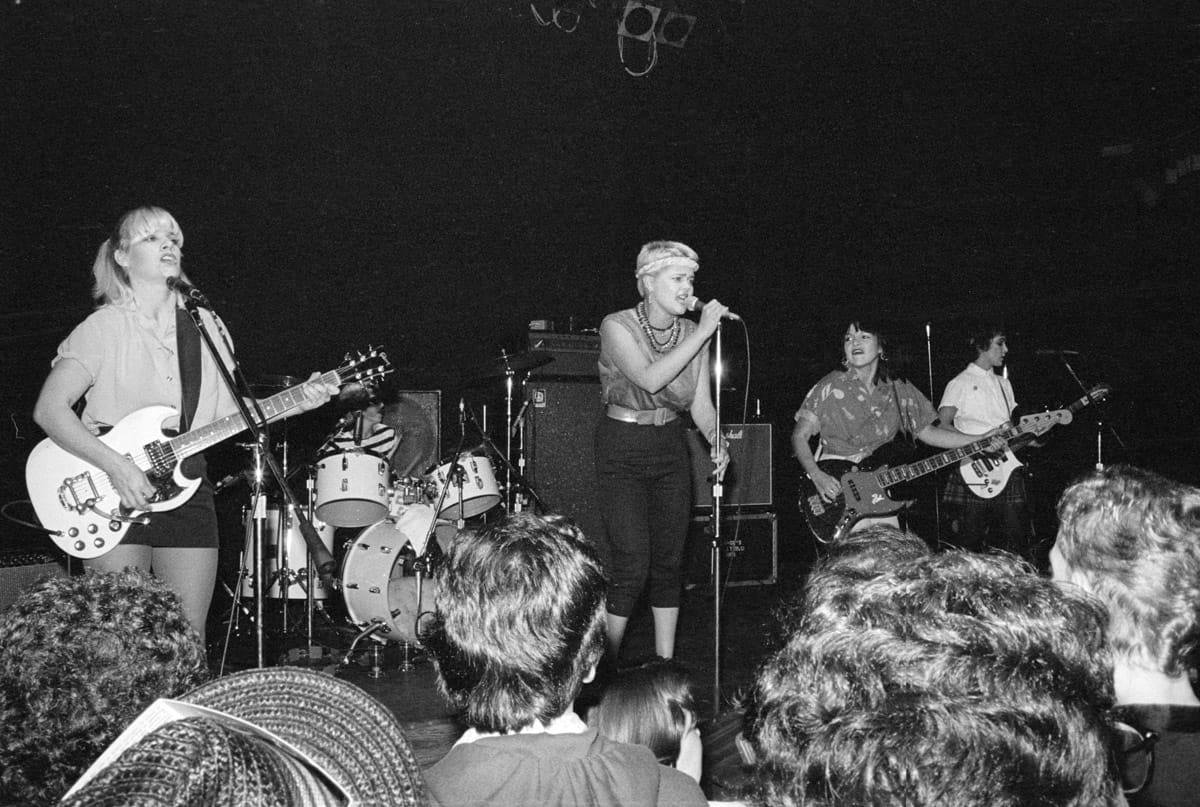 Margot Olavarria was the Latina bass player and a founding member of The Go-Go's. She felt the band was going in a direction that did not suit her, "I was such a punk, it was like my identity. Being in The Go-Go's meant being more involved in the scene with all your friends, just a great sense of belonging." She was more faithful to the overall punk scene than she was to the band, which unfortunately did not align with goals of the other members. The scene was important to many young punks in the community. Mike Ochoa, whose band Nervous Gender was comprised of gay Mexican, Irish, and Jewish members, credited the Hollywood punk scene as his place of belonging. "Growing up," he recalled, "I felt like an outsider. I do not fit in the Latino community or gay culture. Many people I met at the punk shows also seemed alienated and disenfranchised from where they came from. The overall feeling I got was that the world did not want us, so we all came to Hollywood to find a safe place to be." For some of The Go-Go's earliest followers, the idea of the band finding mainstream success seemed odd, considering they came from a community of misfits. Belinda said some of their friends started to turn on them: "In our little scene in LA there was lots of gossip and lots of people talking about us and not in a good way. 'We had fired Margot, we had sold out, we weren't a punk band, we were ambitious.'"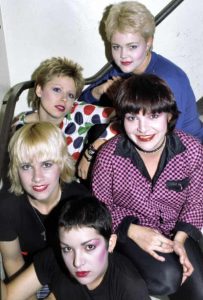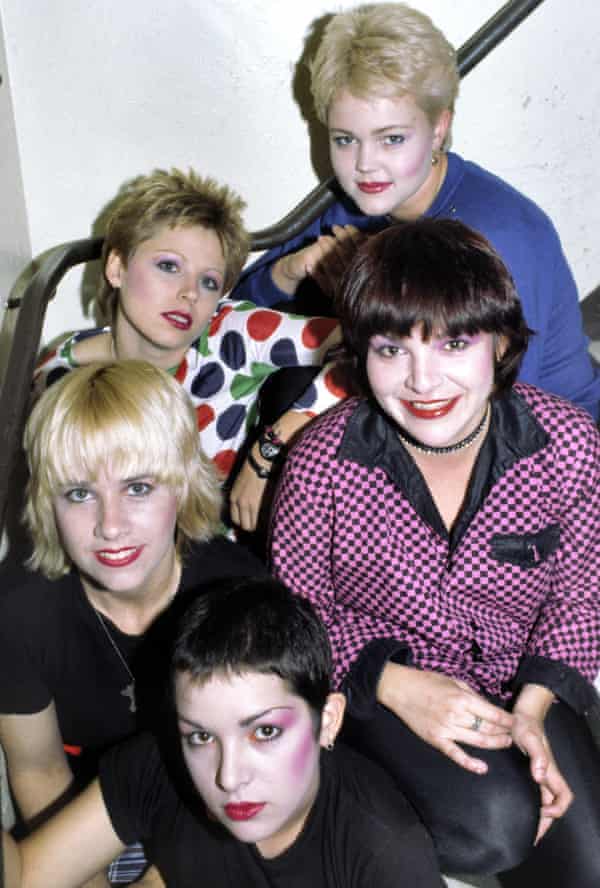 Once The Go-Go's returned from England, they decided to replace Margot, and by the end of 1980, she was fired from the band. Margot fell ill right before the band was set to play eight sold-out shows at the Whisky a Go Go beginning New Year's Eve. Charlotte invited Kathy Valentine of The Textones to be Margot's replacement when they met in the restroom at an X show. The two had never met before, but they recognized each other because "Girls who played in bands took notice of each other, a silent affirmation of sorority." Kathy jumped at the chance to play with The Go-Go's even though she was a guitar player. In four days, she simultaneously learned to play bass and the band's songs. With Margot out of the band, The Go-Go's eliminated the tension that was holding them back. The band finally felt unified, and they found a talented musician and songwriter in Kathy. Likewise, Kathy was excited about how good their songs were, "Each tune had a distinct personality and sound, all of them powered by great drumming and melodies. They blended punk, pop, surf, and rock like no one else."
Kathy credited punk rock for opening doors, not just because of its inclusivity, but also its musical format. The Hollywood scene featured a broad spectrum of music, including energetic pop, hardcore punk, and artsy bands. Without the anything goes attitude of punk, The Go-Go's would not have existed. 
This freedom to explore their sound beyond the conventions of what punk was supposed to sound like set the stage for their debut album. After playing countless shows at the Whisky a Go Go, the band had created enough material to include on Beauty and the Beat, an album that made them instant musical icons. The songs initially sounded rough, but eventually became tighter and more pop driven. Drawing from more melodic bands like The Clash and Buzzcocks, and influenced by the surf rock sounds of California, a new sound was born.
Despite the poppy beats, the band maintained a level a substance just beneath their sunny surface. According to Jane, "California bands were kind of suburban, and a lot of them had a playfulness to [them]. But under that, there was some darkness. I've struggled with my mental health my whole life, so a lot of my lyrics were slightly dark, even if people don't notice it because you have these great melodies and stuff mostly written by Charlotte that make everyone bounce around thinking happy, happy, joy, joy. Part of the Go-Go's formula, we like sunny, catchy melodies, and have a little bit of lyrical darkness to throw in there, to give it balance—a yin-yang thing."
By 1981 the band had a strong fanbase in and around LA, yet they had difficulty landing a record deal. At that point, the only all-female band to get signed were The Runaways, who were managed by exploitative manager Kim Fowley. The Runaways formed in LA in 1975, but they differed from The Go-Go's in that they were formed under Fowley's Svengali-like methods.
Before Kathy Valentine joined The Go-Go's, she struggled to find bandmates in LA and thought she might seek Fowley's help. A band that Fowler managed was playing at the Whisky a Go Go, so Kathy went up to him and his schtick immediately began. Pointing to the singer on stage, he said to Kathy, "See that dog up there. She does what I say." Kathy steered clear of Fowley after that night despite his claims that she would get nowhere without his help.
Luckily, The Go-Go's had their faithful manager, Ginger, an inexperienced albeit determined advocate for the band, who worked tirelessly to find a record label. Most companies were not interested in signing an all-female band. After numerous rejections, The Go-Go's caught the attention of The Police's manager Miles Copeland when he saw the band perform. Copeland had just started a new record label to distribute music by British and American bands. I.R.S. already had an impressive roster of bands, but it wasn't until he signed The Go-Go's that his label started to gain traction.
Now that the band had a supportive record label, they just needed to find the right person to produce their record. Copeland recruited Richard Gottehrer who worked with girl groups of the 1960s and wrote the classics "I Want Candy" and "Hang on Sloopy." The band members were also thrilled that he had produced the first two Blondie albums, so he seemed like the perfect fit for The Go-Go's. Gottehrer recognized that songs written for the girl groups of the '60s were primarily composed for them by men. He appreciated The Go-Go's songwriting and sought to highlight their melodies and guitar hooks.
The band put their trust in Gottehrer, and when they received a copy of the finished album, they excitedly ran out to play it in someone's car. After hearing "Our Lips Are Sealed," the first song on the album, the band fell silent. The girls all looked at each other for reactions, "We weren't happy—or as happy as we had hoped. In the studio, we had thought we were making a great punk album. On hearing the final version, it sounded more pop than we had anticipated."
The band hated the album and cried and cursed Gottehrer for ruining their sound. Eventually, The Go-Go's came around; Beauty and the Beat, after all was a product of punk culture. Gina Schock maintains that the band still has "those pop melodies, but we have that punk drive, the undercurrent of being a punk band."
The Go-Go's hit super stardom at just the right moment. By 1981, the band was all over MTV with "We Got the Beat" and "Our Lips Are Sealed" in heavy rotation. Back home, their beloved Hollywood punk scene was no longer dominated by women. Female musicians and audience members alike were pushed out by the macho bands of hardcore punk. The equality of the sexes broke down rock and roll stereotypes and allowed space for bands like The Go-Go's, Bangs (aka The Bangles), and X to dominate the stage. This atmosphere created safe environments in venues like The Masque, where many women, gay teenagers, or other people who identified as misfits from society felt comfortable.
Chicano punk artist Sean Carrillo knew it was time to move on when shows started to become more violent: "In the beginning we used to pogo dance. It was fun and it was not violent. As silly as it may seem now, it was enormous fun. If someone fell down, the other dancers would make room for them and help them get back on their feet…" However, mosh pits were soon born, and courtesy for fellow dancers was no longer in fashion. "The pogo," Carrillo recalled, "was replaced by slam dancing and I felt uncomfortable once more. It was like being back in high school and the bullies were back in charge. Punk had changed."
All male bands like Dead Kennedys, Black Flag, and Fear brought an aggressive, harder, and more masculine sound to the West Coast punk scene. Although these new hardcore punk bands claimed to maintain egalitarian, self-respect, and social change ethos, they pushed women out of the scene. The pogo dance was too tame for the angry, fast-paced, politically-charged sounds of hardcore punk: "Male thrashers, surrounded by male audience members, caught male stage divers, as they leapt into the male crowd below them. Girls venturing into the thrash pit were subjected to the same elbowing and smashing as were their male peers, and to some occasional groping as well. It was not always an attractive prospect."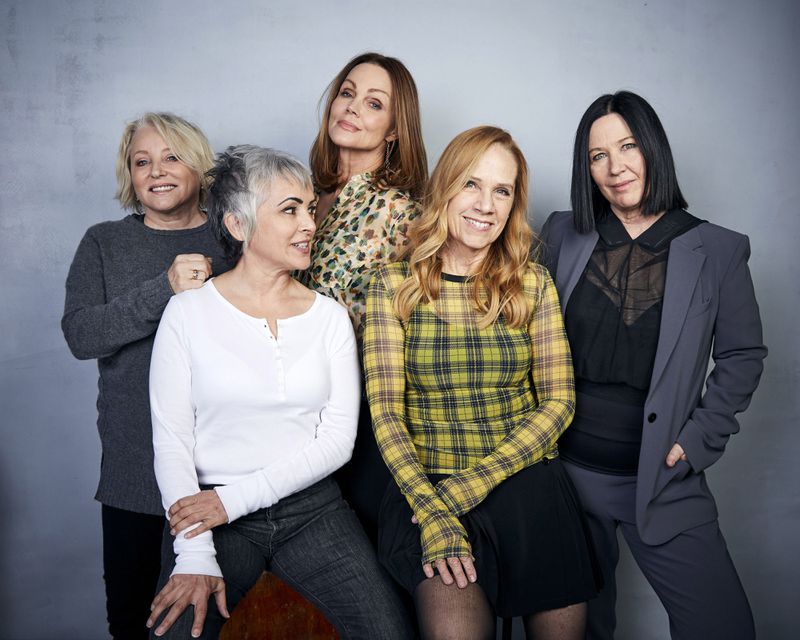 Although the inclusive Hollywood punk scene that gave birth to The Go-Go's had died, the punk sensibilities always remained with each member of the band throughout their careers. Charlotte Caffey notes that it is still part of their identity, "You can take the girl out of punk, but you can't take punk out of the girl. Honestly, to this day, we're all in our 60s, we're still those same bedraggled little ragamuffins that we were. It's in us; it's part of who we are."
Their legacy also paved the way for other musicians that followed. Miles Copeland credits The Go-Go's for opening the public's eyes to see what women were able to accomplish. No all-female group before or since them has had a number one album in the United States.
Jane is proud that The Go-Go's were musical innovators: "We were five really strong, kind of bull-headed women, together, and I think the energy we created—it was so pro-women and so powerful. At the time, we discounted it, and it was important. We changed things for hundreds of thousands of girls. When I think about that, that's probably what I'm most proud of: we changed possibilities for girls."