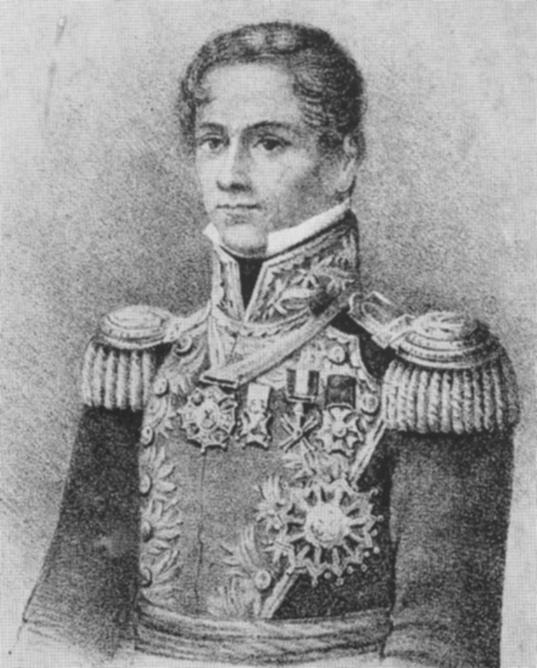 Santa Anna is one of the foremost figures in Mexico's national history. His long life spanning eighty years was filled with important events and persons who influenced the history of Mexico for nearly a half of a century. Antonio Lopez de Santa Anna was born on February 21, 1794, in the province of Vera Cruz in eastern New Spain, now modern day Mexico. The last decade of the eighteenth century and the beginning of the nineteenth century was full of chaos and dynamic changes in the relationship between Spain and its colonies. During the independence movements from 1810 to 1824, many colonies revolted against the mother country. These uprisings in Spain's colonies aided Napoleon's invasion of the Iberian Peninsula. Santa Anna was born into this era of chaos, revolution, and almost continual warfare.
Santa Anna intermittently became the president of Mexico. He headed the nation on eleven occasions. It is important to understand his transition from the army to the presidency. Santa Anna developed an early interest in the military life. His keen interest in the military can be easily seen in his writings from one of his early journals; he wrote in his journal thoughts he had as a child, that the army was for him "the glorious carrier of arms, feeling in a true vocation." His long journey in serving his nation began at the age of sixteen, on June 9, 1810, when he joined the Spanish army. He started as an infantry soldier, and transferred to the cavalry unit eventually. The cavalry units required more experienced and skilled soldiers. His commanders could easily see his talent for warfare and strategy. After a year of training, his first military mission took place in 1811, against rebels in Nuevo Santander. Santa Anna's first direct action was capturing and executing the bandit leader. His commanders applauded him for his courageous action. Moreover, his most distinguished activity during his early military life occurred on May 10, 1812; while fighting with insurgents, he fought ferociously and his commander lauded Santa Anna's courageousness and called him "dignified." During his battles with rebels, he suffered several wounds, specifically a severe wound on his left arm. However, his wounds did not stop him. Santa Anna fought against rebels throughout his career in the military. His service in the army was even recognized by the Spanish King, and he was promoted to second-lieutenant. Young Santa Anna was being promoted rapidly. In a short amount of time, he became a captain. To the experienced eye, his heroism and sagacious leadership made him a promising candidate for the General position in the Army.
Santa Anna gained much prestige in 1829 when he fought against Spain's attempt to reconquer Mexico. During this battle, he defeated the 2,700 Spanish soldiers under command of General Barradas. After this victory, Santa Anna became known as the Hero of Tampico. This glory significantly helped him to become the President in 1831. His turbulent political life started after these promotions in the army, in which he intermittently came to power eleven times.
Santa Anna became one of the foremost figures in Mexico's history through his courage in the military and the feeling of serving for his nation.