Music is the art of enlightenment. It is the form of expression that musicians and composers utilize to share their feelings, emotions, and thoughts to an audience. A musician doesn't convey meaning through words, but with the sound of instruments a musician can open new shared knowledge. Music is like poetry. It does not need to follow a rule or law that diminishes the creativity of a writer. Furthermore, it can be improvised without preparation. Music can be anything with sound, and that sound can be cherishing, joyful, bombastic, intense, or heavy.
In 1968, four young men in the city of Birmingham, England, changed the sound of rock music. They created what is now known as heavy metal. Black Sabbath is the pioneering band of heavy metal. The majesty of the heavy and dark-tonal riff was created by guitarist Tony Iommi, redirecting the sound of the blues "into an uncharted world of bummers and black holes." Ozzy Osbourne, primarily known for his solo career, was the vocalist of the band, and "the sound itself dramatized a violent, existential bottoming-out, Iommi's guitar lines rearing and plunging across the awesomely delayed crashes of drummer Bill Ward." Also, we can't forget the powerful and "sludgy" bass lines of bassist Geezer Butler, who wrote most of the lyrics for the band. During his young age, Butler was raised as a Catholic. He had religious thoughts of God, Satan, and occult things from a young age; therefore, when he met Ozzy, Iommi, and Ward, he wanted to write lyrics that were based on religious views. The presence of Black Sabbath in music became one of the biggest successes for a new revolution for loud wired heavy music to keep the world crazy, insane, and paranoid.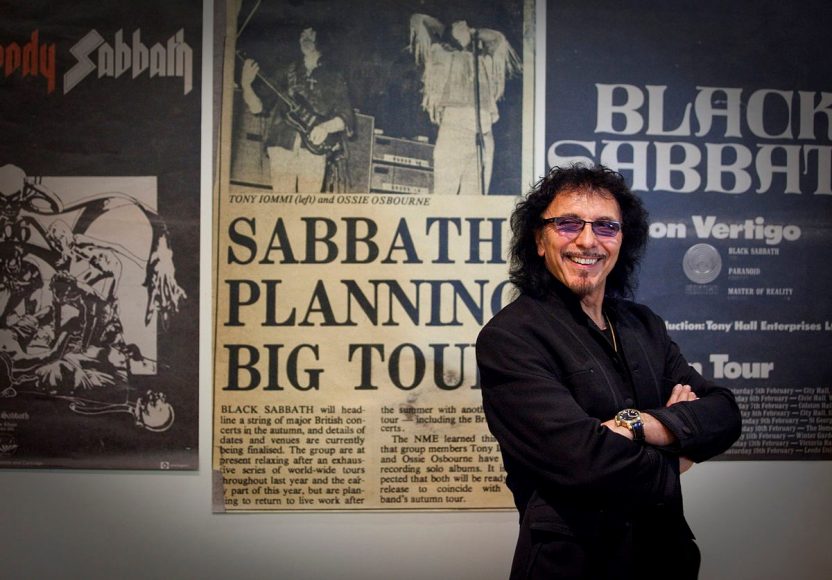 It is important to recognize every member who helped create the heavy metal sound, but Tony Iommi was actually the creator, leader, and innovator of heavy metal, and much of the unique sound of Black Sabbath owes something to a particular accident that Iommi suffered when he was fifteen. What resulted from this accident was the creation of something quite distinct in the world of rock music. Iommi created a new style of playing guitar that, in fact, helped developed the definitive sound that has become Black Sabbath.
Before Tony Iommi picked the idea of starting a band, however, Iommi grew up listening to one of his favorite bands called The Shadows. For Iommi, they were the top instrumental band in England. He enjoyed listening to the band's instrumental music; the rhythm, the tunes, and the melodies of the band were the major elements that he loved when he listened to them. Therefore, because of his admiration for The Shadows, Iommi developed a desire to play an instrument and make music. His preferred instrument was actually the drums; however, since his family was not well off, he couldn't afford to get a set. Therefore, he bought a guitar and he learned to play it by ear. Learning by ear can be very difficult, since it takes time to adjust the ear to distinguish music notes from one another. But Iommi enjoyed learning music that way. Although it can take time, Iommi, reflecting back on that time, felt that learning music by ear actually made him a better musician than if he had learned music from a music book or had taken lessons with a guitar teacher. Iommi did not regret learning to play music by ear, because he learned to play by feeling the music, which is an important skill, and helped him learn about himself.
Living in the city of Birmingham, Iommi felt excluded by people that were his age. Many young people in Birmingham were involved in gangs, and if you were not in a gang, you were an outcast. Iommi didn't want to be involved in gangs and their violence, although that was the way you could become recognized and popular. But Iommi was not intimidated by the group of kids in his city that felt better than him for being in a gang; instead, he started to feel relieved for not being in one. Unlike the other boys in his neighborhood, Iommi found an escape in music. Music was enough to satisfy Iommi's desire for new abilities and skills in the guitar.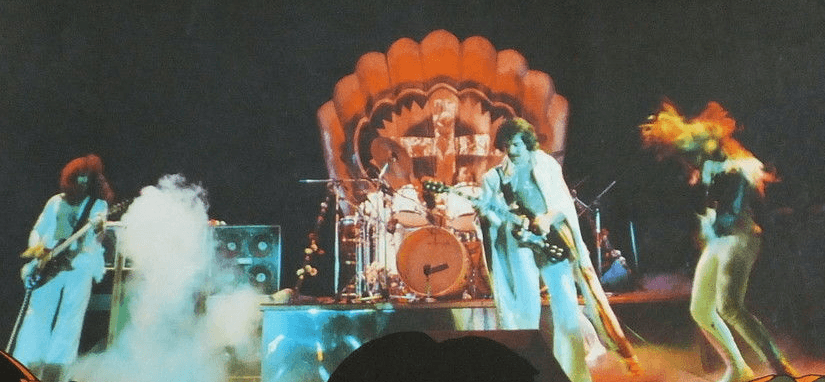 In his early years as a musician, Iommi played in a number of bands. Playing with musicians at a young age was quite an opportunity. The first band that he played with had two members, a drummer and a keyboardist, both of whom were about thirty years older than Iommi. His first performance with these players was at a pub, where he wasn't even old enough to be in. At the moment Iommi stepped on stage, he felt nervous. However, each time he performed, he develop skills and gained experience that was to help him become a better performer. He learned more than just how to play a tune; he learned how to create music.
Later, he played in a band called The Rockin' Chevrolets. Just like in his previous band, Iommi and The Rockin' Chevrolets performed in pubs, even though Iommi still wasn't old enough to be allowed in such places. But Iommi remembers that playing such venues was great experience. There he learned how to play with different people.   His incredible talent on the guitar became extraordinarily unique, which gave him the opportunity to meet and play with different musicians around England.
After playing in numerous pubs and clubs, Iommi began meeting other musicians. He wanted to create music that was unique and that could be distinguished by its own sound and formation. He met Bill Ward, who was a drummer from his hometown, and who had the desire to form a new band as well. Iommi wanted an original line-up that had only one guitarist, one bassist, one drummer, and one vocalist. Many bands had keyboard players, two guitarists, one bassist, and a vocalist, but Iommi didn't like that formation. He wanted something simple, something that could catch people's attention with its simplicity. Ward agreed with Iommi, and so they tried to find a bass player and a vocalist to complete their new band. Those new members would be Geezer Butler as bass player, and Ozzy Osbourne as vocalist. Although Iommi underestimated Ozzy's vocal skills, Iommi discovered a new musical tone that most musicians didn't use. Since Ozzy couldn't sing high notes, Iommi tuned his guitar lower, making it sound dark and different from the normal bluesy rock bands in Britain. Because of Iommi's guitar tuning, he made a "cult of loudness and made futuristic guitars the center of theatrical stage shows" in a way that was extravagant and scary. Unlike Cream, Jimi Hendrix, Led Zeppelin, and the Flower Travellin' Band, Iommi made guitar playing sound a little bit darker and heavier. It was that kind of thing that grabbed people's attention. The new band would be Black Sabbath.
The initiation of the band gave Iommi and the rest of the band hope that they would become successful. They were given opportunities to play in Germany and in other European countries, for which Iommi was tremendously grateful, because this would mean that they would have greater visibility and exposure, which enhanced their chances of become a professional band. Such aspirations caused Iommi to leave his factory job in the middle of a work day, to go "professional." He told his mother that he was going to rehearse with his band full time, and that they were going to go to Germany to start their career. His mother wasn't happy that he had left his job so abruptly, and demanded that he go back and finish his job properly. Therefore, Iommi went back to the factory as she demanded, but that day was a turning point for his entire life, both professionally and individually. 
When Iommi returned to the factory, he was tasked to cover the job of a man who usually gave Iommi the materials he would use to weld. He was not experienced in the work of that position. It was a huge machine press that bent metal. When Iommi began working with the machine, he accidentally placed his fingers in such a way that, all of a sudden, the blades of the machine forcefully snatched his fingers. Immediately, Iommi was taken to the hospital, as blood from his cut-off fingers kept bleeding. The bones of his middle two right fingers were awfully damaged, so the doctors needed to remove them and cover them with skin. Because of this tragic event, Iommi was told that he would never be able to play the guitar again. Of all the things that the doctors told him, Iommi just couldn't believe that his dream of becoming a professional guitar player would not happen, due to this industrial accident. He became so upset that he didn't want anyone to visit him, because it was just the most that shattered everything for him.  However, a supervisor from the factory where Iommi worked came to see Iommi to share with him the story of a successful jazz guitar player, Django Reinhardt. Similar to Iommi's accident, Reinhardt had lost his third and fourth fingers due to a fire. Although Reinhardt's accident led him to have two paralyzed fingers, he didn't give up, and, instead, he practiced arduously to become better at his guitar playing. As a result, he became a successful jazz musician. Reinhardt's story inspired Iommi to not look at this incident as the end of his career in music, but instead to see it as a learning opportunity for figuring out how he might recover from it. Iommi made tips from plastic bottles and melted them into a ball, and he would drill them into a hole to fit over his fingers. For days, he would rub them down until they became the shape of a finger. After they were finished, he grabbed his guitar and practiced, but it hurt playing with those plastic thimbles for fingers. He could barely bend the strings with them; therefore, he needed to find another way to make it easier for his fingers.
Later, he found an old leather jacket from his closet and he cut it up into pieces. He glued them over his fingers, and it worked. It was still difficult for him to adjust to leather thimbles over his fingers, because he couldn't feel the strings. And it was still painful. Iommi needed to find guitar strings and a guitar that would work for his fingers. At the time, guitar strings were heavy. So he bought banjo strings and put them on his guitar. And, it worked. He then lowered the tuning of the guitar, so that it would be easier for himself to press and bend the strings. For four years, he used banjo strings for his guitar, because guitar string companies had yet to make light gauge strings. So he went to a guitar string company called Picato in Wales, and he asked them if they could make light gauge strings for his guitar. Fortunately, they did, and they worked pretty well for his guitar playing. Because of this new innovation in guitars, other guitar string companies started selling light gauge strings as well.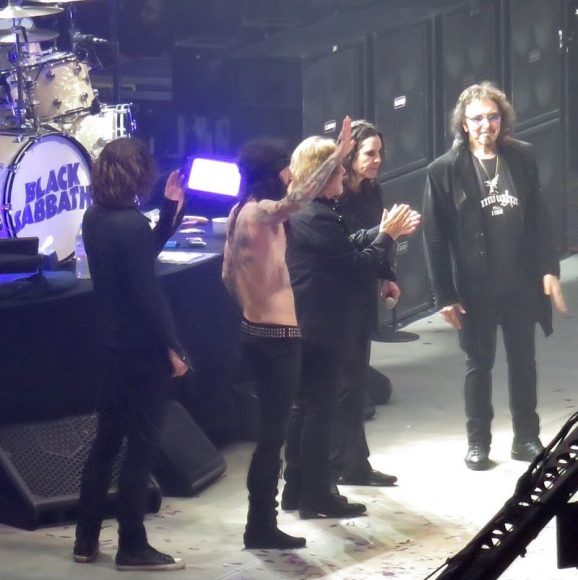 Without knowing it, Iommi invented something spectacular for a new generation of music. He left a legacy for a new genre of music, in which many listeners were amazed by the unique sound of the guitar. Of course, there were bands that were heavy, but Iommi had his own way of making a guitar riff dark and intense. Black Sabbath's first album, Black Sabbath, sold successfully in Europe and in the United States. As a result, future bands, such as Metallica and Soundgarden, were inspired by Black Sabbath, especially by Iommi's guitar riffs. "It means a great deal," Iommi would say. "So many bands come up and say, 'Sabbath is my biggest influence.'"