On August 29, 1970, in the midst of more than 20,000 people, news correspondent Ruben Salazar walked alongside fellow Mexican Americans covering the Chicano Moratorium March in East Los Angeles, a protest to the Vietnam War. Initially supported by the Mexican-American people, the war began to be questioned and rebuked after Chicanos began to be drafted in disproportionate amounts. Mexican-American men were laying down their lives for a country that did not respect them, their families, or their culture. The Chicano Moratorium brought out hundreds of spectators with the jovial sounds of Mexican music and a convivial environment.
The rally would continue throughout the day until it was abruptly broken apart by the Los Angeles Police Department (LAPD) with tear gas canisters. Many Chicanos fought back by throwing back the same tear gas projectiles that were being used on them, and anything else that could serve as a weapon. Ruben Salazar had been resting in a local bar when the chaos broke out. A tear gas projectile was shot into the bar to smoke out a reported "armed individual," hitting Salazar in the head and killing him instantly. News of his death was broadcast widely, and it significantly impacted the Los Angeles Chicano community, as Ruben Salazar was one of the few mainstream journalists to address and voice the needs of the Chicano Movement.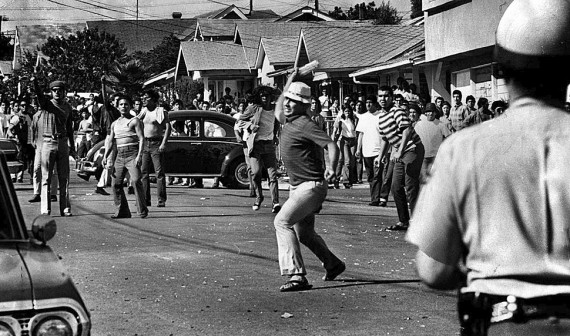 Who was this Ruben Salazar who was killed that August day? Ruben Salazar was born March 3, 1928 in Ciudad Juarez, Mexico. During his infancy, his family moved to El Paso, Texas. Salazar would go on to attend school and grow to love reading in his early years. Upon graduating from high school, he enlisted in the army and served for two years after becoming a naturalized citizen. With the G.I. Bill supporting him, Ruben Salazar attended Texas Western College and graduated with a bachelor's in journalism in 1954. He then went on to become an investigative journalist for El Paso Herald-Post. Ruben Salazar's work paid off, and he obtained a position at the LA Times, becoming the first Mexican-American journalist to have his own column.
Much as many other immigrants, Salazar grew up in between two very distinct cultures. Refusing to be defined by his ethnicity and background, he became successful through his perseverance. Although many characterized him as a cosmopolitan man with worldly views, he kept himself grounded by never losing sight of where he was from. After working at the Los Angeles Times for eleven years, he left his position to become a news director for KMEX, a Spanish-speaking  news station in Los Angeles, California. Ruben Salazar understood that he had a privilege and a voice in the media that others did not, and so with the help of his new position, he began to shine a light on the troubles the Mexican-American community had to face, such as police brutality and racial discrimination especially in East Los Angeles. It became common knowledge that Salazar and the LAPD did not get along very well, due to his high intrusion into political matters and his exposure of the LAPD's efforts to diminish the Chicano movement. He became renowned for his investigative tactics and for his unwavering courage, which he demonstrated when obstacles came his way.
His untimely death did not silence the Chicano movement; rather, Salazar became a martyr for his people. After his death the Chicano Movement gained momentum. Ruben Salazar was not an activist nor a leader in the Movement, but he addressed the basic needs and frustrations expressed by the people through his writings. He was the example of the American Dream, a symbol that progress was possible. Ruben Salazar's legacy left behind a definition to what it meant to be a Chicano and strengthened the pride behind being one.