The arid Chilean Atacama Desert is home to more than a million people living in one of the driest places on Earth (Figure 1), and in the face of increasing heat from climate change, an expanding mining industry that is expected to build as many as 15 new desalination plants by 2028. Despite increasingly scarce water supplies in the region, this expansion of desalination may also be leading to significant longer-term environmental challenges, including groundwater pollution, damage to vital infrastructure, and the destruction of wetland pastures that are critical to indigenous cultural practices.

The northern region of Chile is inhabited by the Atacameño and Aymara indigenous communities (Figure 2), who, along with native wildlife, are in continuous competition for water resources with mining and other human activities. As a result of the Water Code designed by General Pinochet's dictatorship in 1981, Chile has a free market for the utilization of water. This free market, however, has contributed to water scarcity by promoting mining in the area through the free buying, selling, and mortgaging of water rights.
To address water scarcity, Chile has developed the largest desalination system operating in South America. Desalination is the process of removing salt from saltwater to make it suitable for human consumption and agricultural use. Desalination promotion aims to solve water scarcity by increasing water supply, while at the same time conserving surface and groundwater resources. Despite its role as an ambitious solution for water scarcity, desalination presents numerous environmental concerns, such as harmful algal bloom events that can cause health problems, questionable disposal of desalination chemicals, and high energy consumption. About 30 percent of the water that is produced through desalination in Chile for urban use, with the remaining 70 percent utilized in mining operations and for daily consumption by workers in mining towns. Urban utilization includes the use of water that the Atacameño and Aymare indigenous communities interpret as a central part of their culture. Water in these communities not only provides for daily consumption and irrigation, but represents key spiritual and traditional practices. Water is seen as a spiritual being itself that can provide a plentiful life in these communities by cleansing and daily rituals, as well as agricultural use. Seeing that there are various environmental, social, and economical values of water, there are certainly social inequalities when the monetary value of water is prioritized in the water allocation process. Through local communities and councils, advocacy is closing that gap, and establishing representation on behalf of these vulnerable populations.
Chile is a major producer of copper, molybdenum, lithium, and natural nitrates. The most productive mining regions are in northern Chile, in the cities of  Antofagasta and Atacama, where there are 18 combined desalination plants. To protect water supplies, national legislation requires the development of desalination plants at all mining sites in Chile. Two regulatory assessments that are required to be published in the Environmental Impact Evaluation System (SEIA) are the Environment Impact Assessment (EIAs) and Declaration of Environmental Impact (DIAs). These regulatory assessments are developed to identify possible hazardous environment impacts such as pollution and environmental hazards related to future developed desalination projects. Numerous studies, however, have shown that the EIA/DIA process as implemented only provides limited consideration of social impacts that can account for a wide scope of environmental impacts. In addition, many impact assessments are limited and/or provide irrelevant descriptors for various environmental impacts, such as impacts of brine discharges into marine ecosystems, and high energy demand for desalination. This lack of social and environmental consideration presents challenges among indigenous communities and ecosystems, and can produce uncertainty in assessing future environmental impacts associated with planned desalination plants. If environmental impacts are not rigorously evaluated, mining companies and desalination projects can result in damage to groundwater aquifers that are relied on for agricultural and other daily use, as well as the cultural practices of nearby indigenous communities. Many towns in the region have proposed local monitors from the community to manage water sources, rather than receiving professional assistance that is imposed on their communities. This distrust stems from the perceived failures of earlier legislation, such as the Indigenous Law in 1993, that was intended to protect leftover water and territorial rights.
In spite of legislation that has been implemented to regulate mining projects, it is evident that the Water Code of 1981 and mining regulations have been more effective at promoting the development of new infrastructure and the extraction of water in undeveloped pastoral areas. One example from the 1980s is the mining company MEL extracting water that supported a breeding ground for native Andean flamingos, ultimately resulting in the drying out of the lagoon. Mining companies and the associated desalination projects have also been shown to be the main activity in these areas causing disturbance to irrigation system that support agricultural rituals and daily practices of the indigenous communities. Studies have shown additional health issues resulting from water pollution, such as arsenic-induced lesions through years of exposure to contaminated water. One positive development seems to be the daily inspections performed by a selected individuals from the community whose job is to ensure the appropriate management of potential waste before opening channels that supply water for irrigation and plumbing. Additional environmental impacts (Figure 3) include the disturbance of ocean floor sediments in the desalination process from machinery, and the disposal of associated harmful chemicals, and emissions produced due to a lack of accurate accounting for the energy and power required to desalinate and transport these waters.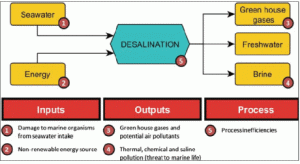 Consequently, the Chilean government implemented more restrictive environmental regulations to limit exploration in the northern regions of Chile, unless authorized from the
Ministerio de Justicia Republica de Chil
e. Inhabiting these extremely arid areas is possible, in part, due to the separation of water rights from land rights. Although they have occupied the land for centuries, many indigenous communities do not have legal property title. With the separation of water rights, however, they are still able to access water.
Despite the passage of this legislation, another mining project near an Atacameño village was proposed, including the construction of wells, pipelines, and hydroelectric plants, causing disturbance to native territories. The Indigenous Law of 1993 and other previous legislation appeared to be overpowered by the promotion of profit-seeking sectors of the economy. However, the conflict over water resources resulted in street rallies against the project by the Consejo de Pueblos Atacameño that ultimately led to the termination of the approval process for the project.
Through the last century, environmental impacts have not been sufficiently researched and characterized in the Atacama Desert, often resulting in damage to critical wildlife habitats, and the scarce water resources that are vital to indigenous communities. Failures in politics and the commodification of water has jeopardized water security, and neglected the needs of a threatened population and their traditional practices. Activism is the current solution, and offers hope for these marginalized Chilean communities. This activism is accompanied by encouragement to vote for representation that will prioritize changes to water legislation that considers the needs of indigenous communities over the economic focus of current water policies. With the continuous growth of desalination, an improvement in social and environmental legislation is critical to sustain these endangered populations.