It's May 26, 1999. There's a clear sky and a perfect 70 degrees at Camp Nou in Barcelona, Spain. The 1999 UEFA Champions League Final is set for Manchester United of England to play FC Bayern of Munich, Germany, the two premier teams in the world. Over 90,000 fans are watching the match. However, there is a sadness in the air for the Red Devil fans of Manchester. It's not just the Champions League Final at stake. History is at stake. The chance to win a treble, where a team wins three trophies in one season, seems out of reach. The score is 1-0 against Manchester United, with time running out. Manchester's manager, Alex Ferguson, was even losing hope. "I was just starting to adjust to losing the game," Ferguson said as he watched his team failing. "I had reminded myself to keep my dignity and accept that it wasn't going to be our year." At one minute into extra time, Manchester United's hopes were renewed. David Beckham, a renowned crosser, set up a corner kick to attempt to tie the game. "Can Manchester United score? They always score," English TV commentator Clive Tyldesley remarked as he called the game live.
Earlier in May, Manchester United would have had no way of knowing that they would be on the verge of making history. The Red Devils and Ferguson were focused in early May on winning the English Premier League. Winning the English Premier League alone would be the equivalent of a NFL team winning the Super Bowl, or a NBA team winning the NBA Championship. But they had no way of knowing that in a few short weeks this team would have the opportunity to do something that only three other teams had ever done, win a treble in the Union of European Football Associations or UEFA. A treble is when a soccer club achieves three trophy wins in one soccer season. The only other teams to win a treble were Celtic in 1967, Ajax in 1972, and PSV in 1988. But out of all of Ferguson's accomplishments, could the 1999 season and winning a treble be his most historical achievement? Winning the treble required that Ferguson win three trophies in a single season: The Premier League, the FA Cup, and the UEFA Champions League.
Ferguson's legacy and winning the treble can be traced to the principles that he tried to manage by. These principles were key factors that led to Ferguson achieving the treble in 1999, the most significant football accomplishment in English football history. There were two key principles that helped Ferguson most. First, Ferguson connected with his players. Ferguson understood that each player was unique, and understanding each player dominated Ferguson's thinking. Ferguson's players knew that he wanted to understand them and help them reach their own potential both individually and as a team. Second, Ferguson loved the game and would do anything for the team, but he wasn't willing to sacrifice his morals, even if it meant that he would lose. A great example of this was when he suspended his striker, Eric Cantona, for four months after he kicked a spectator. In another situation, he dropped three players for going out on the town, a decision that ultimately cost Ferguson and Manchester United three points in the Premier League. Ferguson made decisions that were costly to him and to Manchester United in the short term, but in the long term were invaluable in setting the standards that the team needed to live by in order to be successful. To achieve the treble, Ferguson and his Red Devils would need to apply these principles to the fifty-nine games they would play that season. Manchester won all but three games with all three losses coming in the Premier League. But it almost didn't happen.
The Premier League Championship is based on which team has the most points at the end of the season. Points are awarded with three points for a win, one point for a tie, and no points for a loss. Going in to the final day of play, Ferguson was one point ahead in the standings of Arsenal of London. An Arsenal win coupled with a Manchester loss or tie would have lost the trophy. Ferguson knew he controlled his own destiny if he could lead Manchester to a win over Tottenham of London. Manchester found themselves behind 0-1 at the twenty-fifth minute. Manchester fans saw their season, which was so close to victory, falling apart. With time running out in the first half of the game, Beckham scored the equalizing goal to give Manchester fans the hope they desperately needed. Ferguson, at the beginning of the second half, substituted in Andrew Cole who promptly scored the go-ahead and last goal of the game. Ferguson was able to pull off the first step of the treble, leading Manchester to a victory on May 16 over Tottenham, which propelled them to the Premier League Champions Trophy by just one point in the final standings.
The FA Cup is a more traditional playoff format. After a mix of wins and ties in earlier FA Cup playoff rounds, Ferguson found himself in the semi-finals and in an epic match against season rivals Arsenal on April 11. It was a replay of the Premier League all over again, with the two teams battling against each other to reach the final. United scored the only goal in extra time, a dramatic solo goal with Ryan Giggs going seventy yards and past five defender challenges to find Arsenal's net. Ferguson's skills as a football manager helped United dominate against Newcastle United in the FA Cup Final on May 22. United commanded the match thanks to Ferguson's brilliant substitutions. With United up 1-0 eleven minutes into play, Manchester lost midfielder and starter Roy Keane to an unfortunate injury. Faced with a key decision, Ferguson substituted Teddy Sheringham for Keane. At the 52-minute mark, Ferguson's decision payed off. Sheringham set up a goal by Paul Scholes, putting Manchester United up 2-0 and out of reach for a Newcastle comeback. Ferguson's second step of the treble was complete.
With two trophies won in the 1998-1999 season and one to go, we return to the Champions League Final with Manchester United down 1-0. Three minutes of extra time have just been added. Beckham takes the corner kick, sending the ball in front of the goal. No one can get a good foot on the ball until Sheringham drills the ball into the corner of the net. "Sheringham! Name on the trophy," Clive Tyldesley screams with excitement after ninety minutes and thirty-six seconds of playing time. The crowd erupts. Manchester has now just tied the game almost one minute into extra time. Nearly thirty seconds after the subsequent kick-off, United wins another corner kick. At ninety-two minutes and five seconds, Clive Tyldesley enthusiastically exclaims, "Is this their moment?" With time running out, David Beckham launches a beautiful cross in front of the goal. Beckham's cross finds the head of Sheringham, but Sheringham's aim seems a bit wide. Solskjær sees the ball coming his way, shoots out his foot and finds the goal. With less than forty-five seconds left in the game, Clive Tyldesley shouts, "Solskjaer! Manchester United have reached the promised land!" The crowd is in shock at what they have just witnessed.
The immediate reactions following the win helped put the achievement in perspective. UEFA General Secretary, Gerhard Aigner, had been inside the stadium after putting Bayern's ribbons on the trophy when an aide rushed in to tell him to put Manchester United's colors on. Aigner exclaimed, "Are you crazy?" He went on to explain his astonishment, "The lift took a half-minute to arrive, then you had to go through a long hall, through several rooms and through the dressing room area and because we were inside we never heard a thing. I then saw out onto the pitch and I was confused. I thought, it cannot be, the winners are crying and the losers are dancing." Alex Ferguson may have said it best. Still in shock, he exclaimed, "Football. Bloody hell." For Manchester fans, winning the treble gave reason not only for celebration, but for hope in Manchester's future.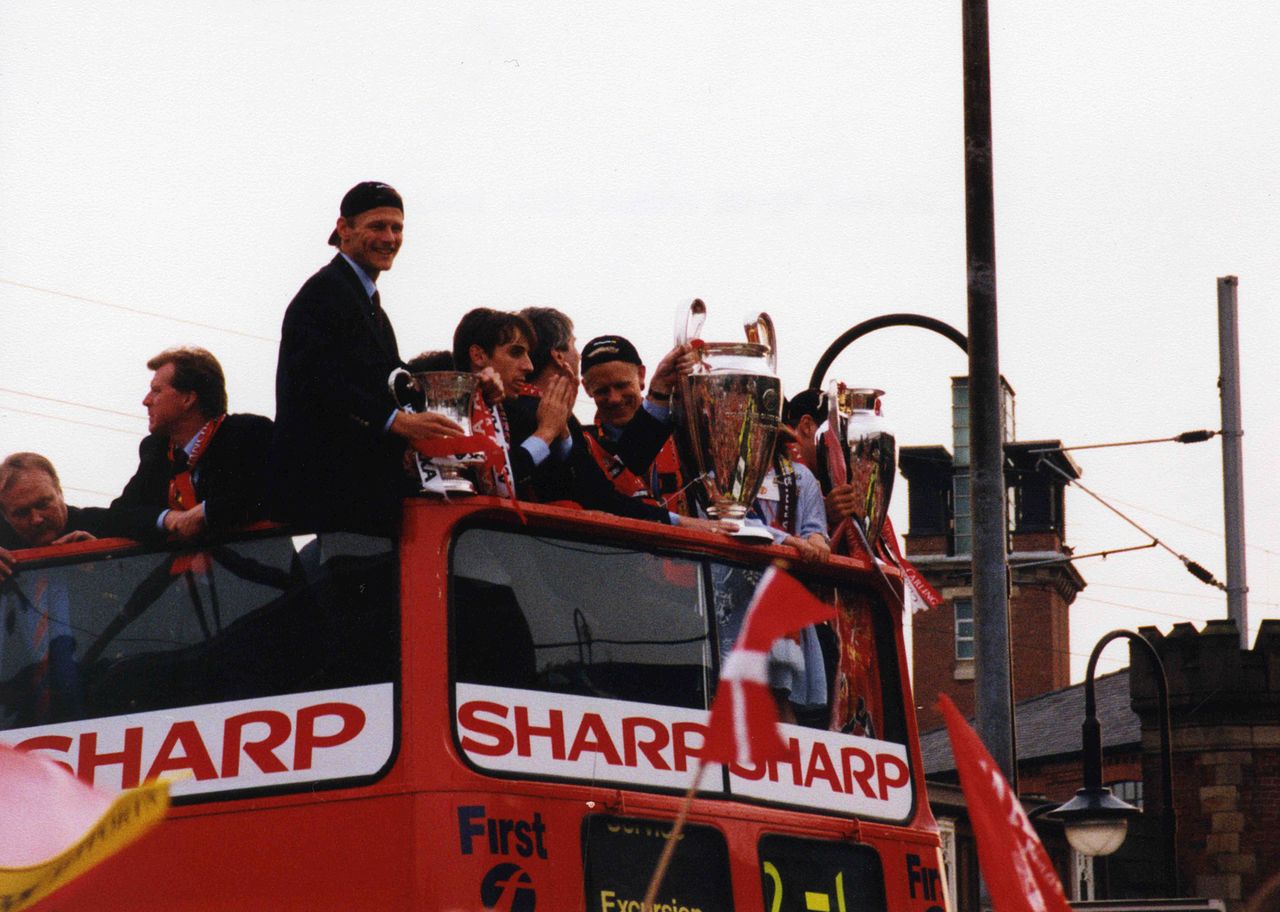 Alex Ferguson took over as manager of Manchester United in November of 1986. For the next five years Manchester had severe ups and downs, with Premier League finishes of eleventh place, second place, eleventh place, thirteenth place, and sixth place respectively. It wasn't until 1992 that Ferguson turned Manchester into a consistent top-three Premier League team when they finished in second place, which was a position that they held for the next twenty-two years. In fact, Manchester United finished first in the Premier League thirteen times. By the time Sir Alex Ferguson retired, he went down in history as the most successful manager England has ever seen, winning forty-nine trophies by the end of the 2013 season.[11. "The 49 trophies of Sir Alex Ferguson – the most successful managerial career Britain has ever known," The Independent, May 8, 2013. Accessed January 26, 2018. http://www.independent.co.uk/sport/football/premier-league/the-49-trophies-of-sir-alex-ferguson-the-most-successful-managerial-career-britain-has-ever-known-8607136.html.
After winning the UEFA Champions League final on May 26 and completing the treble, United was regarded as the best team in the world. This was and still is the most dramatic period in Manchester United's 140-year history. At so many moments it looked as though Manchester would not win even one of the three trophies in that season. However, behind Ferguson's leadership, the Red Devils were able to come together and achieve a feat that only three teams in history had accomplished at that point. The 1998-1999 treble was the greatest accomplishment of Sir Alex Ferguson's storied career.