During 46 B.C.E. while Cleopatra had been exiled to Syria following the disagreements with her brother's adviser, Pothinus, at the early age of twenty-one, she began to realize that it would not be feasible for her to take control over Egypt again. She strategically devised to meet secretly with Julius Ceasar. She believed that if she could meet with him, she would be able to work out a political deal with Rome that would grant her desire to reclaim her throne. In addition to being sophisticated and cultured, Cleopatra was a very brilliant woman. This meeting took place at the palace on the island of Antirhodos in the Portus Magnus in Alexandria, Egypt. With audacious courage, she reportedly wrapped herself in a rug to be carried by one of her followers directly to Julius Caesar, who was awestruck by her beauty when he unrolled her. She began to seduce him once she was in his presence in order to get what she desired. After spending an entire night with her target, Cleopatra's objective had been accomplished.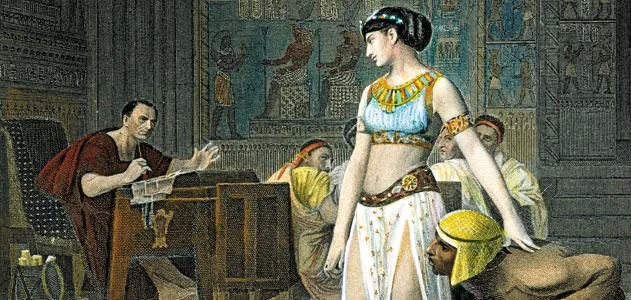 It's unclear what first drew Caeser to her; possibly her beauty, her bravery, or the fact that she was a direct descendent of Alexander's general, Ptolemy I Soter. A partnership with Cleopatra gave Caesar the assurance that he would gain control over the grain trade, amass more troops for his campaigns, and lastly, that the Ptolemaic dynasty rulers who had caused the Egyptians' unhappiness would be overthrown. Cleopatra was believed to be the richest woman during that time. The only ruler in the Ptolemaic dynasty Egyptians did like was Cleopatra. Even though her brother was enraged, she was reinstated to her throne and became allies with Rome as she became Julius Caesar's lover. Cleopatra made such a bold move because she was determined to oversee the throne she had inherited from her father.
The couple spent a long time in the palace as they were under siege from Ptolemy's supporters. At the time there was a civil war between Cleopatra's supporters against her brother Plotemy's XIII supporters. Following Caesar's declaration that he would settle Cleopatra's and her brother's dispute so that both would rule Egypt, he had come under attack from Plotemy's supporters. They ended up spending a total of six months together and even cruised throughout the Nile. Sailing throughout the Nile was a common activity that pharaohs in Egypt would do to make their presence known. During that time, she was married to her brother Ptolemy XIII, who drowned in the Nile during a battle with Caesar. Once Caesar restored Cleopatra to the throne, she married her youngest brother, Ptolemy XIV so they could co-rule Egypt. Even though she had married her brother she was still in love with Caesar and during their time together the couple got married in Alexandria in the manner of the Egyptians, meaning in Egypt polygamy was legal since Julius Caesar was already married and she was married to her brother. After spending a long time together Ceasar was called to lead his armies into battle and once he won it, he returned to Rome instead of going back with Cleopatra to Egypt.
Caesar had become very unpopular with his senate for making changes without asking their opinion. Then, during a meeting on March 15 of 44 B.C.E., some politicians and members of the Roman Senate assassinated Julius Caesar. This incident sparked a string of civil wars, which culminated with Octavian, Caesar's grandnephew and adopted son, taking power as the ruler of Rome. When the civil wars began, Cleopatra took her son and went back to Egypt, killed her brother/husband Ptolemy XIV, and made her son Caesarion her co-ruler so she could rule Egypt again. Egyptians had no problem with having a female rule them; they believed women were as capable as men to protect Egypt. This move she made guaranteed her to be the ruler of Egypt unlike her previous marriages with her brothers where she had to co-rule with them. Cleopatra has always been viewed as a symbol of alluring beauty. Miles once said: "Her actual beauty was not in itself so remarkable, it was the charm of her presence that was irresistible." However, she was far more than that; in fact, she had the brains to lead a nation to unprecedented success. She preempted the fall of Egypt to the Roman Empire and restored Egypt to its former glory during such a turbulent period. During her reign, Cleopatra maintained Egypt as an independent state during a time when it was rare for a woman to have political control. She was aware of her political and cultural actions for Egypt. She was the best leader they had ever had, and they were all extremely content with the way she ran the nation. She did a lot for her people while she was at her best, and for that, she will be remembered forever as the last pharaoh of Egypt.