"Biggie, remember when I use to let ya sleep on my couch, And beg the b**** to let ya sleep in the house. Now it's all about Versace, you copied my style. Five shots couldn't drop me, I took it, and smiled, Now I'm 'bout to set the record straight, with my AK. I'm still the thug that you love to hate" —Tupac Shakur
These were some of the strongly worded lyrics written by Tupac Shakur in the song "Hit 'Em Up" after the believed betrayal of his once close friend, Christopher Wallace, also known as Notorious B.I.G or Biggie, and his record company, Bad Boy Records. The battle between these two infamous rappers was well known in the 1990's as the Battle of the Coasts, West Coast vs. East Coast. So how did these two legendary rappers become such close friends, and how did it go sour between them?
The two rappers first met on the set of the film "Poetic Justice" in 1993, in which Tupac was featured. Biggie was visiting the set while Tupac was playing Biggie's newly released single "Party & BullS***" on repeat. Biggie was flattered that such an advanced rapper was enjoying his music. Shakur eventually introduced himself to Biggie as a fan of his music. That's when it clicked for the two. As their friendship began to grow, the two would hang out frequently at Tupac's home in Los Angeles, where they smoked, drank, and wrote rhymes. This helped bring the two together and bond through their love of Hip-Hop. Little did they know that their friendship would later become one of the biggest feuds in Hip-Hop history.
The two artist began to bond, and while Biggie Smalls was just making his breakthrough in the Hip-Hop industry, Tupac decided to take him under his wing and become his mentor because he was the more experienced artist, according to D-Dot in an interview. D-Dot was a close friend of both Tupac and Biggie. Shakur offered Smalls valuable advice, and even helped create the sound that made Smalls as big as he was. As their relationship grew and Shakur continued to mentor him, Biggie assumed that, since the two had been spending a lot of time together and had become close, he could ask Tupac to become his manager, according to Ben Westhoff. Tupac kindly declined, saying that Biggie's manager "Puff Daddy" would take Biggie where he wanted to be in the charts, telling him that he was going to make it big in the industry.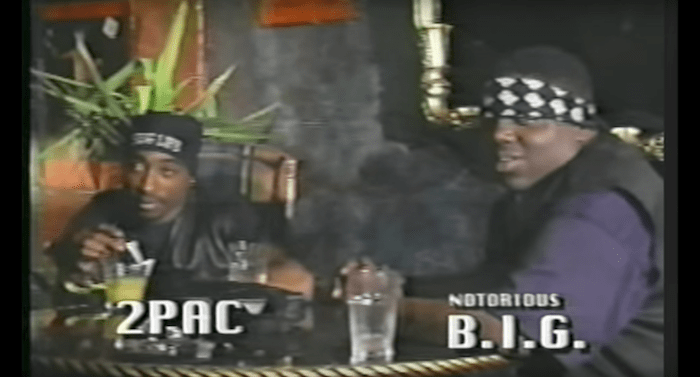 Their friendship lasted one year, and the two made back and forth trips between Los Angeles and New York. Over time Tupac began to like the respect he received from the East Coast and became involved with some very dangerous shot callers, high-ranked gang affiliates, of the East Coast. Biggie warned Tupac about getting involved with particular individuals, because he knew just how dangerous some could be, and they weren't afraid to take a life; but Shakur assumed he was on good terms with everyone.
Tupac was being convicted of sexual assault charges and was looking at serving up to twenty-five years behind bars. On November 30, 1994, he made a stop in Harlem, New York, and was supposed to go to Quads Recording Studio to record with "Little Shawn," an east coast rapper, since it would possibly be his last recording session for a long time. After a situation involving payment, the recording session was delayed, and Tupac finally arrived at midnight. Once he walked into the lobby, he was ambushed by three men in army fatigues, held at gunpoint, robbed, and then shot multiple times. According to Tupac, when he saw the faces of Biggie and Puff Daddy shortly after the incident, their faces looked guilty. This led Tupac to believe that Biggie knew about the set up and didn't warn him in advance. That was the end of their friendship.
On December 1, 1994, less than one day after the shooting, Shakur showed up to court bandaged up and in a wheelchair. He was found guilty of sexual assault and then sentenced to prison for a year and a half to four and a half years on February 8, 1995. During his time behind bars, Biggie released a track titled "Who Shot Ya," which led Tupac to believe that it was a diss-track aimed at him because of the robbery, but Biggie discredited that claim. Shakur appealed his convictions and a New York judge released him on $1.4 million bail with the help of Surge Knight after he signed to Death Row Records. Tupac became as ruthless as ever, once he was released. He went to the extent of making the claim that he slept with Biggie's wife, Faith Evans, and that Biggie was stealing his style because he was the superior in the industry, which he emphasized in his diss track "Hit 'Em Up."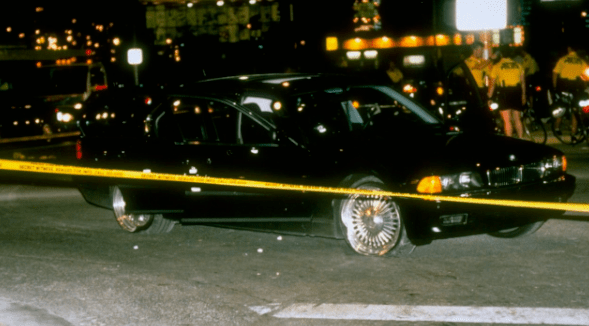 On the night of September 7, 1996, the feud between the two came to a climax when Shakur was fatally shot in Las Vegas. He was placed in the intensive care unit. Days later, Tupac was pronounced dead from internal bleeding caused by multiple gun wounds. But the murder of Tupac was not the end of their situation. On March 9, 1997, Notorious B.I.G was murdered in a drive-by shooting in Los Angeles. Many believe his death was a result of the toxic relationship between himself and Tupac. Although both legends were killed and the issues between the two were never resolved, the two brought the West Coast vs. East Coast rivalry to life. It continues, and so does their legacy that was left behind.