"…From Stettin in the Baltic to Trieste in the Adriatic, an iron curtain has descended across the Continent…"
Winston Churchill, Britain's fearless Prime Minister during World War II, was an influential and inspiring leader who was reluctant to let any sort of obstacle prevent him from accomplishing his goals. Throughout his political career in Britain, Churchill held several different positions, and like any other political leader, he encountered both success and failure. Churchill soon became "the right leader for this dark moment in his nation's history." While Neville Chamberlain was Prime Minister of Britain, he followed a policy of appeasement with Germany. Churchill, recognizing the disaster that the appeasement policy could bring for the country, began to speak out boldly against both the policy and Adolf Hitler. Despite Churchill's warnings of Hitler, Chamberlain continued to follow the policy. Eventually, following several events that proved Churchill's premonitions about Hitler to be true, Chamberlain stepped down from his position as Prime Minister. As the fearless, outspoken leader who had continually warned his country, Churchill became a figure whom the country wanted and needed as Prime Minister; King George appointed him to the position on May 10, 1940.
Several years later, Churchill was defeated in a landslide election, and his time as Britain's Prime Minister came to an end in July of 1945. His loss was a surprise worldwide, considering how effective his leadership had been for Britain during World War II. After losing the election, Churchill needed an escape–something to get his mind off of the fact that "in his effort to rebuild Britain from the ashes of war, most British voters saw him as entirely unsuitable." The American President Harry S. Truman, a friend of Churchill's, requested his presence as one of Westminster College's lecturers in "the John Findley Green Foundation lecture series…[which showcased] speakers talking about current political and economic events."
Truman's invitation to Churchill served as proof that his success and status as a nation's wartime hero would be remembered for generations to come, and also served to emphasize his "even larger and deserved status as the visionary who had foreseen victory over evil."
The speech that Churchill delivered on March 5, 1946 has come to be known as one of the most famous in history. His message centered around the division of Europe at the end of World War II. The division was implemented with the intention of rebuilding post-war Europe. This plan had the potential to cause problems between the Western Allies and the Soviet Union, and Churchill was eager to send a message of peace in his speech. Early on in his speech, in fact, Churchill claimed that "the United States…[was] in a position to remake the entire world in its own image, with the help of Britain…in opposition to 'war and tyranny' which threaten the ability of the average person to achieve happiness, freedom from want, and progress." Furthermore, to follow up on his mention of the tyranny and war that served as opponents to the peace that Britain and the United States were trying to achieve, Churchill made mention of the fact that the United States held great responsibility because of the nuclear power it had access to. He said that "the United States [stood] at the pinnacle of world power…[and] with primacy in power is also joined an aweinspiring accountability to the future." Churchill then effectively transitioned into an acknowledgment of the relationship that he hoped the United States and Britain would continue to have post-war. He warned his audience that "time may be short" due to an "'iron curtain' [that] had fallen across Eastern Europe." Churchill spent the last part of his speech discussing the reality that Italy and France's Communist parties were not to be taken lightly, stating that they were "established and work in complete unity and absolute obedience to the directions they receive from the Communist center." Finally, to end his speech, he focused his audience on the message he sought to deliver from the beginning: one of peace, one of ability, and one of hope.
Overall, Churchill gave a speech that reached not only his live audience, but other leaders and engaged citizens at the time; furthermore, he was successful in delivering a message that was impactful enough to remain memorable to future generations. In his speech, he addressed important issues of the time that needed attention, he established the need (and his desire) for the collaborative relations between the United States and Britain to continue, and he appealed to the many similar opinions of American politicians and citizens. Furthermore, he provided insight into the global affairs that were happening at the time of his speech, for those that were barely developing and gaining momentum, and for those that he anticipated may happen in the near future. In fact, the world saw the start of the Cold War a mere year after Churchill delivered this speech in which he explicitly made mention of the importance and responsibility that came with nuclear weapons.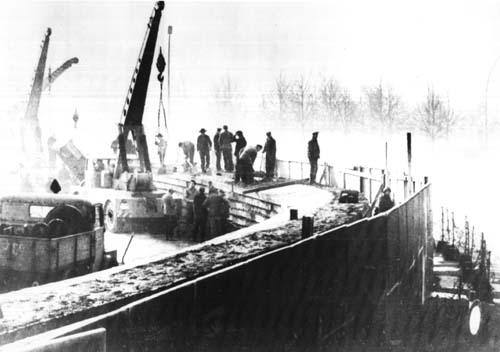 The messages present in his speech were important, some even eerily prophetic, and they remained relevant for the next several decades; his words became particularly symbolic with the construction of the Berlin Wall in 1961. All in all, Churchill's speech has gone down in history as one of the most revelatory to its time. Whether referred to as the "Sinews of Peace" or the "Iron Curtain," his speech will continue to serve as historical symbolism in relation to the events that followed his words of warning, peace, and hope.