Buddhism is one of the world's major religions and spiritual practices. Buddhism would not exist if it were not for the heightened consciousness of a man named Siddhartha Guatama (563 BCE-483 BCE). According to Buddhist legends about Buddha, after many reincarnations, Siddhartha was born into a rich Indian Family, of the Warrior caste, in which he experienced a privileged and wealthy life into his twenties. But Siddhartha abandoned that life for one without material possessions, but filled with spiritual wisdom and insight, all in pursuit of Nirvana, or, Enlightenment.
According to Buddhist traditions, during the sixth century BCE, a woman had a dream of an elephant entering her body after being offered a lotus flower by the elephant. She was the queen of a small Indian kingdom. She asked the Wise Men what the vision meant. They explained to her that she would have a son who would either be a great conqueror, or a great holy man. Months later Siddhartha Guatama was born and in the subsequent week, the Queen died.
Siddhartha grew up sheltered by his father. The King wanted him to become the great conqueror and ruler that the Sages had prophesied he could become. Siddhartha lived in luxury at the palace of his family. "I had three palaces: one for the cold season, one for the hot season, one for the rainy season. During the four months of the rainy season I was entertained in the rainy-season palace by minstrels without a single man among them, and I did not once come down from the palace."
According to those same traditions, one day Siddhartha told his charioteer to take him out to see the outside world. Siddhartha would take four trips outside before his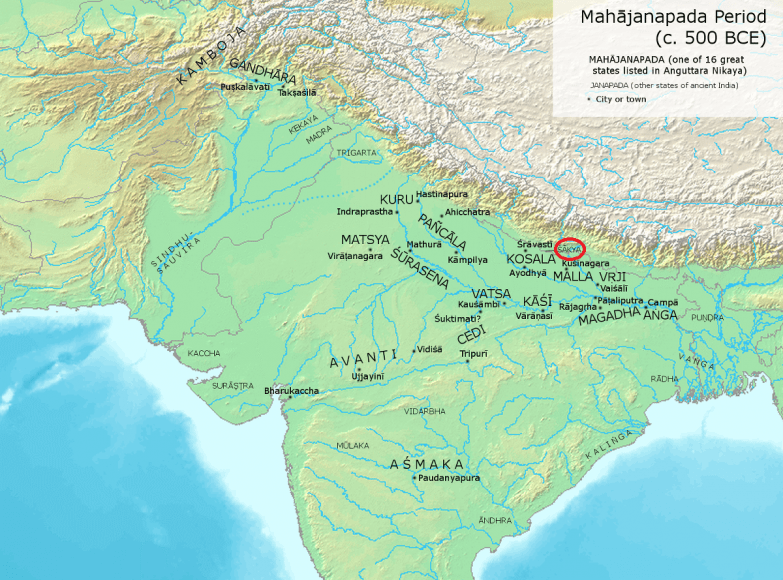 renunciation of extravagance and sensual pleasure. On the first trip he saw an old man. After this experience, Siddhartha's father explained to the charioteer that Siddhartha must not become a holy man as the sages had said he would become. So he continued his attempts to keep Siddhartha in the palace, by fueling the sensual pleasures of his son. The second trip out, Siddhartha witnessed a sick man. On the third trip, Siddhartha came across a corpse, realizing that death is imminent in all of our lives, no matter how abundant or extravagant we live. During Siddhartha's fourth and final trip out as an Indian prince, he came across a holy man, bald and wearing a yellow robe. Siddhartha asked for an explanation from his chariot driver, to which the charioteer explained the man to be a renunciant. All these experiences outside the palace caused Siddhartha to realize that pain and suffering is inherent to life. He wanted a way out of this cycle of suffering; he realized that all sensual pleasures were vain and short-lived. "Even though I was endowed with such fortune, such total refinement, the thought occurred to me: 'When an untaught, run-of-the-mill person, himself subject to aging, not beyond aging, sees another who is aged, he is horrified, humiliated, & disgusted, oblivious to himself that he too is subject to aging, not beyond aging."
Finally, one night at the age of 29, Siddhartha made the hard decision to leave his wife and newborn son, and live as a holy man. He was tempted by Mara, the demon of desire, as he left the palace. Mara presented to him the idea that if he would turn back, he would be a great ruler in the world. Siddhartha rejected Mara's proposal. He left everything behind, and began his journey towards Enlightenment, towards Nirvana.