According to Buddhist myth, one summer night Siddhartha Gautama observed his wife and his son sleeping. He thought if he would embrace them, he would never be able to leave. He turned away and left the palace, to seek Enlightenment, to seek, Nirvana. "Siddhartha's dissatisfaction with his luxurious existence reached a head when he was twenty-nine years old, when he made the decision to leave his family home and his life of luxury, and to become a wandering seeker after the truth, his only possessions a begging-bowl and a simple robe."
Siddhartha began practicing an ascetic lifestyle, having already left material possessions and mastering gurus' teachings and yogic ways, he felt dissatisfied and unable to answer still the solution to pain and suffering. "On going forth, he avoided evil deeds in body. Abandoning verbal misconduct, he purified his livelihood." Siddhartha subjugated himself to the elements, meditating many hours, and barely eating to stay alive, he brought his physical body to a near skeletal state. "Simply from my eating so little, my limbs became like the jointed segments of vine stems or bamboo stems…. The gleam of my eyes appeared to be sunk deep in my eye sockets like the gleam of water deep in a well…. My scalp shriveled & withered like a green bitter gourd, shriveled & withered in the heat & the wind." Nearing death, and still not having attained truth, he remembered a day in his youth. "I recall once, when my father the Sakyan was working, and I was sitting in the cool shade of a rose-apple tree, then—quite withdrawn from sensuality, withdrawn from unskillful mental qualities—I entered & remained in the first jhana: rapture & pleasure born from withdrawal, accompanied by directed thought & evaluation." He realized the beauty of nature as it is, and he found a pleasure in nature that did not take hold of the mind and body in a negative manner. Coming to the conclusion that he could not maintain this state without food, a girl offered him a bowl of rice. The five ascetics he associated with soon looked down upon him as they found him eating. Siddhartha was near awakening; he knew he could not look externally to find the answer to the end of pain and suffering; he knew he had to look internally to find the truth.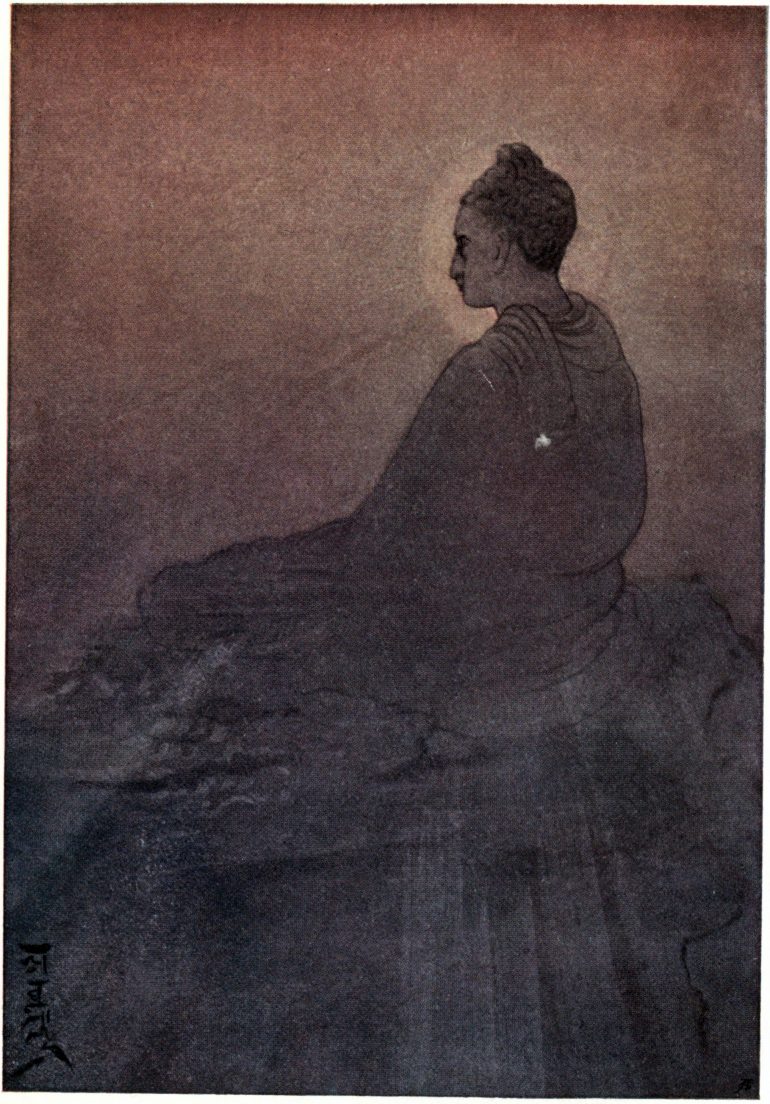 "He sat down under a bodhi tree in the shelter of the natural world in all of its beauty and fullness, and he said I will not move from this place until I have solved my problem." Siddhartha meditated under a Bodhi tree during a springtime night. Mara and his demons appeared and fired their weapons at the meditating Siddhartha; he remained at peace, and the weapons turned into flowers. Mara then used his three daughters to try to seduce Siddhartha. Siddhartha did not move at all from his position. For the final test of Mara, he asked Siddhartha who would be his witness for his worthiness to obtain Enlightenment. Siddhartha Guatama reached down and touched the earth. The earth tremored, and Mara's demons vanished. "The Earth is my witness," Siddhartha said. He meditated all night, able to see his previous lives and all the workings of life as it is, reincarnation and its place in the Universe. "Through the round of many births I roamed without reward, without rest, seeking the house-builder. Painful is birth again & again. House-builder, you're seen! You will not build a house again. All your rafters broken, the ridge pole destroyed, gone to the Unformed, the mind has come to the end of craving." Siddhartha Guatama had reached Nirvana, he had reached Enlightenment.
Soon after, Siddhartha Guatama, now the Buddha, or "Enlightened One," came across the five ascetics who had previously disowned him when they found him eating. To them he taught what he called "The Four Noble Truths." "Now this, monks, is the noble truth of stress: Birth is stressful, aging is stressful, death is stressful; sorrow, lamentation, pain, distress, & despair are stressful; association with the unbeloved is stressful, separation from the loved is stressful, not getting what is wanted is stressful. In short, the five clinging-aggregates are stressful." Buddha would continue to teach in the Deer Park at Sarnath about the beginning and end to,"stress", or pain and suffering in life. Nevertheless, his enlightenment started a journey of teaching all the way to his death.