Charles Darwin was a naturalist that proposed the theory of natural selection and the theory of evolution still studied and widely accepted as true today. He wrote many books during his life, but the two most well-known books, The Origin of Species by Means of Natural Selection or the Preservation of Favored Races in the Struggle for Life (commonly referred to as Origin of Species) and The Descent of Man, and the Selection in Relation to Sex (commonly referred to as The Descent) presented his essential theory of natural selection to the scientific world as well as to the world at large. Within a few years of his first publication, Darwin's theory of natural selection began to be popularized and interpreted by many in ways that departed from Darwin's essential theory. One of the most famous of his misappropriators was the Englishman Herbert Spencer, who became famous for coining the phrase "survival of the fittest," and who became the spokesman for what has become called "Social Darwinism." But there were many others as well. In Germany, for example, German academics applied their own twist to Darwin's theory to support the idea that there was a natural racial hierarchy that had evolved in the past, and that the German race was naturally superior to all other races. However, an examination of Darwin's own words through his works demonstrates that Darwin did not advocate for racial superiority at all, and that those who tried to get that from his theory were simply misapplying his theory and drawing conclusions from it that was unsupported in the biological evidence.
Born on 12 February 1809, Charles Robert Darwin was raised with the high expectations that his grandfather and father placed upon him to succeed in life. Darwin had the fortune to be born into a wealthy, well educated family. His father and grandfather had been doctors and expected Darwin, who was always interested in science, to follow the same path. His mother was a member of the Wedgewood family, still known for their fine china. Darwin attended college in Edinburgh, then transferred to Cambridge to complete his studies. A self-professed agnostic, Darwin had a strong moral compass and a respect for all living things, which was reinforced during his time at Cambridge.
Upon graduating from Cambridge, Darwin took the opportunity to serve as a naturalist for a scientific expedition through the Pacific Ocean. The HMS Beagle would serve as his home from December 1831 to October 1836. Darwin spent his time on the expedition cataloging species throughout the region, making important scientific conclusions from the observations he made that would later be published in his books. Darwin would eventually write that his voyage on the HMS Beagle was the most important event of his life, having a profound effect on his future.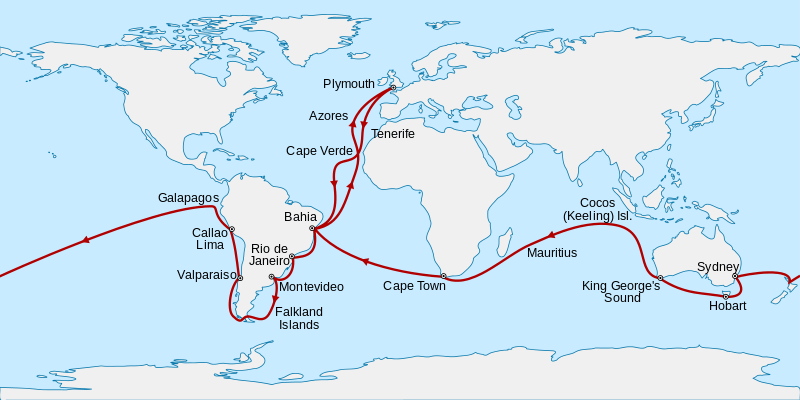 Upon returning to England in 1836, Darwin settled in London where he married, had children, and settled into life as a professor and writer. Darwin began an in depth study of his observations from his voyage, which became the basis for his theory of natural selection. Darwin had seen that it applied to animals and plants but was not sure if he could apply it to humans and have it be accepted by the scientific community, which still held to the larger Christian values of the time. Darwin believed that such proof would be in the explanations of the various human races, and he began to look for a way to explain that all the races had one ancient primitive common ancestor. By 1840, Darwin had put aside his search for the origin of man and his theory of evolution out of fear of prejudice. He knew his idea would be controversial and he abhorred being in the spotlight.
Darwin was convinced by his friends to publish his theory of natural selection before his ideas were published by another scientist. The Origin of Species was published on 24 November 1859, a day known as the day modern biology began. The Origin of Species put forth Darwin's theory of natural selection by discussing variation and the struggle to survive in the plant and animal world. Fearing this was enough to generate a negative reception of his theory of natural selection, Darwin decided to remove any discussion of man from his book.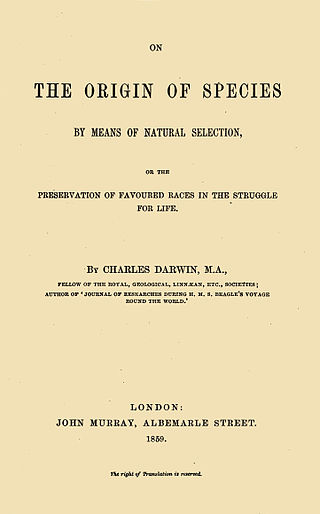 Darwin's The Origin of Species describes how plants and animals evolved using natural selection, limiting factors of nature, and variations which science would later know as genetics. He believed that the struggle to survive is a natural byproduct of reproduction; if too many organisms try to occupy the same area, some will have to die.  This struggle is affected by three limiting factors: enemies, available food, and climate. Darwin also believed that this struggle for life was worst among organisms of the same species, resulting in the ones with the most advantages to survive and reproduce. It was through reproduction that organisms passed on traits that increased chances of survival. Darwin believed that natural selection increased diversity.
Darwin spent the next years of his life writing other books and collecting facts to support his ideas about the evolution of man. The Descent of Man was published on 24 February 1871, with the purpose of considering the evolution of man from one common ancestor and to address the differences between the races of man. Darwin believed that man was a social creature and this led man to evolve to enjoy company, to feel for others, and to perform acts of charity. He believed that man would do what was best for the common good. Darwin wrote that slavery was a great crime, but was not viewed that way because it was usually one race exerting control of another race. He called this savage behavior because it showed indifference to the suffering of strangers.
In The Descent of Man, Darwin directly addressed Francis Galton, the father of the eugenics movement. Darwin wrote to Galton that savages eliminate the weak people quickly, leaving only the healthy to survive. Darwin stressed to Galton that civilized men do the best they can to stop the elimination of their fellow man by building asylums for the ill, creating welfare programs, and using medicine to save life. Darwin went on to say that it is evil for man to intentionally neglect the weak and helpless. It is a requirement of a civilized nation that man must endure the weak, allow them to survive and reproduce, knowing that they do not often marry or reproduce. Darwin called this a limiting factor. Darwin did not say for certain if all the races of man are different species or sub-species because, in Darwin's opinion, the definition of species was not yet settled. He equated it to determining how many houses it would take to make a village, a town, or a city. Darwin was certain that man did descend from one single primitive ancestor and, although the races were different, they had more similarities than differences. Darwin wrote that the climate had an impact on man. He gave the example of the physical changes to appearance when Europeans moved to America. Darwin used this example to show that all the various races might be one race affected by variations in climate and environment.
The Origin of Species was so well accepted by prominent scientists that it soon made its way to Germany where prominent German paleontologist, Heinrich Georg Bronn, upon reading the book, wrote to Darwin and offered to translate the book into German. Bronn believed that Darwin was attempting to establish one fundamental law of becoming and being that would govern all biology, which Bronn called the law of development by natural selection. Bronn believed that this law would explain all of organic nature, including man, through all of time. In this regard, Bronn believed that Darwin was too vague in stating the requirement for physical, mental, and emotional fitness in natural selection and in the struggle to survive. By thinking Darwin had made a mistake, Bronn took it upon himself to add his ideas to his translation of The Origin of Species. Bronn altered the theory of natural selection to say that the process moved animals, including man, to progress towards perfection. When Darwin learned of Bronn's action in altering his theory, Darwin wrote a letter to Bronn requesting he remove that part from the next edition.
After the publication of the incorrect German translation of The Origin of Species, many German academics began to advocate that the struggle to survive was a natural part of human existence. Wilhelm Preyer argued that for one group to rise up another must fail. Friedrich von Hellwald wrote the struggle to survive was the basic drive of human history and the cause of wars and violence between the nations and the races. Ludwig Gumplowicz wrote that all races compete for survival and the subjugation and elimination of ethnic groups was the foundation of civilization. These professors were instrumental in turning Darwin's theory into German Darwinism in late nineteenth-century Germany by stating inequality of the races as fact. After their defeat in World War I, many Germans were radicalized by the professional classes that were seeking a strong Germany based on purity and strength. German scientists and other academics had advanced a theory of heredity that combined racism with nationalism to create a political ideology that would be adapted by the Nazi party.
While some would argue that Darwin was an advocate of racial superiority, it is clear from reading the words Darwin left behind that he did not support eugenics or racial hygiene. Darwin was a peaceful scientist that wanted to avoid the spotlight to study evolution and variations within species. Darwin viewed racial differences as skin-deep, external, and a matter of personal preference. Darwin passed away in his home on 19 April 1882 and was buried in Westminster Abbey in honor of his contributions to modern biology.