It is the 1960s. Imagine being the son or daughter to a filmmaker and an actress. As you grow up, you become exposed to drugs and alcohol that lead you into a downward spiral. Robert Downey Jr was born in Greenwich Village, New York. Greenwich Village is a neighborhood area on Manhattan Island where many aspiring artists and writers have lived. His parents constantly had friends over to their house for occasional gatherings, and most of those who came were actors and actresses who were considered hippies by many. There was mass distaste for hippies at the time, due mainly to their drug use, which they claimed was for creativity; thus, this negative view on the hippies eventually affected Downey and his family, given that drugs were easy to access with the coming and going of party guests. When he was only eight years old, Junior was offered some Marijuana by his father, and he did not realize the mistake he was making until it was too late.
By the time Robert was eight years old, he had witnessed drugs and alcohol as part of his normal childhood. He later understood it as a necessity within his family, only because his parents were constant users. Later, during his time as a young actor, he started to struggle with drug abuse and alcohol issues. In the film Less Than Zero, he played a crackhead character named Julian, and during the filming of the movie, he completed a treatment in rehab. When he played Charlie Chaplin in the film Chaplin, he received a lot of praise for it, however, he was still struggling with his emotions by using unhealthy coping mechanisms, particularly drugs. He met his first love, Deborah Falconer, in 1992. Deborah was also a drug addict, but she was not as heavily addicted to drugs as he was. They began to develop a connection, but during their first date, Robert's family came in to stage an intervention. He was confronted about his drug abuse and they demanded that he seek treatment.
In the mid 90's, he changed his life by switching his addiction to heroin, leaving marijuana and cocaine in the past. This heroin was black-tar heroin, produced in Mexico. It was very addictive for drug users. In 1995, he played a gay son in the film Home for the Holidays, and he later admitted that he was high throughout the entire filming process. Director Jodie Foster wrote a letter to him to urge him to seek help, but Downey ignored the advice, since he convinced himself the drug abuse situation was under control. His heroin addiction affected his work life when he showed up late to the set or fell asleep; it also altered his appearance. Later, he got into trouble in 1996, when he was arrested. On June 23, 1996, he was pulled over for speeding and was under the influence. The police searched his car and found cocaine, heroin, and a handgun. He posted a bail bond of ten thousand dollars, and was released at night. On July 16, 1996, he was under the influence of drugs, again, but alcohol was involved. He had tried to go home that night, but he ended up at his neighbor's home instead. He was then charged with being under the influence of a controlled substance and with trespassing. At the end of July in 1996, Robert Downey Jr appeared underweight and tired as he stood before Judge Lawrence Mira in his prison jumpsuit with his family and wife in the court room. It was at that moment that he became determined to beat his drug addiction after realizing that his drug issue was indeed horrible. His fans hoped that Robert's sentence of several months in a supervised rehab facility the entire time with frequent drug tests and three years of probation would help save his career. He was unable to control himself with his addiction. When he was in the courtroom in 1999, he told the judge, "It's like I have a loaded gun in my mouth and my finger's on the trigger. And I like the taste of gunmetal."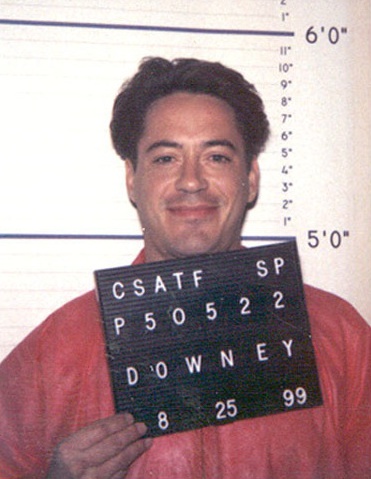 The experience he had with heroin couldn't compare to other addicts who were abusing different drugs like he did. While he recovered, he would experience cravings an addict would experience which felt overwhelming. He then took two years off from acting to focus on rehab. During his time in rehab, he spent some time thinking about his life. He thought about his personal background and past experiences. Then, he found a clear perspective on his life. He realized that he grew up feeling rebellious and that he had no idea what to do with himself, but knew he wasn't happy with what life threw at him. At the end of rehab, he found positive outlets for his energy and rebellious nature.
He tried to get more roles in different films, but that meant the producers had to pay more for insurance because of the risk he posed. This was specially difficult for him because he could not work without insurance, and what made it worse is that he could not get any without proving his reliability as an actor. In an interview in 2003, he said, "I'm less of an insurance risk than anybody I am going to work with for the next while because I am aware of my limitations." After he said this, he lost a role in a Woody Allen film. Then things changed when he met with his friend, Mel Gibson. Gibson previously worked with Downey on a film known as Air America when Downey had alcoholism issues. They also worked together in a film when Mel Gibson played a psychiatrist and he helped Robert come back to the silver screen. Mel Gibson helped Robert come back to the film life. Gibson offered a starring role to Downey in a film he was producing known as The Singing Detective, and agreed to pay for Downey's insurance policy out of pocket. After a long battle with drugs and alcohol, things were starting to go great. He received help in rehab and support from his wife and his friend Mel Gibson.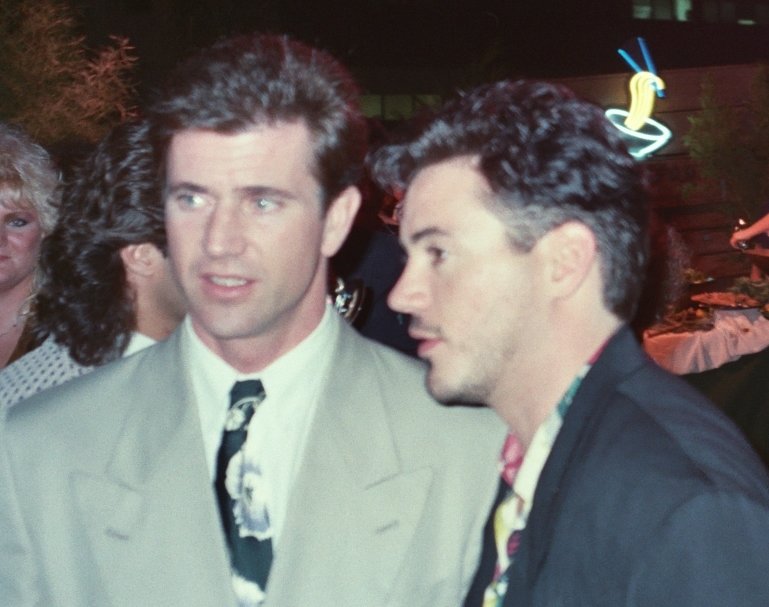 In the award ceremony, Downey Jr paid tribute to their friendship and said, "when I couldn't get sober, Mel helped me. He gave me food and roof when I needed the most and in return, he just asked me to do the same for another person."
Time passed and Robert Downey Jr did not suffer from a relapse, since he was building up his reputation from scratch. Between 2005-2007, he broke out ten different film performances, including a role in 2007 where he played a constant drinking journalist on the hunt of the killer in the Zodiac film. The best outcome from his new life was that he was able to spend more time with his son and appreciated the fact that he achieved a normal family life. "I feel like because I've finally gotten out of my own way, I can enjoy my reputation. Because for all intents and purposes, what I should be right now is this never-do-well, embittered, unemployable guy arguing with some hooker outside a Malibu hotel scrambling for a syringe, but I've got it really good."
He became Iron Man, a teacher, a doctor, and many more roles from numerous films. He smiles at the success he has earned from acting, such as winning Academy awards within the past couple of years. Despite the impact drugs had on him, he overcame them. Currently, he's full of life after just starring in Dolittle, doing a YouTube documentary, and still thriving with his wife and kids.