Imagine having your whole life set up before you, knowing what you wanted to be when you grew up. Well, according to Bernard Spilsbury, that was his life. Spilsbury was born on May 16, 1877 in Leamington Spa, which was a small district in the United Kingdom. His father, James Spilsbury, was a social climber who spent his life trying to reach a high status within society. His grandfather, on the other hand, had been a Chemist and an innkeeper. The only plan James had for his son was to become a doctor, which was something that he never could become. Bernard was sent to the best schools he could possibly go to, and was given a heavy allowance to finance his studies. Although he went to the best schools, he was not one of the best students, and he often thought highly of himself while his teachers thought of him as an idle-minded, arrogant student. Spilsbury studied at Oxford University and received a degree in Natural Sciences, which got him into the University of London. As a student in medical school, he realized that he wanted to look into the field of Forensic Science. At that time, Forensic Science was not the most respectable field. It had actually little to no reputation, and was thought of as a foolish field. While being at the University of London, he discovered the field of Forensic Science and decided to try it out, because every other field of study was not interesting to him. Around the early 1900's, Forensic Science was not very developed. Spilsbury changed that. A team of Forensic pathologists took him under their wing and began to show him the ways of forensics. Being taken under their wing was just what Spilsbury needed, in order to begin his journey to becoming the forensic scientists he ended up being.
Although forensic science was not a prestigious field, it was still quite important in investigating crimes being committed around the city of London. As a teenager, Bernard finished his apprenticeship with the more notable professionals of the field, like Sir Joseph Pepper. At the time, Forensics was still skeptical, but crimes needed to be solved, and Spilsbury, now having the knowledge to investigate these crimes, jumped right in. His most famous case, and the one that boosted his imposing reputation, was the one they call "Brides in a Bath," as his first solo investigation. Spilsbury was called in by the local police to help with the investigation. One victim (Margaret Lloyd) had already been found before the police called on Spilsbury to help out with the investigation. The second victim, Alice Smith, was found in her home with her "husband" missing from the scene. Her family suspected that George Joseph Smith was the main suspect, although they really liked him, so that suspicion was thought of as personal. He was brought in for questioning, but as there were no substantial evidence, and they could not prove he had anything to do with the murder of his wife. The police had no choice but to let him go. Since there was no evidence at the scene of the crime, and the body had no evident marks of restraint or self defense, the case seemed hopeless. This was now the time for Spilsbury to shine. As he got called on, he was stuck by the sight of this crime scene, because of the lack of evidence. The question the investigators asked was, could he solve this case with no significant evidence?
The bodies were found in a very particular position. Alice's body was found in the bath tub of her London home with both her legs sticking out of the tub, with the rest of her body submerged underwater. Spilsbury was puzzled and the questions emerged in his head: how could someone drown in a bath tub with no restraints? Was it electricity? How could it be? There was no evidence to show that it was electricity, nor any other weapon used. There was no blunt force traumas. There was only her two hanging legs out of the tub. Months went by and it felt as if the investigation was going nowhere, and then another body was found in a home in the same way as Alice. The victims were both in the same position and the same unusual situation with the husband missing from the picture. Because Spilsbury was on the case during the second victim's murder, he had no idea who the first suspect of the first case was. One day as he looked back on the case, he discovered that George Joseph Smith had also been the husband of their first victim Margaret Lloyd. It became very clear to Spilsbury that George Joseph Smith was the suspect in both of these two cases. After the third victim, Bessie Munday, Spilsbury began to be very anxious and wanted to hold someone accountable for the crimes being committed and stop any further murders from possibly happening. He wanted to catch Smith, as it was obvious that he was guilty, but the evidence was not ample enough for a jury to find Smith guilty.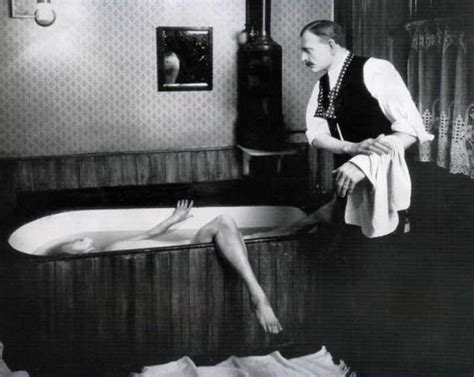 Spilsbury began to feel as if all hope was lost, but he had not yet given up on this case. He looked at the case files over and over again, until it struck him. Spilsbury began to test out different ways these crimes could have been committed, how the body was positioned, and how that ultimately led to the victims' deaths. One day while having looked at cases earlier that day and studying them, he began to theorize what ways Smith could have killed them while not bruising them. He knew the legs were hanging out of the tub in each case, so he began to experiment until finally he figured it out. He hypothesized that Smith held his victims by their ankles while they were bathing until they were submerged underwater and drowned. He conducted an experiment that proved his hypothesis correct. Smith was arrested and put on trial. During the trial, Spilsbury demonstrated how the crime had been committed by holding a volunteer's feet while she was in the bath tub, to demonstrate how the way the victims died. It took a few doctors to revive his volunteer, but he proved that with this method, Smith killed these women, leaving no bruising or blunt traumas on the bodies. Smith was convicted, and Spilsbury built his reputation as a professional pathologist and investigator. The way he was in court impressed many people. After his second case in court, the local police now confided in him for investigations they could not explain themselves.
After these cases, Spilsbury was now the most famous Forensic Pathologist of his time, and he continued to rise for years. He came up with new methods to help out the forensic science field and new methods for investigators to collect evidence. His system for collecting evidence is still used to this day and it paved way for many improvements in the field we know today. The forensic science field's reputation rose because of Spilsbury's new methods for evidence collecting; before his improved methods, police would grab evidence with their bare hands, and evidence was poorly preserved. This method included gathering evidence with covered hands and storing it in some sort of box to preserve it. He was the most respected investigator. They even called him the real-life Sherlock Holmes. His character and personality in court caught the attention of many, but eventually his rise came to a downfall. He had gained too much power in the court, and as people saw it, he would determine the outcome of a case just by simply hypothesizing and not stating facts on what the investigation had found. And so, after a few years, his influence on the justice system came to an end, and Spilsbury was no longer a top investigator, but merely someone who we now see as the founder of modern forensics. In his prime, he was the best investigator there was, but later he was just someone who paved the way for the professionalism in the criminal field. Leaders like Spilsbury opened doors for their fields, and we now have many advancements in those fields, thanks to those methods they developed at their time.