"As was promised-the keys to Heaven's Gate are here again in Ti and Do (The UFO Two) as they were in Jesus and His Father 2000 yrs. ago."1 The Heaven's Gate Cult, or better known as the UFO cult, was discovered on the same day all thirty-nine members took their own lives to be released from their vessel and be sent to the "outer world." Two creative individuals founded Heaven's Gate, Marshall Herff Applewhite, and Bonnie Lu Nettle, after meeting when their lives were the hardest.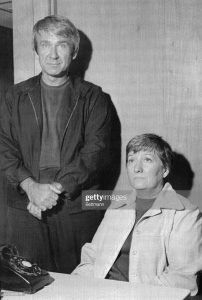 Marshall at the time was struggling with his sexual orientation and had homosexual affairs while being married, and was fired from his job after being caught having an affair with a male student at Houston's University of St. Thomas. He checked himself into a psychiatric hospital in Houston, Texas, where he met Bonnie, who was working at the hospital as a nurse; she felt that it was fate that brought them together. Bonnie, for years, had been into astrology and had been told by two spiritualists, "there was going to be this guy coming into her life."2
They were better known as Ti and Do, or "The Two" as they called themselves, which was based on a book that they read called The Book of Revelation, which said that they were the ones to carry out the mission to reach "metamorphosis" and to go to The Kingdom of Heaven. They traveled the country going to different states, speaking of the cosmology of Jesus and of UFOs. They did unusual jobs to support themselves, and in Texas, they were arrested for fraud and for stealing gasoline credit cards. After that, they continued to travel, and soon developed a following.
During their travels, they managed to go from having only two members in 1972 to hundreds by 1975.3 Many of the followers dropped everything in their lives to follow Marshall and Bonnie. Followers left their families and loved ones without notice to continue their journey to reach "the next level." At the beginning of their following, Marshall and Bonnie had simple guidelines, like no sex, no drugs, and no alcohol. Followers would follow them on their own terms, but soon after that, they changed the rules so that the leaders would have more control over the followers. They felt the need to add more religious inclusive guidelines when they read the bible.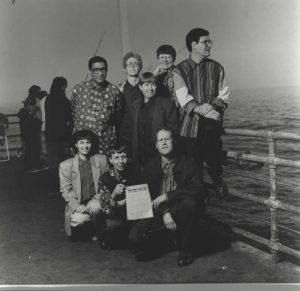 The theological influence that they were placed in changed, and it was a drastic change. All followers had the same short haircut, they dressed in baggy clothes in order to hide their gender, and some members went as far as being castrated. Communication with the outside was not allowed, and even watching the television or reading the newspaper was not allowed.4 Once those rules were set, many followers left because they felt they couldn't live like that. Those who stayed continued to practice self-transformation and spiritual rituals that included tarot cards, crystals, shamanic healing, and energy work.5  At the time, the cult was staying in different areas, and they were currently staying in the Dallas area. Certain members were able to go by fake names and have jobs in order to have an income to support the group.
During the time they were in Texas, tragedy struck the cult. Bonnie Lu Nettle died on June 19, 1985, of liver cancer leaving Marshall as the sole leader of Heaven's Gate for the next twelve years. Marshall and everyone else in the cult didn't see it as death, but more that her consciousness was being moved to The Kingdom of Heaven. "You must take a changed-over physical body with you into the next level" is what one of the members who understood the teaching explained to those who didn't understand.6 Marshall experience emotional turmoil over the death of Bonnie, but he kept his composure together by continuing his teaching and leadership.
A year after the death of Bonnie Lu Nettle, the group managed to get a large amount of money and decided to use that money to move somewhere permanently. They rented a large 3.1-acre ranch in Santa Fe, San Diego. Marshall started to broadcast his teaching and even went as far as making a website for Heaven's Gate, as it was the beginning period of the internet. They made videos showing how they spent time together and the activities they would do. On a special day in 1995, Marshall heard about the Hale-Bopp comet coming by the earth. The image of the comet made him think that there was a spaceship following behind it, and Marshall saw it as the spaceship that would be taking them away to reach "the next level" that he and his followers were waiting for. He preached about it to the followers, about how the time for them to reach "the next level" was approaching, as the comet was coming closer to earth. The website that Heaven's Gate ran would update constantly and alert the followers that the day would come when they would reach the outer world. Two years passed, and the fateful day had finally come for the people of Heaven's Gate, when they would take their lives for the sake of reaching "the next level." March 22 and 23, 1997, were the fated days they would finally reach what they strove for since the beginning of the journey. Beforehand, they had spent months preparing for the important day, and envisioned the spaceship that would be taking them away.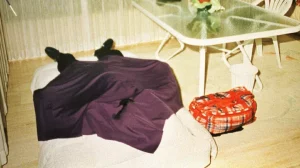 A few days before the discovery of their thirty-nine dead bodies, they filmed their goodbyes and gave a speech that was heavily influenced and controlled by Marshall.7 By the end of March 23, 1997, all members committed suicide by ingesting phenobarbital, drinking vodka with it, and putting plastic bags over their heads.8 They covered themselves in a purple shroud to honor Bonnie Lu Nettle, as it was her favorite color; and each member had a five-dollar bill and three quarters, as they could not travel without money. The last breath of the group left the world on March 23, 1997.
On the same day as the mass suicide, the thirty-nine bodies were all found by police, and the media went crazy over the mass suicide. They found the goodbye videos, the writings, and photos of the cult. They found Heaven's Gate website that would flash "RED ALERT" on the front page, stating that Hale-Bopp would bring closure to the cult.9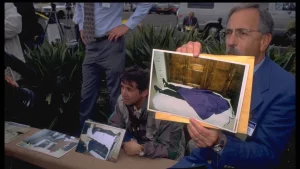 The cult became known to the world as the "UFO Cult," when the photos and clips of the goodbye videos were released to the public. Research on the cult was conducted, so people could understand why they did it. Through the eyes of those thirty-nine people who took their lives, people came to understand what they finally wanted: to ascend to the outer world to get to "The Next Level."