"I wasn't interested in hearing arguments about God, or reading the Bible, but God's grace was working through my imagination" – Holly Ordway. 
Dr. Holly Ordway, a college professor who was once atheist, found her way to God's grace. Her path to the beginning of her faith journey was paved through some significant things in her life such as fencing, her profession, and her friendships.
Growing up, Ordway lived in a culturally Christian household, meaning they celebrated Christmas and Easter, but did not attend mass. In her home, there was no trace of a Bible or any holy book or objects. One day, eight-year-old Holly waited at the bus stop, like she did everyday before school, and another kid waiting asked if she believed in God. Ordway believed that God was more of a superstition rather than a belief, which led to the child calling her "agnostic." That moment stood out in her memory because she learned about new ideas that led to contemplate whether or not she truly believed in God or a higher power. Throughout her teenage years, Ordway's morals were not fully comprehensive to her; her questioning got the better of her and she searched to better understand her moral sense.
When Ordway began her adventure as college student, she solidified her beliefs as an atheist. She believed science had all the answers; she no longer believed or wanted to believe that there is a God. She stated in an interview with Brandon Vogt that her views of the world, in that moment in time, were not the best; she could not justify as to why she was atheist. "You don't need to believe in God to be a moral person." Her moral compass, in her opinion, worked fine, but she wanted more justification for her feelings.
For the past two years, psychologists have researched the science behind people having faith. The University of Waterloo presented information that people rely on their faith to believe that God has everything under control in their lives. Believing in a higher power can reduce anxiety and stress. People of faith show less stress and anxiety compared to atheists. This belief is known as animistic thinking. Religion is an safety need for most people because it makes them feel that the world around them is secure.
Ordway always enjoyed to read, which is one way that paved her to God's path. Authors C.S. Lewis, J.R.R. Tolkien along with poets Gerard Manley Hopkins, George Herbert, John Donne, etc. sparked Ordway's interest to read more Christian literature. "I wasn't interested in hearing arguments about God, or reading the Bible, but God's grace was working through my imagination… like a draft flowing under a closed and locked door." God speaks to people in different ways, and for Ordway, it was through the things she loved the most. Ordway was a competitive fencer, and when she came to the realization that her coach was Christian, she felt more comfortable with him. She went to him with questions about Christianity. As she learned more about the faith such as the Eucharist and God's never ending love, she connected the dots and, soon, had a revelation that her previous beliefs do not justify the information she has retained from the questions she has asked as well has the literature she has read over the years.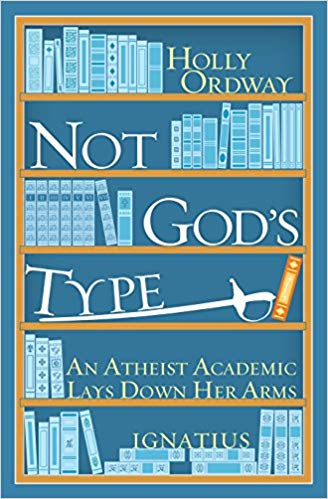 In 2012, Ordway converted to Catholicism, a branch of Christianity. Ordway wrote a book called "Not God's Type," which goes more into depth on her conversion and why she felt the urge to find God. Now, she is an author for the "Word on Fire," blog where she also explains her conversion story. She speaks at different conferences such as Franciscan University of Steubenville Defending the Faith Conference about her faith journey and how to defend your beliefs. She continues to impact millions of lives through the word of God.