On the morning of April 19, 1966, Roberta "Bobbi" Gibb became the first woman to run and finish the Boston Marathon. Competing in a field alongside 500 other male athletes, Bobbi Gibb crossed the finish line at the 126th position, defying the belief that women weren't capable enough to run a complete marathon. For Gibb, the words, "I can't," were definitely not an option, and she made that clear. She was ready to demonstrate her skills and she was ready for the world to improve by just watching her  run right along for 26.6 miles. Roberta Gibb changed the face of sports for women and left a clear statement about equality all over the world.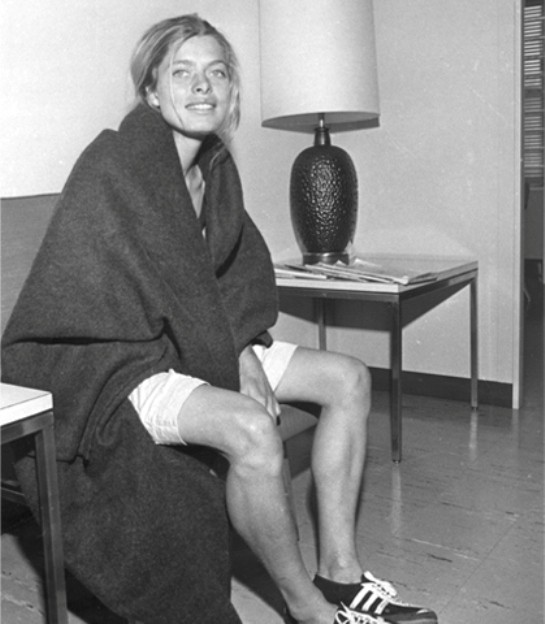 The four-year-old Roberta Gibb ran like every normal little girl when she would play with her friends. However, she noticed something was different about her when she saw her friends had stopped running and she didn't. She was eighteen years old, and she kept running, and she loved it. When she heard about a bunch of people running a marathon of 26.2 miles, she was in disbelief and wanted to see it for herself. Roberta's father took her to Boston to watch the marathon and she couldn't believe what she was seeing, because it was the first time she had seen people running competitively. She fell in love with the race like she had earlier fallen in love with running. Her observation of the marathon was of 300 runners, not thinking for one second whether they were men or women. So, she immediately had a feeling she was going to run that race someday, which was completely crazy for that time.
In the 1960s, it was odd to see a grown-up woman running, because it was counter to the social norms at the time. Roberta Gibb was discontent about the current situation of women. She believed false beliefs had messed up the human race, and the social norms women had to follow didn't let them fulfill their potential. Gibb believed this was keeping women in a state of subjugation and she wanted to stand up against such false beliefs. At that time, women were only allowed to run a mile and a half competitively, but Roberta knew she could run a lot more than that. She decided to run in the Boston Marathon, so she trained for two years, even though she didn't know how. Gibb trained hard without books or instructors; she just ran the entire day in a different location every time. Roberta Gibb also chose to train in secret because she knew people were going to think she was wanting to achieve something completely unrealistic.
In March of 1966, Roberta Gibb was ready and sent her application to the Boston Athletic Association. Days later she eagerly checked her mail waiting for her race number, and instead, she received a rejection letter. The letter from the BAA stated that they were denying her because women weren't physiologically able to run more than a mile and a half. That specific comment triggered Roberta, because it was another false belief about women. Bobbi Gibb knew she was running even more than 26 miles at the time and she wanted to prove them wrong. After that, she stood by her quote, "How can you know you're capable of doing something if you are never allowed to do it." This quote was so infuriating for Bobbi Gibb because it followed her everywhere. Society wanted women to never succeed. Women couldn't even have a credit card with their name on it or own a house, and it was nearly impossible to be a lawyer or get into medical school. Roberta Gibb experienced the statement "men only" in every situation, hearing that women are not allowed to be themselves, to be successful, to try to achieve something. 
After receiving the rejection letter, she was so mad she crumpled up the letter and started running until she got to a beach. After hours of reflection on the beach, she made the decision that she had to run that race, because if she were to run 26.6 miles in the marathon and prove the BAA wrong about women's capabilities, she could also prove wrong their misconceptions about women more generally. She now was going to run the Boston Marathon, not for herself alone, but for women all over the world.
After making up her mind about running the race, she took a bus to Boston that lasted three days. She met her parents to tell them the news. Her parents thought she was going crazy, especially her father. Her father wasn't of any support to Gibb's plan to make a social statement. On the other hand, when Bobbi Gibb told her mother, "Mother, I have to run this marathon, I have trained for two years now. I have to run to set woman free and to change the way people think about them," her mother began to cry and supported her, knowing things were going to change after that. So she drove her to the race.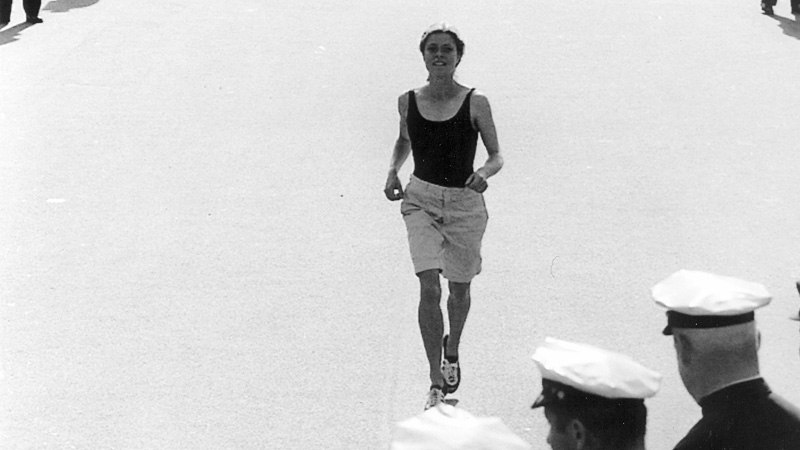 Bobby Gibb arrived at the Boston Marathon dressed up as a man with a black bathing suit and Bermuda shorts with the intention of not being recognized. At the very last minute, Gibb was a bundle of nerves. Nevertheless, she saw some bushes near the start line of the race and hid behind them. When the race began, she immediately jumped into it. She ran for a couple of minutes afraid of men recognizing her, and indeed they did. Some men behind her started talking about whether she was a woman or not. That was when she turned around and smiled at them. The men in shock screamed, "It is a girl!" And instead of kicking her out, they completely supported the idea of a woman running the race. Roberta Gibb heard them saying that they wished their mothers, wives, and/or girlfriends would be running too. After that, she told them she was afraid other men or people in charge were going to kick her off and the men stated, "We won't let them." Roberta Gibb was totally impressed by their reactions because she was not expecting that at all. She was not expecting for people to support her and want a woman to complete the 26.6 miles of the race and succeeding in it. Even so, she turned around looking at all the women cheering her on and even some men as well. She saw women crying and many reporters following her process throughout the race. She was completely overwhelmed by all of it, because she never expected any encouragement like the one she was receiving. Gibb realized all of those women were there to see her and only her. How big of an impact was her following her dream of participating in a Boston Marathon going to be? She expected to run against everyone that day, and instead, she was seen as a hero by many people that day. She finished in 3 hours, 21 minutes, and 40 seconds in 126th place out of 540 entrants. When she crossed the finished life, she felt glorious and whispered to herself, "I did it." She thought she was going to get arrested after the race, and she was ready for it because she had just run the Boston Marathon, which was completely illegal. Instead, John Volpe, who was the governor of Massachusetts in 1966, approached her and shook her hand. But it was not until the next day that she realized how big of a social statement she had just made by running and finishing the race. The next day, the headline in the Boston Globe was, "Girl Finishes Marathon," and she also became the headline of every other newspaper in Boston. They described her everywhere as a "national hero," especially for women.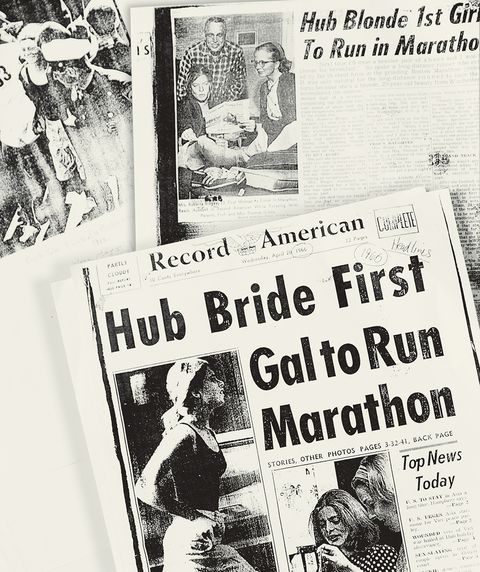 She was recognized by the Boston Athletic Association as the pre-sanctioned era women's winner in 1966, 1967, and 1968. She was later respected by the B.A.A. They commemorated her in 2016 by letting her be the first to cross the finish line. She became the trailblazer of women running the Boston Marathon. Roberta Gibb changed the face of women in sports all over the world and forever. She is now in her 70's and still runs an hour every day, because it is still a passion of hers. She became a very important figure in the history of women, and has since written two books, To Boston With Love and Wind in the Fire. The most impacting quote Roberta Gibb has left for the world is, "I ran the Boston Marathon out of love. I believe that love is the basis of all meaningful human endeavors. Yet it was a love that was incomplete until it was shared with others." Gibb saw what many others couldn't see, and that was the capacity women have to leave so many speechless. For many years, there was a line people had to what they thought women could do. In 1966, Roberta grabbed that line and put it next to men, and again she did it, she saw what many couldn't.