Does the name Carmen Miranda sound familiar? What about "the lady in the tutti-frutti hat?" If not, do not feel ashamed, for many have forgotten the excellent Brazilian performer. No Brazilian artist, however, has achieved the international recognition that Carmen Miranda has, especially in Latin America and the States. She was one of the highest-paid women in Hollywood during the 1940's.1 Yet she is today something of an unknown figure. Why is that?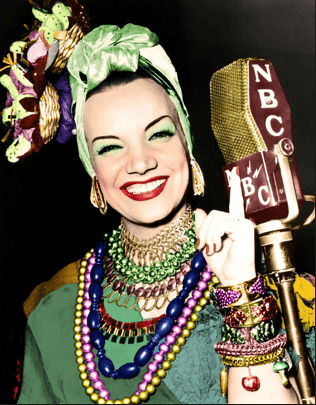 Well, it dates back to the day she was born. Carmen Miranda was born Maria do Carmo Miranda da Cunha in a village in Portugal on February 9, 1909. She migrated to Brazil with her family in 1910, before turning two years old.2 Though she remained a Portuguese citizen, she was at home in Rio de Janeiro, Brazil. She began performing at a very early age, winning over her family and friends with her talent, and soon she had become a samba sensation. She was cutting records and was a star nearly a whole decade before coming to the United States. One night in 1939, while performing at the famous Cassino da Urca (in a neighborhood in Rio de Janeiro), New York producer Lee Shubert signed her for his show The Streets of Paris on Broadway, and away she went to take the world by surprise.3 While on Broadway, she enchanted everyone with her vibrant singing, dancing, and "Brazilian bombshell" beauty.
At 38 years old she married; however, given the huge persona she was, it is strange that there is not much known about her personal life. The extent of it is that she was raised Catholic, and this may be the reason she married at a mature age. It was rumored that she and her husband, David Sebastian, had a troubled marriage.
It was 1940 when she returned from Broadway to her homeland Brazil, but she was devastated by the way she was received. At the same Casino where Shubert had snatched her from less than a year earlier, Miranda performed to a crowd in awkward silence; only when she began to sing in English did the crowd make some noise, booing. She stopped the show and was so upset that she burst into tears. This incident sent her fleeing from the country, and for about fifteen years she did not return.4
Meanwhile, Miranda spent her time on Broadway and in Hollywood, Las Vegas, and London starring in movies, performing in casinos and clubs, expanding her fame and reputation. She was the tropical beauty from Brazil and there was no one to change her mind about it. Yes, she was a European woman with pale skin and green eyes, but these features are what made her unique, and people found it interesting that a woman like her sang black music. Her unique style gave her the recognition she has acquired as an iconic Latin American. Carmen Miranda was well-known for her outrageously colorful costumes, which called for high platform heels, lots of jewelry, flamboyant dresses, and most famously the turbans with fake fruit stacked so high that it added height to her short stature of 5'0''. 5 "In Brazil in Bahia, the girls carry the basket with the fruits on her head, and they have big bracelets and big necklaces and they sell fruits in the streets and I take it [my style] from the girls," Miranda explained as the source of her image.6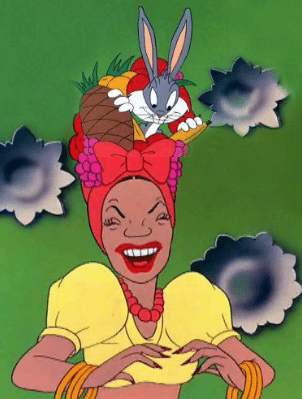 For years people have attacked Carmen Miranda on racial grounds. Critics say she had returned to Brazil americanizada. In response, she wrote a song in their mother tongue—the only country in Latin America to speak Portuguese—whose title translates to "They Say I Came Back Americanized."7 It was also said that she was a sellout and was not truly a native, having been born in Portugal. Some say she was simply portraying the "Brazilian Bombshell" image and embodied the typical stereotype the U.S. public wanted to see in Brazilians, and Latin Americans more generally, where women are highly sexualized. Others argued that her style had created a distorted view of the country, as being sexually exposed, extravagantly colorful, and fruity. They argued that the turbans she wore were not even Brazilian customs and were only used to make fun of her.8 She was even mocked on a Bugs Bunny cartoon. To make matters worse, some said she had no right to sing samba, a music inherited in Brazilian black slums.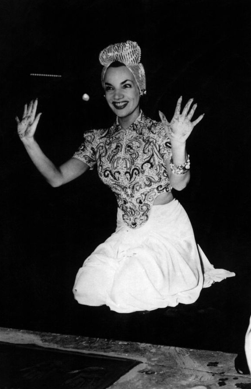 On the contrary, Carmen Miranda put Rio de Janeiro on the map of spectacular. She was the most successful person Brazil had produced. In a way, she served as an unofficial ambassador for her country, and it is heavily reflected in her movie roles.9 Everything that was Latin American was a hybrid presented in her performances, her style, her songs, friends and fans. She was everything, and nothing at once: Brazilian, Mexican, Argentinian, Cuban. Hollywood productions during this time period would touch on different cultures, but never fully embrace one, and this may have been what happened to Miranda. She became involved in Franklin D. Roosevelt's Good Neighbor Policy, which was a program determined to improve relations with the nations of Central and South America.10 She still is the only South American to be immortalized in concrete at Sid Grauman's Chinese Theatre, "To Sid, VIVA! in the South American Way. Carmen Miranda. March 24th 1941," neighboring none other than Frank Sinatra. 11 Rio's Museum of Modern Art welcomed Carmen Miranda with a major retrospective; "Carmen Miranda Forever," where clips from her movies were shown, and gowns and turbans were showcased.  She even had a museum in Rio dedicated to her, the Carmen Miranda Museum. Here, there was a wide variety of arrangements, gowns, costumes, shoes, and anything you can think of that she had performed in. The building itself was not lavish and fabulous as she was. Therefore it did not suit the gems hidden inside. Due to lack of maintenance and funds, it was closed down. It was agreed that Miranda deserved better.12 On the bright side, the museum is being relocated to Rio de Janeiro Museum of Image and Sound, expecting to open anytime soon. 13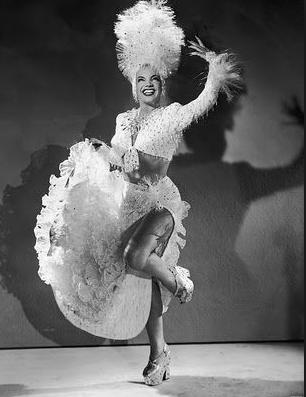 It is a difficult task to relate to Carmen Miranda's plight. She took many chances in leaving Brazil: that of being lost in translation, the crossing of geographical and cultural borders, sounding like herself in a different language, being in a sustained condition of exile. One person could not possibly represent an entire continent, especially one as diverse as that of Latin America with its many rich cultures. Today, it is not rare to be a Brazilian in the United States, in contrast to the way it once was. With that in mind, there is no Brazilian artist that has coped with these issues on the scale that Miranda had to in her prime. A director for a play on Carmen Miranda's life said it better than anyone: "Carmen hasn't been forgotten, but she's been kind of ignored or neglected in recent years."14 There are people today who have become interested in her, that have opened their minds to who she really was and why she has become an obsolete figure. They will learn that she was a charming, charismatic, comical, and extravagant person, a figure to inspire.15