Parties with drinking, dancing, and singing are rarely thought of as cults. Cults are often thought of as small religious groups that are frowned upon and viewed with suspicion by outsiders. Today, when we hear the word cult, we imagine people wearing white robes, creepy leaders and brainwashed followers who follow their leaders into rituals of mass suicide by Kool-Aid. In ancient Greece, however, everyone wanted to be a part of the Cult of Dionysus, where everyone would gather with free food, free wine, and the Goat Song.
Dionysus is the Greek God of wine, of winemaking, and of merriment and gaiety. He was supposed to have been born by the union of a mortal woman, Semele, princess of Thebes, and the greatest of the Greek gods, Zeus. Ancient Greek mythology holds that he was twice born, because when Semele was pregnant with Dionysus, Zeus took him and kept him in his thigh until he was ready to be born. While this may sound strange, there is a good explanation. Hera, Zeus' wife who was also a goddess, had learned that Zeus had impregnated a moral woman; she was filled with jealousy and rage. The vengeful Hera disguised herself as a mortal woman and visited Semele. Once with her, she convinced Semele to ask Zeus to grant her one wish. When Semele asked for her one wish, Zeus promised to grant her anything. Semele asked Zeus to present himself in his true form, as a god not as a man, as suggested by Hera. Zeus kept his promise, but he knew that if Semele ever gazed upon him, she would die. So when he revealed himself to Semele in his true form, Zeus had Hermes take Dionysus from her womb and placed him into Zeus' thigh so that he would not also die with Semele.
As the god of wine, Dionysus is supposed to spread the knowledge of how to grow grape vines. In ancient Greece, wine was one of the few goods they could produce. Because of this, Dionysus was a major deity, and it was said that he was one of the twelve gods that lived upon Mount Olympus. Temples were erected in his honor and worship of him spread throughout the Greek poleis. Annual festivals called Dionysia were held in his honor and, of course, the purpose was to relax, feast, dance, and drink wine.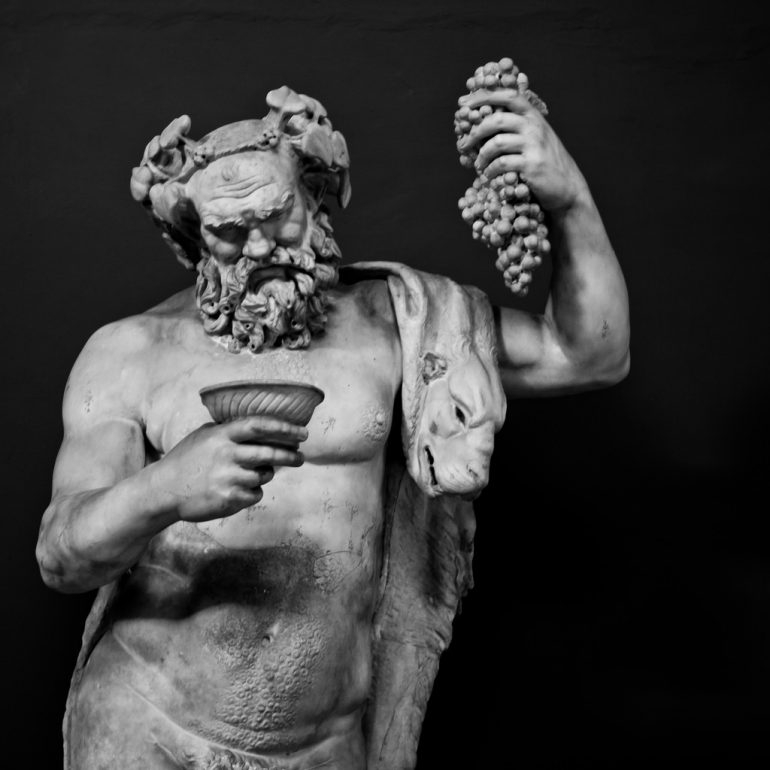 Some dances in honor of Dionysus were performed on oiled wineskins, which were bags made out of animal skins that were filled with wine. Dionysus loved goats, donkeys, and tigers. Not only were those animals at the Dionysia, but their skins were also danced upon. When someone fell off the oiled wineskins, everyone cheered, laughed, and drank wine.
The Greeks held competitions to see who might be the manliest man and who could drink a pitcher of wine the fastest. The winner would receive a smaller oiled wineskin as a trophy, which was essentially another container of wine.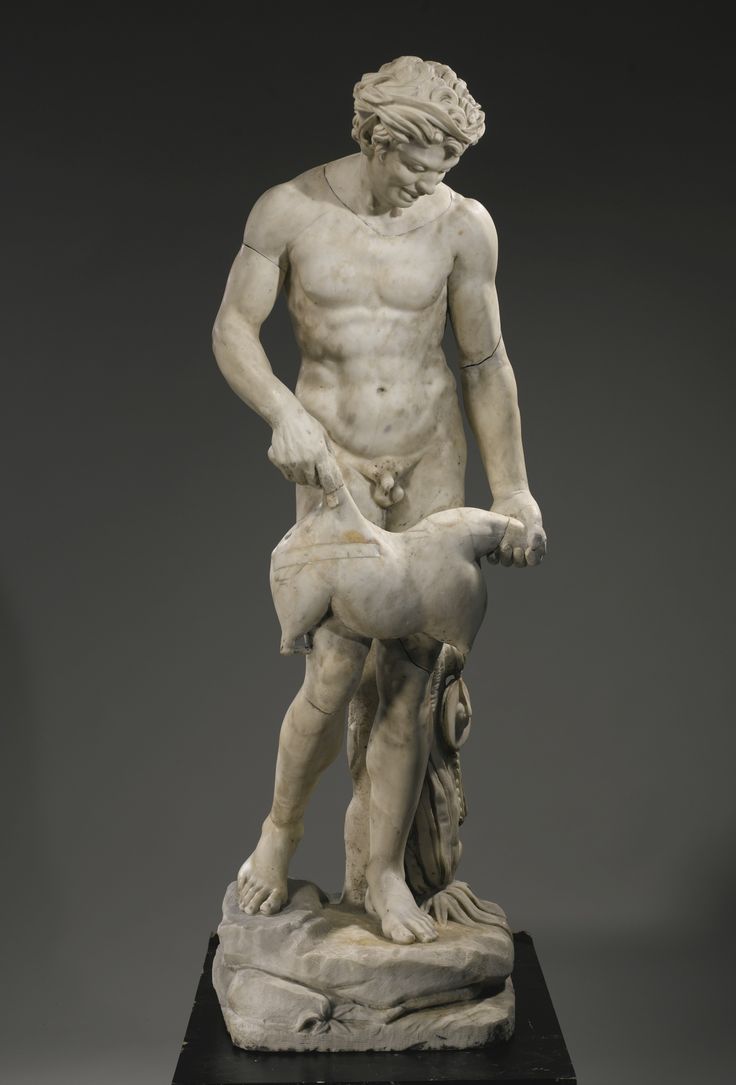 At the annual Dionysia, the Goat Song was also preformed. The Goat Song gave birth to Greek drama. Originally, a song or hymn was sung as a goat was being sacrificed to Dionysus. The song often addressed questions that were arising about divine law, judgement, and various social conflicts of general concern. The Goat Song was seen as something of a group discussion or address of common concerns, and as a way for people collectively and individually to purify their minds. The hymn then became a performance piece, sung by a chorus. The performance evolved over time to include first a monologue, and then with the addition of a second voice, a dialogue. Eventually, more voices were added, and the performance of the Goat Song became the tragic drama we have come to associate with the great Greek tragedians Aeschylus, Sophocles, and Euripides. In fact, the Greek word tragedia, from which we get our word tragedy, literally translates as "the song of a male goat." The Greeks truly loved drama because they felt that the gods were speaking to them and judging their piety, rather than merely being annoyed by them.
The cult of Dionysus does not seem so suspicious now. There were not any outrageous daily rituals or strange articles of clothing they had to wear. The cult of Dionysus consisted of dancing, drinking, singing, and feasting, every college student's four favorite things.