It was 1823, and the people of Mexico had chosen Agustín de Iturbide as their First Emperor after the long fight for independence finally came to an end. It seemed that many of the people were thrilled to have him as their monarch, all but one person: Guadalupe Victoria. For Victoria, having a monarch as the face of Mexico meant the creation of a central government in the hands of a man with a lot of power. Instead, Guadalupe Victoria had his eyes set on a country that would be much more decentralized, with a more democratic structure headed by a president. Victoria wanted Mexico to be a federalist country, because Federalism would give more political power to the local level, with more economical freedom in each part of the country where they each would have different traditions; however, none of this would be possible if Mexico were headed by Agustín de Iturbide as emperor. But Victoria was not going to give up that easily.
General José Adaucto Fernández Félix, better known as Guadalupe Victoria, was born in the Villa de Tamazula, Durango, Mexico in 1786. He was the son of Manuel Fernández and Alejandra Félix. In his childhood, he lost both of his parents, so his uncle Agustín Fernández, the priest of Tamazula, took care of him. His uncle helped him gain an education in an otherwise harsh and deprived economic situation. At the age of nineteen, he decided to move to Durango, where he briefly studied at the seminary. From there, he went to Mexico City in 1807 and enrolled in the Colegio de San Ildefonso to study Canon Law and Civil Law. In 1811, he abandoned his studies to engage in the fight for Mexican independence. He joined the militant forces of José María Morelos y Pavón. For his bravery and courage, Victoria was promoted to the rank of Colonel. It was at this time that he adopted another name, with which he would become famous: Guadalupe Victoria. He chose this name perhaps because he was a member of Los Guadalupes, or perhaps in remembrance of the Virgin of Guadalupe, patron saint and protector of the insurgents. She was the patron saint of the fight for independence that he pursued with such conviction and was sure to achieve.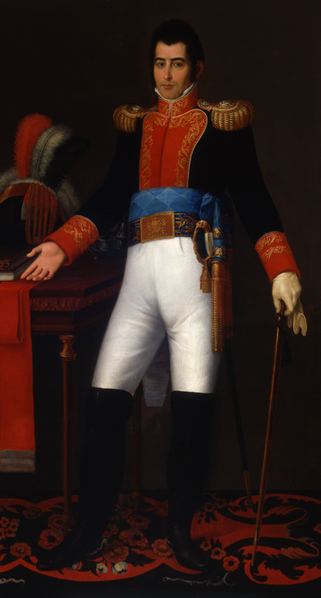 At dawn on September 16, 1810, in Dolores, Hidalgo, priest Miguel Hidalgo y Costilla called on the people of his town to formally begin the fight for independence in Mexico. By December 1815, beaten down by the persistent struggle for freedom in Mexico, General Victoria was lowered to the position of guerrilla leader. The movement for independence had declined to such a degree that only small groups continued fighting in the mountainous areas. Among these groups were Nicolás Bravo, Vicente Guerrero, José Francisco Osorno, and Guadalupe Victoria himself.
After the defeat and death of Jose Maria Morelos y Pavon, the "Insurgentes" were greatly weakened and fragmented. There were only two rebel leaders who continued to fight for independence: Vicente Guerrero and Guadalupe Victoria. Victoria was evicted from Puente del Rey and defeated in Palmillas in 1817, but remained active in the mountainous region of Veracruz, fighting a painful and tenacious guerrilla war against the Royalists, who sought to stay loyal to the Spanish crown. In late 1818, with the Royalists on his heels for refusing to accept the apology offered by Viceroy Apodaca, Victoria decided to hide in the forest until the situation settled down.
Throughout most of 1817, the search to find Victoria continued. During this time, the illustrious man from Durango fed himself on wild fruits and small animals that he managed to hunt with his moldy sword. On one occasion, Royalist soldiers were about to capture him, but General Victoria, thanks to his agility, swam through a stream and was able to resume hiding in the thick part of the forest. The pursuers, to avoid further hardships, reported that they had found the body of the Tamazula insurgent. The Mexican Gazette published the detailed information and the soldiers were withdrawn from the region.
On February 24, 1821, Colonel Agustín de Iturbide proclaimed the Plan of Iguala, which established Catholicism as the official religion of New Spain. It proclaimed that the government would be a moderate monarchy and would have Fernando VII as their King. Fernando de Borbón, better known as Fernando VII of Spain and Fernando I of Mexico, was a Spanish and Mexican monarch, the first one for Mexico. On January 27, 1821, an agreement was signed for Fernando VII to return to Mexico with a provisional government, while a constitution would be drawn up that would give birth to the Kingdom of Mexico as a completely independent nation from Spain. Upon his death, one of his family members would inherit the throne. Provisionally, a government would be founded that would govern in the name of the King. Two months later, Guadalupe Victoria appeared before Agustín de Iturbide in San Juan del Río, Queretaro. He proposed to make some changes to the Plan of Iguala that would make Mexico a republican government. His proposals included having a former insurgent become emperor, if he had not been pardoned and if he were single and able to marry an Indian woman from Guatemala. He wanted to create a board of independent leaders that would act as a provisional government. He also wanted to form a Congress as soon as possible.
These modifications logically did not suit Iturbide, so he commissioned General Guadalupe Victoria, without granting him a military rank and few troops, with an assistant of his to watch over him. General Victoria launched a second proclamation in praise of Iturbide, recommending that the people unite for the success of the Plan. On August 24, 1821, Viceroy Juan O 'Donojú and Agustín de Iturbide signed the Treaties of Córdova, which recognized the independence of New Spain and the establishment of a moderate monarchical government and a provincial governing board. Two commissioners left for Spain, to present the treaties to Fernando VII.
O'Donojú himself was appointed a member of the Board, whose purpose was to elect a president of that Board. This president would then appoint three people to make up a Regency. On the eve of occupying Mexico City, Iturbide set about electing thirty-eight people from among the wealthiest in the capital and supporters of Hispanic rule. As is logical to suppose, the true patriots who for years fought to achieve independence were excluded, men such as Vicente Guerrero, Nicolás Bravo, Andrés Quintana Roo, Ignacio López Rayón, and Guadalupe Victoria. Victoria went to Veracruz.
On September 27, the Trigarante Army entered Mexico City, under Iturbide's orders. The next day, on September 28, the Regency, composed of Agustín de Iturbide and Juan O'Donojú, was installed. This Regency issued the Act of Independence that same day. This is the day when New Spain officially became an independent state. When the Empire was proclaimed on May 18, 1822, the Constituent Congress declared Agustín de Iturbide Emperor under the name of Agustín I. Immediately, all those who wanted a position in the Court adhered to the Empire's rule, except General Guadalupe Victoria, who publicly expressed his disagreement. His dissent led to his arrest, but he soon escaped and took refuge on the Paso de Ovejas ranch. This land was owned by Francisco Arrillaga, a Spaniard who sympathized with the movement for independence.
On December 2, General Antonio López de Santa Anna, upon being dismissed from the Military Command of Veracruz, took up arms and proclaimed the Republic. He was joined by General Guadalupe Victoria, who remained in command of his troops. Iturbide, to end this uprising, sent General José Antonio Echávarri, but Echávarri joined the rebels in their plot to overthrow the Emperor and demanded the restoration of the Congress that was previously discontinued by Iturbide. This movement triumphed, and the short-lived emperor was exiled. General Victoria was responsible for hiring the frigate Rowlins, which led Iturbide into exile, and he happened to see him before he embarked.
To establish a new form of government, a triumvirate called the "Supreme Executive Power" was appointed. This government consisted of Generals Nicolás Bravo, Guadalupe Victoria, and Pedro Celestino Negrete, who took office on April 1, 1823. After the abdication of Agustín de Iturbide, the country was in a precarious situation with respect to its government regime. It was necessary to create a precedent that would stipulate the basis of a new form of government that would establish order and lead the country with legitimacy. In order to provide the nation with this, a Constitution Commission was created within the Congress to prepare the Constitutive Act. The president of that Commission was Don Miguel Ramos Arizpe, who had a lot of experience in the matter. He acquired this experience primarily in the Cadiz Constituent Assembly where he served as a deputy.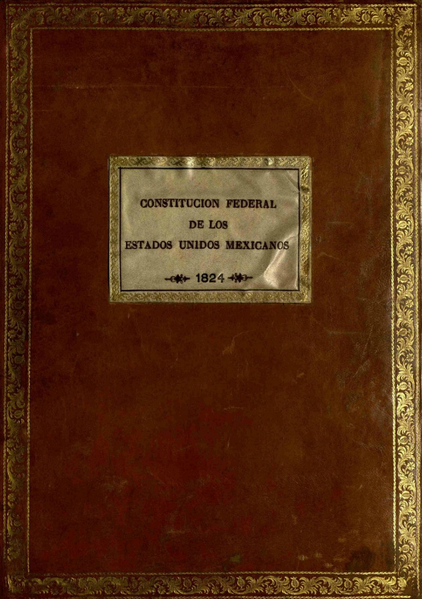 Ramos Arizpe was the main editor of the Constitutive Act. He took several articles from the Constitution of Cádiz and integrated them with other provisions to build that Act with thirty-six articles that was provided to the plenary on November 20, 1823 for consideration. This was the first constitution promulgated in Mexico. After the fall of Emperor Agustín I in 1823, Mexicans were divided between those who advocated for a strong central government (centralism) and those who preferred a union of strong states (federalism). The Federalists won and elected a Constitutional Congress that reflected their ideas. The states and the national government would share sovereignty, as well as revenue from taxes, making the central government weak. Furthermore, the Constitution gave more power to the legislative branch than to the executive branch.
In 1824, already with a constitution that established a republican, representative, popular, federal form of government, Victoria was appointed by the local legislatures to be President of the Republic by seventeen votes. This was an election in which Vicente Guerrero and Nicolás Bravo also participated. He took office on October 10, 1824 with Nicolás Bravo as vice-president.
His government faced the need to reorganize the country, restore peace, and establish a new sense of order in accordance with the Constitution. Under his mandate, independence was achieved with the surrender of the last Spanish stronghold, the castle of San Juan de Ulúa, in front of the port of Veracruz, in 1825. He signed a treaty with Great Britain and consolidated relations with the United States, Central America, and Simón Bolívar's Colombia. He declared that slavery be abolished, installed the Supreme Court of Justice,  and issued the first colonization law to promote the proper distribution of the country's population. In educational affairs, he facilitated the creation of the Lancasterian Society among many other influential matters.
Mexico forged itself through the external and internal challenges that the nation faced. The nation was molded by wars with foreign armies and fratricidal struggles, in which thousands of men and women have offered their lives, selflessly, so that this rich and vast country may consider itself great within the concert of nations. They sacrificed so that all of Mexico's inhabitants can enjoy political, social, cultural, and economic guarantees which allow them to be better every day. This will be reflected at the national level, making Mexico one of the first great republican countries. One of those disinterested men who fought on the battlefields, in diplomacy, and as head of the Executive Power of the Nation, was General Guadalupe Victoria. Faithful to his convictions, he never gave up in the face of adversity. An example of this was his persistent and relentless struggle for freedom, even at the cost of his health and his life.