For many musicians, there is a moment that changes everything for them; they get that one big hit or that one chance to make it happen for them, and they do not even realize it at the time. It may not be how they imagined it or it may not have been what they had wanted for their life, but there were chances to take and go for it.
Elvis was an awkward kid growing up, having lost his twin and being close to his mother and his father, and having his own issues to deal with. He found ways to come out his shell, but what he was really passionate about was music. Growing up, he found ways to get into music, singing with the church choir or to himself, he knew that music was it for him.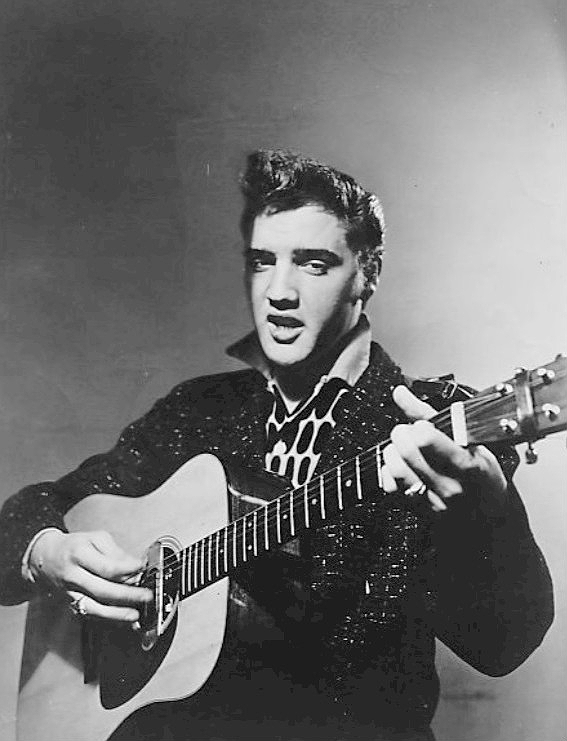 When he was ten years old, he sang for a contest in the Mississippi-Alabama Fair and Dairy Show in Tupelo. He was still too short to reach the microphone so he had to stand on a stool to help him reach. Even though he had no musical accompaniment, he got up and performed; he came in fifth place. Even though he lost, he continued to explore music, and eventually he became Elvis. But how did that happen?
For his birthday, his mother Gladys gave him a guitar. His uncle taught him chords, and Frank Smith, a preacher at an Assembly of God Church, also gave him lessons on how to play. He was fortunate to have these people to show him how to play, something that would come in handy later in his life. He would later become a regular performer at the Country Music Jamboree outside the Tupelo courthouse. He had his guitar and would take it with him to school every day, even though his classmates would make faces and ridicule him for the music he played. He still continued to do what he loved. Elvis ignored them and did what he wanted; he had set a goal for himself, and he was going for it.
When Elvis was thirteen, his father moved the family to Memphis; there, Elvis would hear the music coming from the black neighborhood, although he had heard some similar sounds in Tupelo. He was always hearing sounds; he had a talent for picking up sounds.
Nobody thought he would have gotten to that point; he had failed music class in high school, and a teacher had even rejected him from joining the glee club. He was also rejected by a gospel quartet he was set on joining. It was a big disappointment for him, and he seemed to be discouraged by everyone around him, even his own father.
In August 1953, Elvis had finally gotten up the nerve to go the Memphis Recording Service; he claimed that he wanted to record a song for his mother. An associate of Sam Phillips was there that day, who liked what he heard and kept a copy of the recording Elvis had done. Elvis was discovered when he had already graduated from high school. His breakout occurred late in the evening on July 5, 1954 during a late-night recording session that had proved unfruitful, until Elvis started improvising on the 1940s blues song, "That's All Right (Mama)." Sam Phillips, the head of Sun Records, happened to be in the studio to hear the improvisation of Elvis with two other local musicians. Elvis had the sound that Phillips said he could make a billion dollars, "if he could find a white man who had the Negro sound and the Negro feel." Elvis had that sound. It was then, at that moment, that Elvis just happened. He was new, something that people were not used to yet. He was not like every other star. Though once he was discovered, he was awkward, self-conscious, nervous, he mumbled, but he was making it. No matter, this was the step that Elvis needed in order to be headed in the direction of greatness. He was going to make it, though in those first sessions, they were not successful; they kept on trying to achieve that sound only Elvis had, and finally it all worked out. It came out of nowhere; he did it himself. This time was only stepping stones for him, but nonetheless it was what needed to be taken; heading the direction toward the person we know today as the King of Rock n Roll.