Balls were thrown all over, girls trying to look their best in front of the scouts. Outfielders showed off their arms, pitchers showed off their best pitches, while catchers were diving left and right to block every ball they could. It may have seemed like a typical day of tryouts at Wrigley's Park in Chicago that May in 1943, but little did they know that these girls would make history with the park filled with scouts, coaches, and managers. The girls would be recruited from many different places to try out in Chicago. Girls from twenty-six different states and even some from Canada would be taking a shot to be selected for the All-American Girls Softball League. The girls were all so different in their own ways. Some were from the city and some from the farmlands. Some were straight out of high school and some had husbands that were deployed in the war. The girls would be recruited for their beauty and for their skills at the sport. For a week, the girls would be in training through different drills to determine their level of skill, so that they could be assigned to a team. "You played your position, you ran, you slid, you did everything," Dottie recalled. "Allocation Day" was the day that the girls were either assigned a new hometown or were let go. Allocation Day was the real deal, the moment that they had been preparing for. It was all for that day. With that being said, Dottie looked down the list looking for her name, and finally, she saw it! It read: "Dottie Kamenshek to Rockford Peaches."
Dorothy Kamenshek, also known as Dottie or Kammie, would start her journey in the new league after she had been scouted in 1943 in Cincinnati. Dottie had been invited to try out for the new league that had been started up after the male baseball team had been deployed for war. Dottie and Rosie the Riveter would be very similar in this era. Dottie Kamenshek would be one of the many women to participate in the new women's league, in substitution for the men who had been sent out for war, either in the Pacific theater fighting the Japanese, or to Europe to fight the Nazis. Rosie the Riveter similarly replaced men going to war, but her support would be through the production of materials needed for the wars in factories.
Dottie played with the league from 1943 to 1953, and she led the league with the most hits, being 1,090. Other players in the beginning, however, would out-do her, but that never stopped her from giving up. Dottie first landed at the Rockford Peaches, which would end up being one of the best teams in the league. The softball league shifted to being a baseball league throughout the eleven-year period of play. And in that time, Dottie Kamenshek became someone who seemed to be a lot like Rosie the Riveter.
In 1942, America was at war. All Americans would be called to support the deployed for war, at home and overseas. No cars were being manufactured, so that the steel could be used to build ships and airplanes for the war effort. Gasoline was rationed, which meant that most people could not travel by car. Many people in this time had already lived through the Great Depression and were used to making anything out of little things. Children would play in their backyards with their neighbors. And many boys and girls would play the national sport, baseball.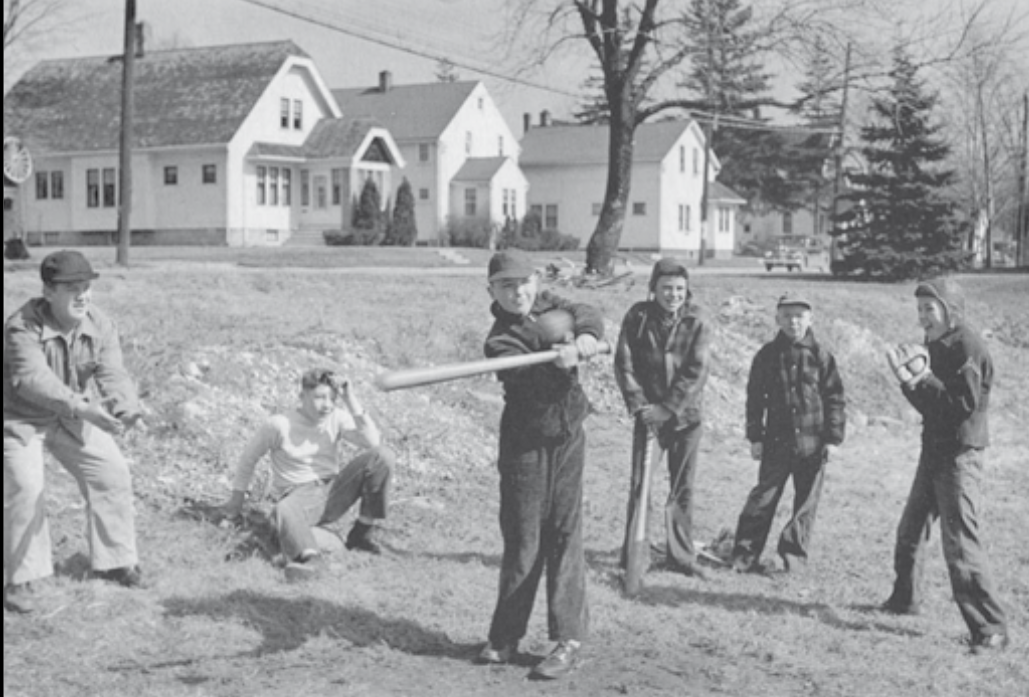 For Dottie, getting picked for the Rockford Peaches was a dream come true, but it almost never happened, not just for her, but for all the girls out there trying out for a team. The owners and managers of the Major Leagues were quite concerned how it would look, being that folks at home were playing baseball while their families were out fighting in the war. The debate would continue for a while, up until the owners received a letter from President Franklin D. Roosevelt in response to Judge Kenesaw Mountain Landis, who was the baseball's commissioner at the time. "I honestly feel it would be best for the country to keep baseball going," the president wrote, "There will be fewer people unemployed and everybody will work longer hours and harder than ever before and that means that they ought to have a chance for recreation and for taking their minds off their work even more than before." The president's opinion would not have changed Philip Wrigley's mind up until he thought about starting a women's league. Judge Kenesaw Mountain Landis knew he wanted to help in any possible way he could have during the trying times of World War II and he saw this as the best opportunity for everyone. With the approval of President Roosevelt, he would be making history.
Women were known for dressing nice and being beautiful all the time, and the AAGPBL league required that all of the players would attend Charm School to really emphasize of the importance of being a women. Philip K. Wrigley wanted to make sure that his All-American Girls were being treated like ladies, and that they acted like ladies too, so this was his way of being sure that that would happen. In the early days of the league, the young women would spend their days in the heat practicing until they were almost perfectionists at their position; but in the evening, they would freshly shower, have dinner, and then they would attend classes held by some of the leading ladies in the society.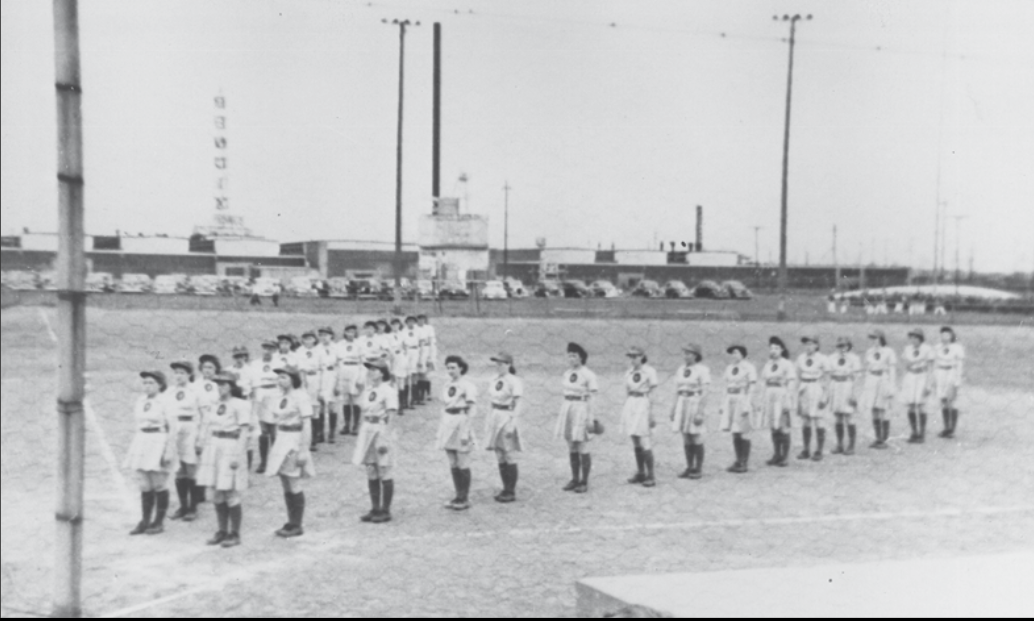 Let us play ball! It may have been the skirted uniforms or the pretty young women, but many fans paid 75-cents for adults and 25-cents for the children to watch the girls play. Many people still supported the girls for many reasons, but much of it was because this was top-notch baseball. The sport stayed stuck between whether it should be called baseball or softball. The game started off much like softball, but changed throughout the years, which made the sport a lot more like baseball. Over the years of the sport making its debut with females, more and more teams were added to the AAGPBL. Dottie and the Rockford Peaches would travel through Wisconsin, Illinois, Indiana, and Michigan by bus to get to games on the road against the other teams, which included the Daises, Lassies, Chicks, Belles, and Sallies. The league made rules discouraging them hanging out with each other. They wanted to keep the games between the two as competitive as possible. In the long run though, the girls created friendships with one another that would last a lifetime. One of the managers for the Peaches, Bill Allington, saw road trips as the best opportunity to study…study baseball of course. He wanted to make sure that all the girls on the team knew the rules, and in case they had to argue a point, they would know what they were talking about.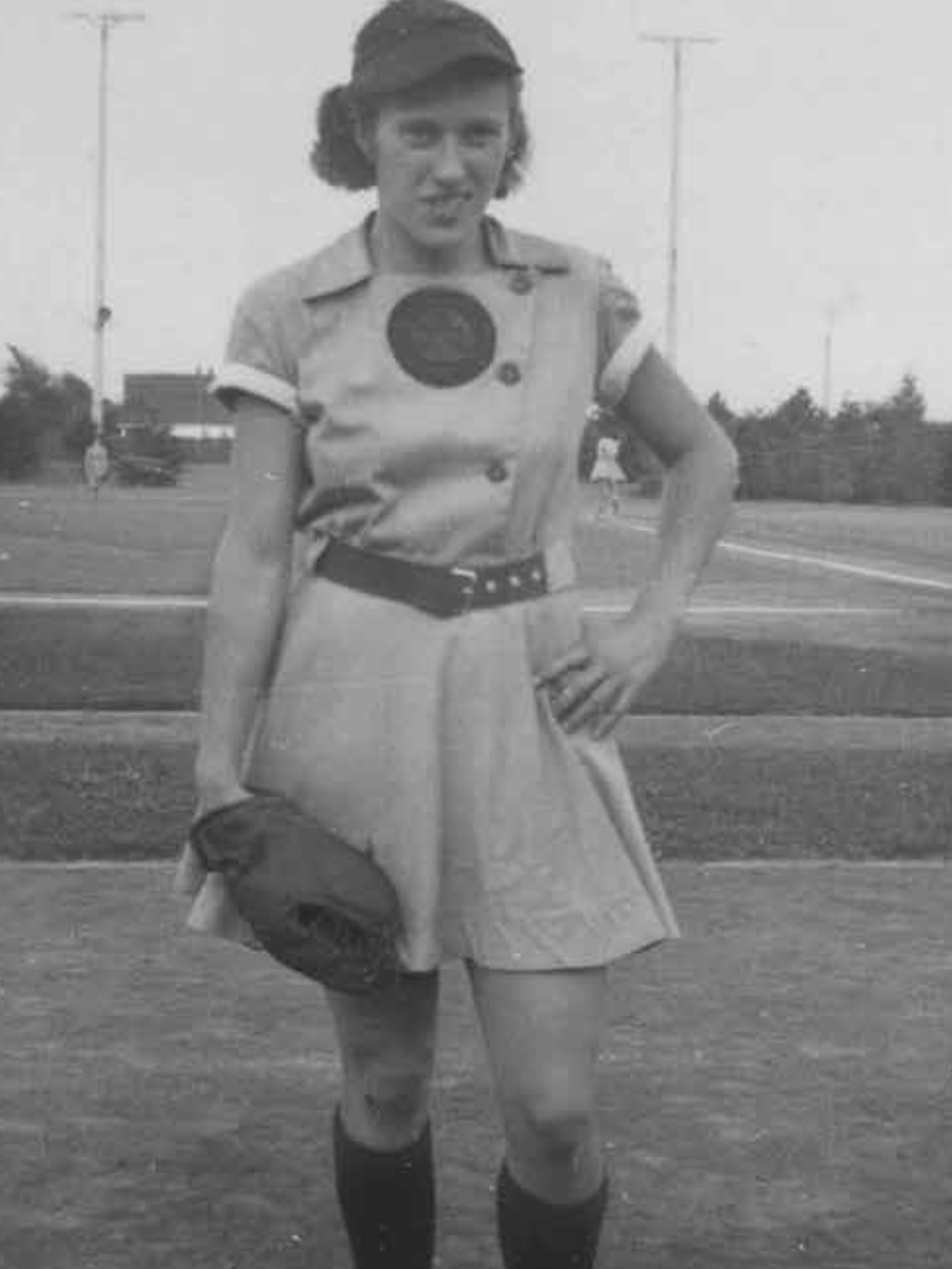 Dottie had incredible years from her start in 1943 to her finish in 1953. She was a natural! People of the Rockford community would go watch a game or two and would always be incredibly impressed at the catches and the hits she would do. Dottie had been the starting first baseman seven out of her ten years in the All-American League. Dottie was the league's best batter in the year 1946, with a batting average of .316. She won the League's batting trophy the following year with a .306 batting average. Dottie always wanted to learn how to do better and be better. She would be curious to learn everything about the game and wanted to learn how to do everything. Her next challenge was learning how to bunt. She was a perfectionist and so was her manager, Mr. Allington, and they would spend hours practicing how to bunt until she got it down, and she finally did. Dottie was then known to be the best drag bunter in the league too. She would lay a perfect bunt halfway to first base when they were not expecting it, which would lead her to being safe. Another thing Dottie perfected was her ability to run. Her speed was like no other during the time. She had been so quick around the bases that in her 1946 season, she was able to steal 109 bases in only 107 games. Her skills in being a great ball player would then lead her to a lot of attention, and attention wasn't something that the quiet Cincinnati girl had been looking for. Dottie did not like it when random people came up to her to talk to her, especially in her early years in the league. She struggled with all the attention because of her shyness, and would be scared that people would think that she was just being rude. Over time, Dottie got used to the attention and fame, and just embraced it. The year 1947 had been another great year for the young ball player and many people would want to get to know her. Now, she had been better prepared. "Kamenshek Night," was a night they dedicated to Dottie, in which all the money raised would go to her college funds. They made about $780.69. She received war bonds, flowers, and more.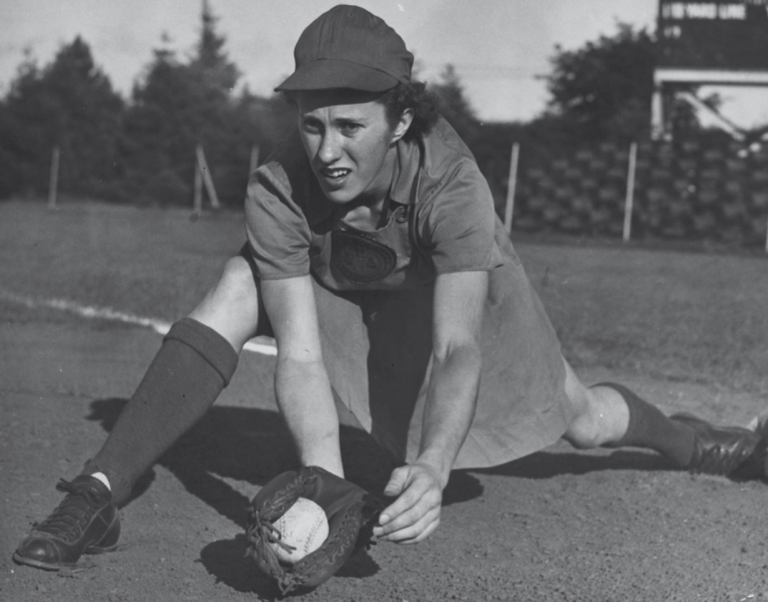 Dottie Kamenshek from Cincinnati, Ohio changed many lives. To her fans, she made sure they would be watching an entertaining game. And a game truly worth watching it would be. To her teammates, she had been a teacher and a leader. She would help the rookies to become the best they could possibly be. She even stated in the Victory Song, "We're all for one, we're one for all!" To the coaches and managers, she had been a player who had skill and talent, yet stayed humble. How much better can that be? To her family, Dottie was their pride and joy. The first one to go to college and study, she was first who would achieve great things in life and someone who never forgot where she came from. To those who knew Dottie, they knew they would be in for a treat.
Dottie Kamenshek died May 17, 2010 at her home in Palm Desert, California. She was 84 years old. To those who got to know Dottie, she was an inspiration, and a reminder that with determination, you can always do more than what you think you are capable of doing. The hit movie, A League of their Own, was released in theatres July 1, 1992. Dottie was listed #100 on Sports Illustrated's list of the "100 Greatest Female Athletes of the 20th Century," on November 29, 1999. Then, on the 24 of October in 2001, Dottie was inducted into the Ohio Women's Hall of Fame.
I would like to thank Daniela Duran for helping me throughout the early stages of my article. I would also like to thank a friend, Thomas Fraire, for really helping me throughout the making of my project. I would also like to thank Christopher Homan for reviewing my article with me and helping me revise and edit it, and for offering advice on how to make my article the best it could possibly be. Lastly, I would like to thank Dr. Whitener for believing in me throughout the entire process. I am most grateful for his encouragement and for giving me the opportunity to pursue something out of my comfort zone.